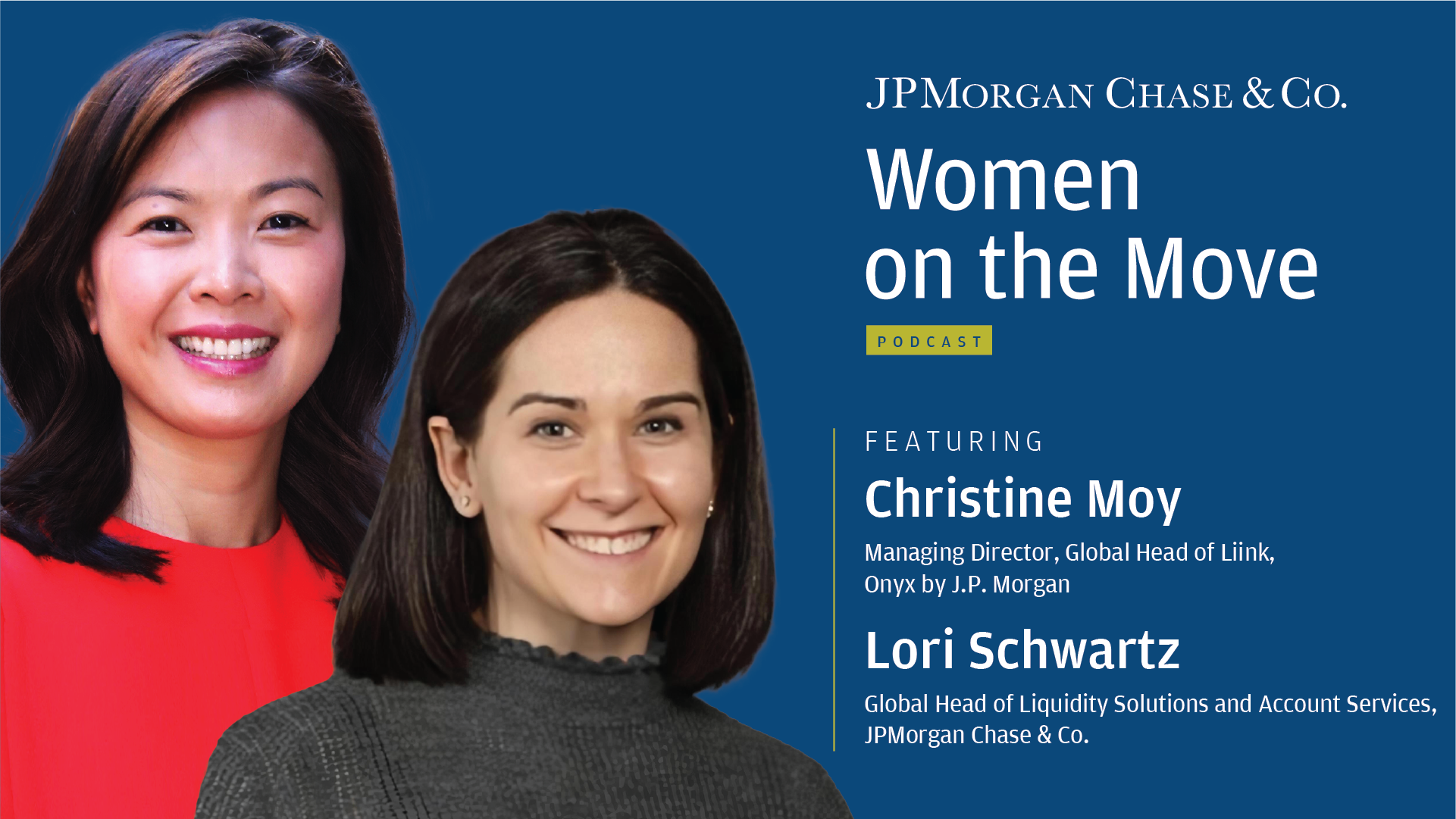 Breaking down cryptocurrency with leaders from JPMorgan Chase.
Curious about innovative banking technologies such as blockchain, crypto, and liquidity? In this episode of Women on the Move, host Sam Saperstein sits down with two great leaders Christine Moy, who leads J.P. Morgan's blockchain team, and Lori Schwartz, the bank's global head of liquidity solutions.

Lori has been in banking her whole career and has become a subject matter expert in liquidity solutions. She describes her current role as a Jack-of-all-trades: using product management to tie together sales, compliance, legal, regulatory, technology, and operations. What she loves most about her work is its relevance, both to clients—helping them leverage solutions to better manage their business—and to the firm itself—as a deposit generator, liquidity solutions help to "fund the firm."
Christine has been in banking at J.P. Morgan for nearly two decades. Five years ago, she got to focus on her love for technology and building products when she became the first hire to J.P. Morgan's blockchain and crypto team. While those terms may sound futuristic and complex, throughout the episode, Christine uses practical examples to break them down for listeners and explains the firm's plans for the future. (Spoiler: It involves outer space!)
De-mystifying "blockchain" and "crypto"
Sam asks Christine to describe blockchain to listeners who might be unfamiliar with the concept, and Christine has a great analogy to help break it down. "I like to have people imagine a shared spreadsheet because the best way to think about blockchain is that it's a ledger that is shared by multiple participants and it's updated in real time," she notes. She explains that these "shared ledgers" use cryptography and consensus mechanisms to ensure that everyone connected to a ledger is seeing the same view in real time—all while the ledger is tracking the historical progress of its subject.
Christine extends her analogy to explain how cryptocurrencies relate to blockchain. Cryptocurrencies, or crypto assets, are the asset types that you would track on the digital ledger, she says. Christine also describes the critical difference between public blockchains and permission blockchains. Cryptocurrencies usually live on the public blockchain side, she says, and anyone with a computer and an internet connection can have access to cryptocurrencies and crypto assets and public blockchains. "So the easy way to think about it is the Bitcoin blockchain is basically the digital ledger of all the Bitcoin transactions that have happened in the history of the world," Christine explains. "And so basically what you get from the shared ledger is that you're able to have unique digital assets that have a transaction history."
Understanding liquidity management
While the world of cryptocurrencies and blockchains may seem removed from the day-to-day focus of a bank, Lori explains how related it really is to her more grounded world of liquidity management. "I think the major connect point between some of the areas that we're exploring and innovating is the keyword or value," she notes. "And then what we really do every single day to help our clients manage their business. So whether the internet of value or, you know, the value of payments, we're helping companies move money across the globe."
Lori also shares a practical analogy to help listeners think about liquidity management. "I start thinking about your own personal life," she says. "You have a bank account, maybe you have one or two, probably have an investment account somewhere, but you have within your own personal life, pretty good understanding of what money is coming in and what money is going to go out." If you take that simple, personal perspective, she says, and blow it up to global multinationals, financial institutions, and broker dealers, that's the focus of liquidity management. "It's managing with the view to understand how much cash you have, where it is, how you get access to it, and to ultimately optimize it," she says.
Innovating for the future
Christine describes how her role has recently expanded to include overseeing the Liink network, a network of cross-border payments and banks connected together with blockchain technology to exchange information. The goal, she says, is to address pain points in the cross border payment space to make payments faster and cheaper, and more efficient. The implications for the future, she says, are practically limitless. "Like I have to let you guys know that J.P. Morgan is actually the first bank in space because we launched a couple satellites in space and we ran an Ethereum blockchain and actually tested tokenized payments to research, maybe an intergalactic coin that we might issue one day," she shares.

Breaking down cryptocurrency with J.P. Morgan leaders:
Christine Moy
Managing Director, Global Head of Liink, Onyx by J.P. Morgan
Lori Schwartz
Global Head of Liquidity Solutions and Account Services JPMorgan Chase & Co.
Subscribe