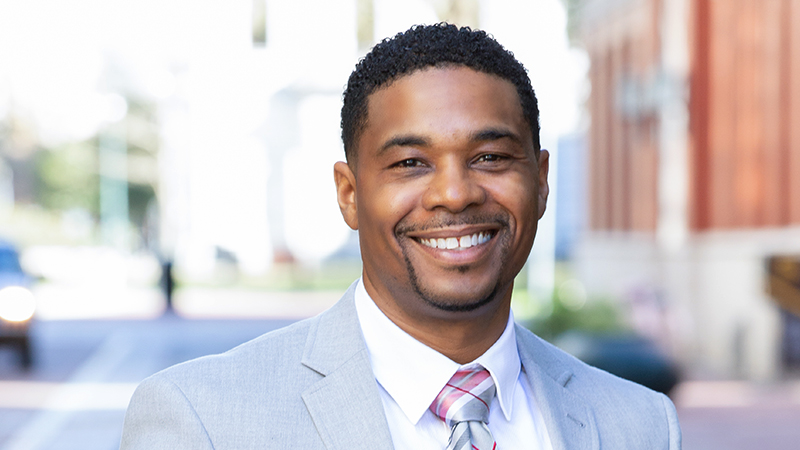 Stories
JPMorgan Chase's Brandon Nelson Talks Banking and Community Impact
For Brandon Nelson, community impact is personal. Here's how he's working to bring his values to work with JPMorgan Chase in Ohio.
When Brandon Nelson came to Columbus, Ohio in 2021, he was eager to make a difference in his new community. Today, in addition to his day job as an Executive Director managing a team of bankers that serves middle market clients in central and south Ohio, he serves on the boards of the Columbus Urban League and the Columbus Chamber of Commerce, and partners with local Historically Black Colleges and Universities (HBCUs) to drive change, champion opportunity and address inequities that have disproportionately impacted minority communities.
We sat down with him to learn more about his work and how he is using his job to influence and impact the community for good.
What attracted you to JPMorgan Chase?
I was initially attracted to JPMorgan Chase because it's the largest bank in the country and because it places a huge emphasis on treasury and technology. To me, this was a true differentiator. I also appreciated its focus on diversity, equity and inclusion (DEI), including numerous initiatives for employees. Starting at the top, the bank continually thinks about what more can be done to make a lasting impact in the communities we serve.
How have you seen JPMorgan Chase invest in Ohio communities?
As one of the state's largest private employers, and given our over 200-year history in Ohio, it's important that we invest and support the future of Ohio communities. Our commitment to both employ and serve the residents of Ohio is evidenced by our continued philanthropic giving, above average wages, partnership with community organizations and leaders and our service to local businesses and households. As a resident myself, I take a lot of pride in the fact that the organization I work for is invested in the communities where I live.
Are there ways your own work has a community impact?
I have the opportunity to lead a team that impacts our communities by supporting local businesses through good and challenging times. Providing customized JPMorgan Chase banking solutions, we facilitate our clients' maximal operational efficiencies, support growth and expansion and help protect them against threats like fraud. As an executive on the Commercial Banking Team and Market Leadership Team, I am also active in the community through non-profit board involvement, philanthropic support, community service and any other opportunity that allows me to drive growth and support a stronger, more inclusive economy.
How are you making diversity, equity and inclusion (DEI) a priority?
In building a team, I've made DEI in all respects a priority. It's not only the right thing to do, but it's also important from a business perspective. Statistics show that diverse teams and businesses lead to higher performance, help avoid detrimental blind spots and helps us better serve our customers and clients.
How are you working with local Historically Black Colleges and Universities (HBCUs) and why is partnering with them important?
I'm the firmwide ambassador to Ohio's two HBCUs, Central State University and Wilberforce University. I support these schools by informing students of opportunities at the bank, including internships and post-graduate career opportunities; providing career advice and interviewing tips; and exposing students to existing diverse talent at the bank and within the industry. HBCUs have been an anchor in the Black community for quite some time. They offer students – many of whom are first-generation or come from low-income households – an opportunity to find purpose, join a community and shift the economic outlook for themselves, their families and community. Partnering with them is not only important because it aids in breaking down systemic barriers, but also because I believe in what they do and how they can impact generations to come.