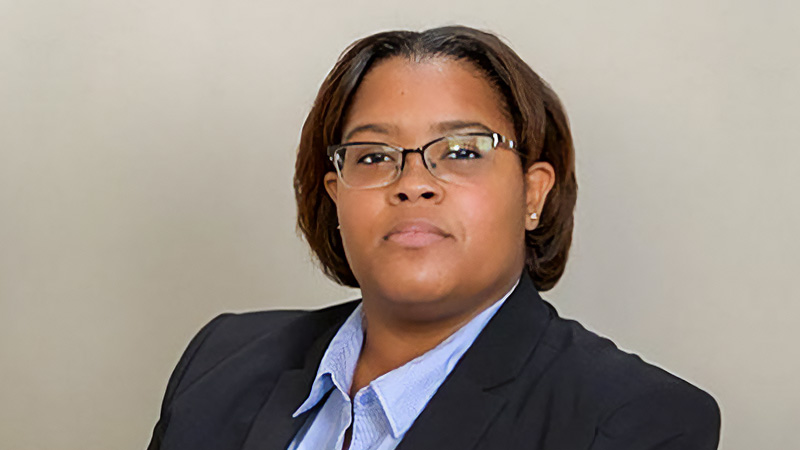 Stories
From Intern to Mentor: How a Job Training Program Helped Aaliyah Morgan to Invest in Herself and Others
How JPMorgan Chase's Year Up program provides opportunities to those who need them the most.
When Aaliyah Morgan stepped inside the office of JPMorgan Chase to start a six-month anti-money laundering internship, she felt uneasy.
"I had never been in a corporate environment," Morgan recalls. "I kept wondering, 'Should I be here? Am I doing the right thing?'"
It was 2016, and Morgan was participating in Year Up, a yearlong, tuition-free, job-training program that consists of six months of instruction from expert instructors, followed by a six-month corporate internship. The program strives to widen access to well-paying careers by providing skills-based training and support to adults ages 18 to 29 who have a high-school diploma or GED. For participants, many of whom come from lower-income households, the program can be a bridge to the middle class.
Despite feeling anxious, Morgan harnessed her intelligence and strong work ethic—along with support from a thoughtful JPMorgan Chase mentor—to successfully complete the internship and earn a full-time job offer at the bank.
Year Up is one of JPMorgan Chase's largest emerging talent programs, bringing in more than 300 students for internships annually. "It allows JPMorgan Chase to build a diverse pipeline in Dallas and beyond," said Daniel Clarke, Vice President of Emerging Talent. "Hiring diverse employees is just one way the bank is investing in the workforce and contributing to a stronger, more inclusive economy."
Not only is professional inclusion good for business, it's also an essential part of addressing the racial wealth gap and creating an economy that works for more people. Through programs like Year Up, strongly motivated and resilient individuals from traditionally untapped backgrounds have a pathway to promising careers at JPMorgan Chase.
While Morgan had great success, she initially struggled to believe the Year Up program was even real. To her, the description seemed a little too good to be true.
"I thought it was a scam, because there's no way you get paid to go to this training program, and then they put you in an internship that could lead to a job," says Morgan. "I didn't apply the first couple of times I saw the ad. And then one day I thought, 'You know what? I really don't have anything to lose."
Navigating Obstacles on the Path to a Flourishing Career
After being accepted into the anti-money laundering track at the bank, Morgan started a six-month learning and development (L&D) phase. Five days a week, she attended classes covering technical topics related to her track—as well as business and communication skills, finance, interview prep and resume building. While classes were demanding and expectations were high, life outside the program was particularly difficult. Morgan was also attending college, working, and experiencing bouts of homelessness.
"It was a lot to juggle" says Morgan. "There were a lot of tough decisions that I had to make, including going on public assistance—something that I told myself I would never do."
Morgan was fully committed to the program, and after the L&D phase, Year Up placed her at JPMorgan Chase for the corporate internship phase.
"It was probably one of the best decisions they made for me. Seeing the diversity, seeing people that look like me that have dealt with similar problems is one thing that I've taken out of this experience," says Morgan. "Year Up is a great program, but JPMorgan Chase is a great company."
The Power of Good Mentorship
One of the most meaningful relationships Morgan has developed is with her mentor, Neelima Veluvolu, Head of Community Impact Regional Strategies at JPMorgan Chase. One day, Morgan heard Veluvolu speak during a group meeting.
"Neelima is one of those people that just commands attention without trying," says Morgan. "When she talked about her story, it was very authentic and very genuine. It felt like I could connect with her."
The following day, Morgan set up a meeting to talk to Neelima one-on-one.
"I said, 'Hey, can you mentor me? I want to mimic what you're doing and the values that you bring to our team,'" says Morgan. "She's not only about the work; she cares about the people. I think that makes a very big difference when it comes to leadership."
As Veluvolu learned about some of the challenges Morgan faced in her personal life—including unstable housing and an anxiety disorder that at times felt debilitating—she stepped up to offer support.
"At one point, I was having a very, very bad day and Neelima was on a call," says Morgan. "I sent her a message saying, 'I don't know if I can stay in this internship anymore.' Literally two minutes later, she was at my desk, and she pulled me into her office. She was probably the main reason I stayed in the internship."
Veluvolu was moved by Morgan's diligence, determination and drive. Morgan was offered a full-time role on Veluvolu's team, where she later became project manager.
"She's self-driven. Everything that she knows in the automation world is completely self-taught," says Veluvolu. "I just love how resourceful and intentional she is about her growth and her progress."
Creating a Pipeline for Diverse Talent
Morgan spent four years on the Veluvolu's team before exploring a different path outside the company. However, less than two years later, she was back at JPMorgan Chase.
"I always knew I wanted to come back because of the culture," says Morgan. "My support system was always at JPMorgan Chase."
When she returned to the bank, she knew she wanted to lend a hand to young people entering the workforce, particularly those who experience some of the obstacles she encountered. Her current role fulfills that desire: As a program manager on the Emerging Talent team at JPMorgan Chase, Morgan works with a diverse group of interns of various ages and backgrounds.
While Morgan isn't directly responsible for the Year Up interns, she's part of the group that oversees them. Speaking to a group of interns recently, Morgan experienced a full-circle moment.
"When I stepped into that room, I could feel that they were so motivated to be in a different position in life, and that brings me so much joy," says Morgan. "I was the participant in one breath, and now I'm the program manager on the other side."
Learn more about how JPMorgan Chase is supporting workforce development and investing in the communities where we live and work.