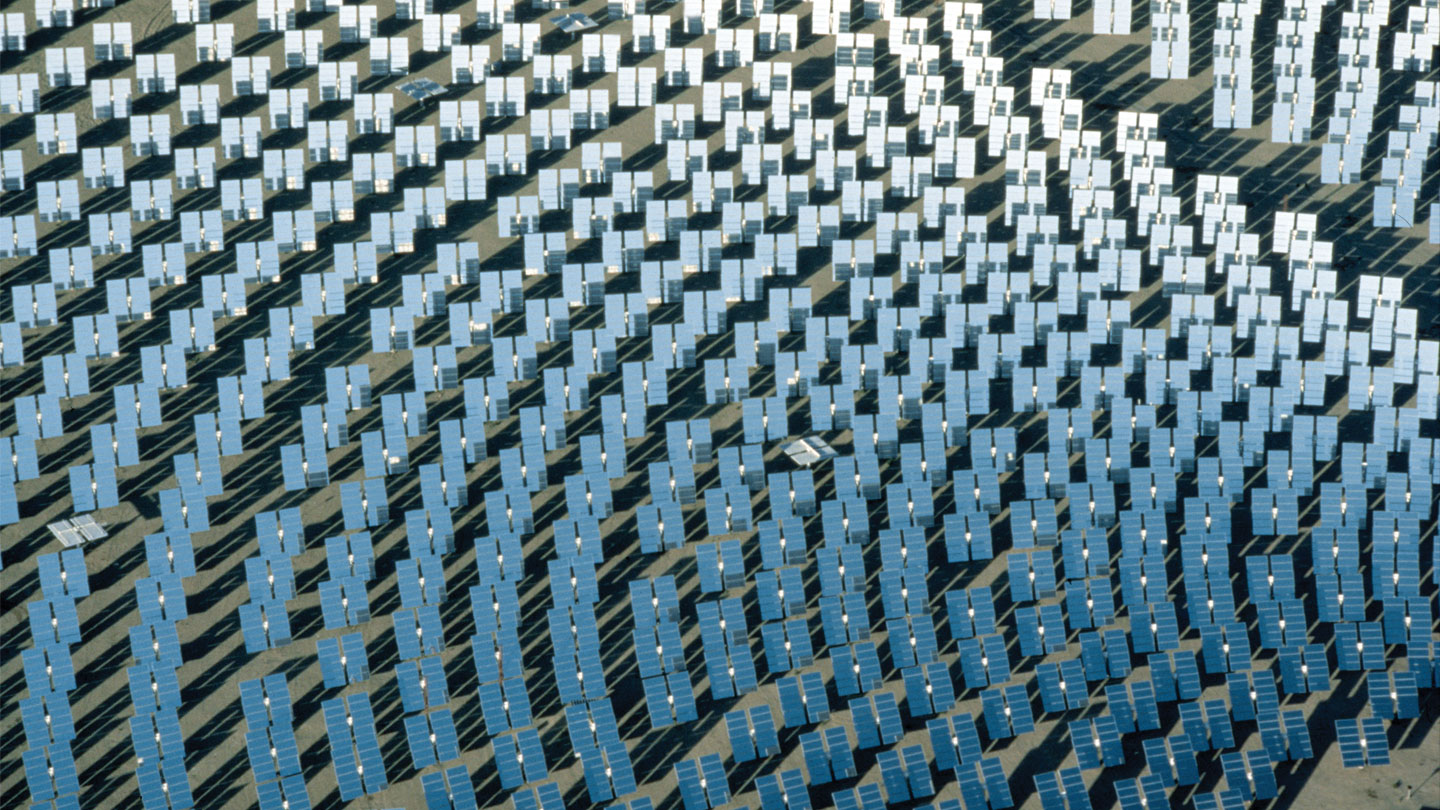 Stories
5 Sustainability Trends to Watch This Year
Decarbonization and capital commitments are two of the biggest corporate sustainability trends we're tracking in 2022.
A groundswell of action and awareness in support of corporate sustainability has rippled through the business community since last fall's UN Climate Change Conference in Glasgow (COP26) and the resulting Glasgow Climate Pact.
Yet, while progress has been made, there's much more ground to cover in areas like public data disclosures, renewable energy sources, financing commitments and emerging technologies to support global decarbonization.
Here are the top five sustainability trends in business to watch in 2022, with added insight from JPMorgan Chase experts.
1. Carbon Capture
What's the story? Reducing emissions and removing carbon from the atmosphere are central to the Paris Agreement goal of limiting warming to 2 degrees (ideally, 1.5 degrees) Celsius over pre-industrial levels. In addition to implementing efficiency practices, harnessing renewable energy and supporting nature-based solutions, much of the world is increasingly turning to an emerging class of emission-abatement technologies that facilitate carbon capture, utilization and storage (CCUS). These CCUS technologies:
Capture CO2 directly from the atmosphere (Direct Air Capture, DAC) or from sources through which CO2 is released into the atmosphere (Point Source Carbon Capture)
Enable CO2 to be reused at the site or compressed and transported
Allow CO2 to be stored permanently (often deep underground)
Impact stat: CO2 emissions have increased by about 90% since 1970, according to the U.S. Environmental Protection Agency.
"Decarbonization planning has become increasingly important as climate risks and stakeholder demands on disclosure and strategy escalate. Promising negative-emissions technologies like carbon capture are coming online, but we need them to be more robust and cost-effective to offer a feasible solution."
Rama Variankaval, Head of the Center for Carbon Transition at JPMorgan Chase
"While there has been limited commercialization of CCUS technologies to date, we are seeing many companies along the CCUS value chain raise capital from both strategic and financial investors to build their projects and commercialize their technologies. We know there is not a silver bullet for achieving decarbonization, but carbon capture technologies will be a major contributor."
Allison Fleming, senior member of JPMorgan Chase Commercial Banking's Green Economy Banking
Bottom line:
The decarbonization of the electricity grid will be necessary, as it's a major source of emissions, Variankaval said. Smarter ways to build or retrofit power generation infrastructure will be important moving forward, especially as increasing emissions continue to pose a problem. CCUS solutions can help to decarbonize the grid both directly (Point Source) and indirectly (DAC). Though these technologies are in the early stages of commercialization, continued investment in and scaling of this infrastructure will help to drive down currently high costs, leading to broader adoption of CCUS.
2. Renewables Scale Up
What's the story? While the adoption of renewable energy sources like solar and wind has increased considerably, the world remains overwhelmingly reliant on fossil fuels. The next phase in the renewables journey is the scaling up of alternative energy sources to suit commercial applications and meet industrial needs.
Impact stat: Costs for solar photovoltaic (PV) systems have decreased 85% over the past decade, according to Deloitte.
"The challenge is how to decarbonize the electric grid and make sure that we're investing in the development of technologies that can meet energy needs with a lower carbon footprint in a whole range of other industries like aviation, shipping, transportation, manufacturing, and steel and cement production."
Marisa Buchanan, Managing Director and Global Head of Sustainability at JPMorgan Chase
Bottom line: Renewable energy encompasses much more than solar and wind. Hydrogen, biomass and advanced batteries are all alternative sources to watch as more organizations increase their investment in renewables. And as renewables scale up, they need to be paired with nature-based solutions such as no-till farming, forest replenishment and revitalization of marine vegetation that can capture carbon (e.g., mangroves and seagrass meadows).
3. Business and Capital Commitments
What's the story? COP26 was a landmark event in terms of private company and capital commitments —and represented a significant shift in enterprise and financial industry attitudes toward climate change. Recognizing the threat climate change poses, many organizations have either mobilized capital and investment or pursued business innovation to meet the challenge. It's a corporate sustainability trend that will define the space for years to come.
Impact stat: A $275 trillion global investment will be needed to transition to a low-carbon economy by 2050, according to a McKinsey Global Institute analysis.
"I think we'll see a number of institutional checks written to companies in abatement technologies, which are generating a lot of interest. Another thing to watch is traditional players in the energy space looking to strategically expand into new technologies in hard-to-abate sectors."
Allison Fleming, senior member of JPMorgan Chase Commercial Banking's Green Economy Banking team
Bottom line: Businesses will develop and adopt frameworks as climate considerations become inherent to business decision-making.
4. Energy Security
What's the story? The conflict in Ukraine has underscored how rapidly the energy supply can be disrupted. Considering the importance of energy to just about everything, a renewed focus on energy security will likely take place at the highest levels. Some questions that need to be resolved include:
What role will climate legislation play?
How will international relations affect energy security?
How quickly can transitions take place?
Impact stat: Energy derived from fossil fuels represented 80% of total U.S. energy consumption in 2019, according to the U.S. Energy Information Administration.
"Accounting for energy security and affordability considerations is key to a successful transition to a lower-carbon economy. Getting it right is going to require the business community, policymakers and environmental leaders to work together."
Marisa Buchanan, Managing Director and Global Head of Sustainability at JPMorgan Chase
Bottom line: Calls to increase domestic supplies to preserve energy security in the U.S. and the rest of the world will need to take into account the goal of decarbonization.
5. Improved Data
What's the story? Environmental, social and governance (ESG) reporting is already widely utilized in corporate disclosures. Data will become even more vital as countries work together to establish emission-reduction targets or companies make commitments to cut a certain percentage of their carbon footprint.
Impact stat: 92% of S&P 500 companies published a sustainability report in 2020, according to the Governance & Accountability Institute.
"When ESG reporting first gained a foothold in business, one of the primary barriers was consistent data and a lack of defined ways to quantitatively think about decarbonization and climate-oriented initiatives. Today, there are a multitude of data sets, rankings and disclosures that help us to identify a tangible path forward."
Rama Variankaval, Head of the Center for Carbon Transition at JPMorgan Chase
Bottom line: As sustainability data becomes more prevalent, standardization of that data will be crucial for effective analysis. The alignment of disclosures and targets rests on the quality of data.
The Big Picture
These five global sustainability trends will define 2022 and many years to come. But they're not the only trends in play. Also keep an eye on:
The circular economy, which emphasizes recycling and reusing materials in the production and consumption of goods and services
Business resilience amid increasing climate risks

What JPMorgan Chase is Doing
JPMorgan Chase seeks to lead on sustainability. In 2021, we facilitated more than $100 billion for green activities like renewable energy, energy efficiency and sustainable transportation, and doubled our green investment banking activity.
By the end of 2030, JPMorgan Chase aims to facilitate more than $2.5 trillion in activities to address climate change and support sustainable development. That's in addition to other commitments that include:
Maintaining carbon-neutral operations
Transitioning the corporate fleet to electric vehicles
Reducing water consumption
Limiting paper use
Learn More
© 2022 JPMorgan Chase & Co. All rights reserved. JPMorgan Chase Bank, N.A. Member FDIC. Visit jpmorgan.com/cb-disclaimer for disclosures and disclaimers related to this content.