The Great Recession brought to the forefront many unanswered questions about how monetary policy plays out at a microeconomic level, notably the question of how changes in the federal funds target rate impact personal consumption for individual households. Not surprisingly, this question is difficult to answer because of the multitude and variety of financing products and constantly evolving market conditions, as well as the paucity of data integrating financing terms with consumption at the household level over time. In this new JPMorgan Chase Institute report, we turn to a sample of homeowners who hold a specific type of mortgage particularly sensitive to interest rate changes to inform this question in an innovative way.
We examine how a sample of US homeowners changed their credit card spending in response to a predictable drop in their mortgage payment driven by the Federal Reserve's low interest rate policy that followed the Great Recession. Using a de-identified sample of Chase customers who had hybrid adjustable-rate mortgages (ARMs) and a Chase credit card, we analyze changes in credit card spending and revolving balance leading up to and after mortgage reset.
Data
From a universe of over 6 million Chase mortgage customers, we created a sample of 4,321 de-identified homeowners who met the following five sampling criteria: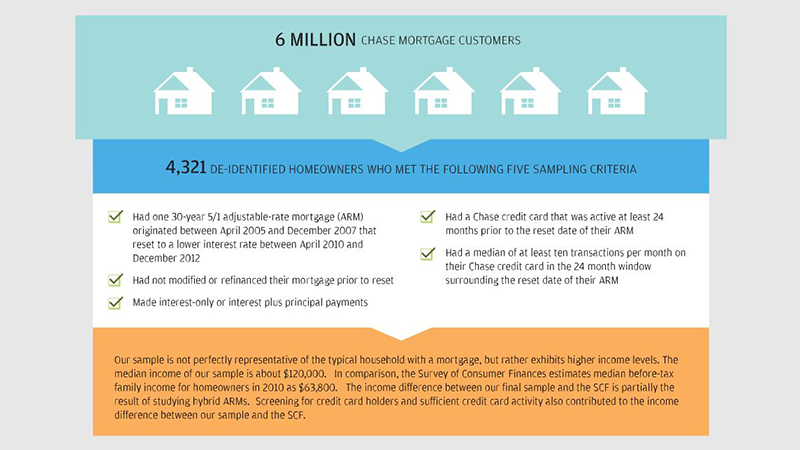 Conclusion
Monetary policy affects the economy through many channels, and the effectiveness of each channel varies in easing and tightening cycles. In this report we measure the effects of the income channel of monetary policy on the consumption of homeowners with a specific type of variable-rate mortgage. We find that in a declining interest rate environment, the income channel is automatic, the consumer response is considerable, and that there are both anticipatory and contemporaneous increases in consumption. To put our findings in the broader context of the monetary policy transmission channels that operate through mortgages to impact personal consumption, we turn to research that shows that the refinancing channel suffers from shortcomings that limit its impact on homeowners: it is difficult to activate with conventional interest rate policy, has frictions that reduce its bandwidth, and has uneven distributional effects.
Importantly, housing policy that influences the share of fixed-rate mortgages versus variable-rate mortgages will partially determine the share of homeowners that will be impacted by the refinancing channel versus the income channel and therefore will also impact the overall effectiveness of monetary policy. As such, when housing policy makers evaluate the policies that influence which type of mortgage (fixed-rate or variable-rate) borrowers choose, they should consider the effects these policies will have on the ability of monetary policy to impact personal consumption through the business cycle.