Research from the JPMorgan Chase Institute shows that the year-to-year growth of consumers' everyday spending on most goods and services in 15 major US metropolitan areas has slowed dramatically, from 5 percent in the second quarter of 2014 to 0.5 percent in the comparable period in 2015.
This slowdown in everyday spending growth is one of several puzzling signals in the data on the US economy. Gross domestic product has increased every quarter except for Q1 2014 in the past four years, but in fits and starts. Unemployment is down and corporate profits have largely been solid. In real terms, retail sales have also grown every quarter since the 2009 recession, though inconsistently and at a slowing rate. Within the sector, spending growth has differed significantly by category. For example, auto sales have grown strongly in recent months, but several big chains and other merchants are forecasting a tough 2015 holiday season.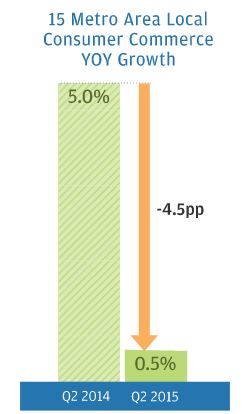 A new, powerful data asset—the JPMorgan Chase Institute "Profiles of Local Consumer Commerce"—allows us to shed light on these ambiguous indicators. With this new data set, we can analyze important characteristics of the transactions between consumers and businesses at the point of sale and at the neighborhood, city, and metropolitan-area levels. In this initial report, we use these data to explore the marked 4.5 percentage-point slowdown in the growth of local consumer commerce between Q2 2014 and Q2 2015 across 15 metropolitan areas nationwide. Specifically, we identify the contribution of different consumer and business segments to this slowdown.
Our analyses show that changes in spending by higher-income older consumers played a major role in the slowdown of spending growth, as did spending at both SMEs and large businesses, spending on nondurable goods including but not limited to fuel, and spending by customers at the businesses closest to home. Over time, Profiles of Local Consumer Commerce will provide monthly data on commercial vibrancy at the national and city level and will be released on a quarterly basis. We hope our ongoing data series will serve as a rich platform to help answer important questions about the consumer sector, the dominant sector of the economy.