This past month, we sat down with Fanta Traore, Chief Operating Officer and Co-founder of The Sadie Collective, to hear more about her work, background, and the challenges facing Black women in the field of economics. The Sadie Collective is an organization addressing the pipeline and pathway problems for Black women in economics, finance, data science, and public policy.
1. As Co-founder and Chief operations officer, what inspired you to start the Sadie Collective?
The Sadie Collective was inspired by our experience in the space of economics and that of other Black women I was hearing about anecdotally. The main event which planted the seed for the creation of the Sadie Collective was attending the American Economic Association's Annual Conference with Anna Gifty Opoku-Agyeman, my co-founder, who I met through LinkedIn via prominent Black macroeconomist Dr. Lisa Cook. While we were at the conference, we heard from Dr. Rhonda V. Sharpe, who is the former president of the National Economic Association, the association for Black economists, and she was sharing data about Black women leaving economics and not studying economics at the undergraduate and PhD level.
[Anna and I] know a lot of people, Black women in particular, who are interested in economic justice. Having gone to Howard University and worked in spaces where Black women were in positions of power after school and seeing those trends in my personal circles, something wasn't adding up. In seeing that data and also navigating these spaces—for me, the Federal Reserve, and Anna went on to Harvard—we were able to see how exclusionary the spaces were. We recognized that we have Black women mentors and decided to share them with other Black women who are thinking about economics and do so through curating an event in D.C. It was a no-brainer that we could pull this off, I grew up in a scrappy environment surrounded by entrepreneurial energy. That combined with Anna being a big dreamer so she kept dreaming even bigger about what it could be. That led to the idea of a conference. As an executor who loves to center the experience of people, we got to planning. At this point, she was already engaged with Econ Twitter, so we put out a Google form, Mathematica offered us their space to host the event, and we so had our first conference, which was opened by Federal Reserve Governor Lael Brainard.
The Sadie Collective was inspired by the spaces we were navigating and just not seeing the representation there, and also wanting to understand why the Black women who are in economics are in the field: What inspired them? What was their journey like? What is the value-add of your personal experiences to the space of economics? It was an [incredible] time - I met Dr. Malveaux, who is a prominent Black woman economist, former President of an all women's college, and member of Delta Sigma Theta, which is a sorority where [our organization's namesake] Dr. Sadie Alexander was the first national president. Prior to the Sadie Collective, when one would google "Black economists" Dr. Malveaux was one of the only results which would show up so to meet her, be interviewed by her for her D.C. radio show, and celebrated for our efforts was an honor, and we're lucky to have had her at our first conference and will be having her back for our third. There were all of these synergies that were coming together in that space in that moment that were absolutely impeccable, and it was amazing to see it all come together.
2. The Sadie Collective's article "An Open Letter to Economic Institutions In The Face of #BlackLivesMatter" importantly addressed tangible ways economic institutions can support the Black Lives Matter movement, Black colleagues and their work and professional development, and commit to making a change. The article ends with, "Educate yourself and do not limit your education to this moment." How did economic institutions respond to the article, and how do you recommend we continue to hold economic institutions accountable going forward?
The open letter led to a lot of conversations with us and the media about the economics space, and we felt the need to make a statement as a community, because when we're looking at the impact of COVID-19 and police brutality, Black women are feeling the brunt of it. When it comes to the power of economic institutions and the role that they have in improving society at-large there's a clear relationship, and we wanted to address it.
We addressed the letter to AEA, the Federal Reserve system, and NBER, which features a lot of prominent thinkers in the space. In doing so, we did get reactions from these different institutions and have been having conversations with leadership about the letter.
We had a call with each of the institutions addressed and look forward to sharing publicly some of the new initiatives we will be rolling out with some of them. On a personal professional front, I convened the first meeting of African American leadership across the Federal Reserve system to have a conversation about where we go from here and how the different institutions have responded to this moment so we can learn from each other. We've been breaking down silos and starting communication around these issues. I know these groups are still having these meetings. We've seen a great shift at the Fed regarding its responsibility in measuring the unemployment rate, for example beginning discussions about looking at the Black unemployment rate versus the general unemployment rate because of the discrepancy that occurs between the two.
Rafael Bostic, President and CEO of the Federal Reserve Board of Atlanta wrote a letter about these issues, as did my former professor, Dr. William Spriggs of Howard University. Lots of conversations have been happening, and overall, there is a lot of work that needs to be done still, but we're glad that we were able to use the moment to bring attention to the needs of Black women in this space.
3. The Sadie Collective has already been hugely successful since its founding just two years ago in August 2018. What has been the greatest challenge in running the organization, and what has been the greatest reward so far?
The greatest challenge is creating an organization while working full time! Anna and I have been doing this alongside our work as research assistants—we are creating a mechanism that we could benefit from as we are walking on our own career paths and journeys.
The greatest reward is the amazing team that we get to work with and the room full of young women whose eyes are lit up as they're looking out to the panel of established economists and financial and policy professionals who are doing really meaningful research and work that they can aspire to.
With our conference this past year, about 300 people attended, and we were able to get high school students sponsored. Many of them were lower-income/first-generation in the D.C. area. Having participated in programs like that as a first-generation child of immigrants in NYC, I know how impactful and meaningful these experiences can be in changing one's trajectory. It's really invigorating to see all of our hard work come together to create these experiences. We're seeing the impact in real-time.
We're also very intentional about creating value-add experiences and about our team of 16 Black women from economics and its adjacent fields. We focus broadly on data science, finance, and public policy. We offer headshots at our conferences, and we're holding data science and skills building workshops so that people leave with clear ideas about what it would look like for them to explore these fields and what tools they could look into that would be valuable for a job in research or policy.
To name a few, on our team we have George-Ann Ryan, our CFO who just graduated from Columbia doing her dual degree and just moved back home to Antigua; Anna who is working at PNC focusing on the data science of their diversity, equity & inclusion; Kayla, who just joined the Federal Reserve and is doing analyses on consumer research; Kadija, who is at Brookings Institution, a job she got through the Sadie Collective conference.
We are bringing our resources together so we can spread that wealth and knowledge among other Black women. We're looking to expand down the line to underrepresented minorities, such as Native Americans and Latinx. The ability to do that at scale is incredibly rewarding.
4. Your background includes a diversity of experiences in economic research and government. How has that shaped your view of the role of economics in the public sector, particularly in shaping policy solutions?
We are constantly thinking about the intersections that exist between economic research and the policies that are enacted in society at large. This year, we're thinking of inviting policymakers to our conference including Congresswoman Maxine Waters, who has recognized the Sadie Collective in Congress before as a viable means for the Federal Reserve to engage with diversity and frankly, it's because of her that the Sadie Collective exists. Congresswoman Waters helped craft Section 342 of the Dodd Frank Act, which focuses on making diversity, equity & inclusion a key component of financial regulatory agencies after the Great Recession.
I've had some experience in the non-profit space and also supporting international finance work at the Federal Reserve. How they come together is also informed by my background with doing a political science and economics double major at Howard. Having the experience of studying political science, and doing so because of the questions I had about how the world is designed, led me to want to have some practical tools to help design the world, and that's where the [the field of] Economics comes in. I think political science as a field is very interdisciplinary, and economists can do better by having more of an interdisciplinary engagement. I think the way that we're hoping to continue to contribute to the conversation is by emphasizing and driving that point home through how we design our programming and events with young Black women.
What's unique about the Sadie Collective and the conference experience is that we don't shy away from the questions our members ask as women who experience the brunt of sexism and racism. It's something that we can't shy away from, and the field needs to see us and appreciate the diversity that we offer.
There's this point that Janelle Jones, Managing Director of Policy and Research at the Groundwork Collaborative, speaks to, which is a term she coined called "Black Women Best." The idea is that when the economy works for Black women, it will work for everyone. When we look at the data and trends, Black women tend to be at the bottom for financial assets and ownership. It speaks to this idea that the Federal Reserve is engaging with now in targeting the Black unemployment rate and not just the general unemployment rate, because it's not reflective of what's going on with Americans. This concept undergirds our mission and what we're doing here. If we have economic policies that serve Black women, then the economy is working for everyone. That has not happened yet in American history. We have a ways to go.
5. What has been the best professional advice you've received, and how has it influenced your career decisions?
I've received a lot of advice! Being first-generation, every conversation is valuable. Networking has been huge. The way that I navigate that is just having conversations with people and being interested in their backgrounds, experiences, and journeys. I was brought up to be quiet and keep your head down and get the work done and get an "A" and keep it pushing. Best advice professional advice would be to ask questions and be open to meeting people because that can open so many doors.
When I joined the Fed, I was very intentional about meeting with every economist in my division, meeting with them one-on-one. Even though I don't consider myself to be extroverted, I discovered that my strength was to make these one-on-one connections. That's been something that's really carried my career far. Being open to meeting people, sharing your experiences, and making genuine connections is the secret to networking.
Additionally, community has been something that's been implicit throughout my life. My mother had her own hair salon in NYC and hired other immigrant women in that space. Seeing how community allowed us to navigate New York in a way where she was able to crowd fund start up capital for her business, lessen costs through the art of favors, and seeing her be so community-oriented has woven it into the fabric of how I operate. When I look back in hindsight, having that experience and being exposed to that, creating the Sadie Collective was a no-brainer. There is nothing to lose. Life doesn't have to be a zero-sum game at all. I feel any blessings I have in my life currently are multiplied and are because of that intentionality behind cultivating community.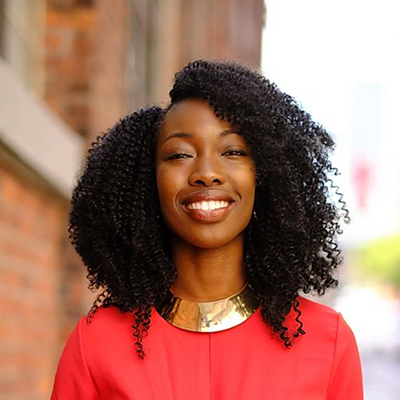 Fanta Traore
Co-founder and COO,
The Sadie Collective
Viewpoints of our interviewees are their own and not representative of their organizations or JPMorgan Chase.