JPMorgan Chase Institute Reveals that People Are Spending More of Their Savings from the Pump
The U.S. government projects that American households will save on average $700 this year on gasoline, as the price of a gallon of gas has fallen by nearly $1.50 from its peak of $3.70 in April 2014 and is projected to remain low through 2015 (Energy Information Administration). But who feels the biggest increase in spending power? How much of that extra money do consumers spend, and what do they spend it on?
The answers to those questions previously have come from surveys or estimates based on aggregate data and have indicated that less than half of the money saved at the pump was spent. However, with the release of this new report by our JPMorgan Chase Institute, we now know that individuals are spending nearly 80% of that extra money. With lower gas prices expected to last through the year, this extra disposable income is fueling consumer spending on other, non-gas categories.
Drawing from a universe of over 57 million anonymized customers, we constructed a unique data asset comprised of 25 million credit and debit cardholders to shed new light on the effects of gas price decreases on consumer spending. The JPMorgan Chase Institute has adopted rigorous security protocols and checks and balances to ensure all customer data are kept confidential and secure.
One of our four major findings was that for every dollar less spent at the gas pump, individuals spent 73 cents on non-gas things and up to 89 cents when considering a more complete view of spending beyond credit and debit card transactions. The evidence suggests that gas price fluctuations indeed have a significant effect on consumer spending.

We discovered that almost 20% of the gas savings were spent at restaurants, and a total of 32% was spent on services. The largest share of savings on gas (33%) was spent on non-durable goods, with 10% spend alone on groceries. Our research also noted that electronics and appliances, entertainment and professional and personal services also saw significant gains in spending. From these findings, we can easily conclude that people are spending more of their savings from the pump than has been recently estimated.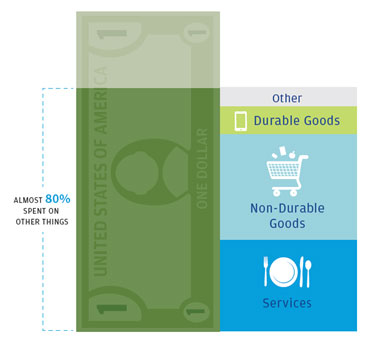 The JPMorgan Chase Institute is a think tank dedicated to delivering data-rich analyses and expert insights for the public good. Its aim is to help decision makers–policymakers, businesses, and nonprofit leaders–appreciate the scale, granularity, diversity, and interconnectedness of the global economic system and use timely data and thoughtful analysis to make more informed decisions that advance prosperity for all. Drawing on JPMorgan Chase & Co.'s unique proprietary data, expertise, and market access, the Institute develops analyses and insights on the inner workings of the global economy, frames critical problems, and convenes stakeholders and leading thinkers. For more information visit: JPMorganChaseInstitute.com.