On-Demand Resources
Explore articles, tools and webcasts to help you and your business thrive.
Webcast
Our webcast series is designed to help you hear from leading voices in business, gain valuable insights and drive growth for your company. In the sessions below you will hear insights from business leaders that may help your business recover and move forward in the wake of the current pandemic.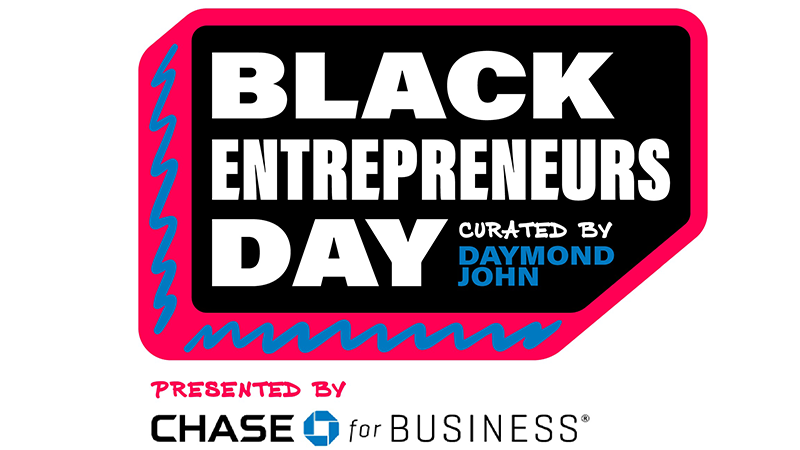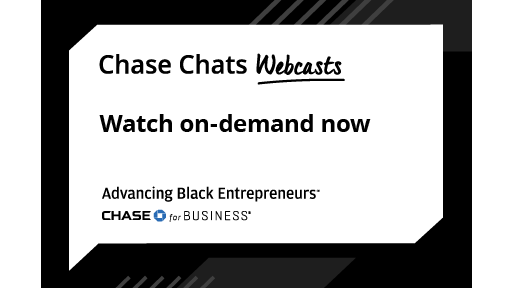 Watch a replay of the global live-stream celebrating Black business, featuring Black business icons and musical performances here.
Advancing Black Entrepreneurs: Rising to the challenges of COVID-19
Today, we are pleased to present conversation with some of the leaders of the organization involved with advancing back entrepreneurs. Joining us for today's discussion our Daymond John, founder, president, and CEO of the apparel company, Fubu, and founder of the Shark Group. He is also one of the investors on the ABC reality TV series, Shark Tank. Also joining us are Butch Graves, president and CEO of Black Enterprise...Adrienne Trimble, president and CEO of the National Minority Supplier Development Council, NMSDC...Marc Morial, president and CEO of the National Urban League...and Ron Busby, president and CEO of US Black Chambers. And now a word from our moderator, Daymond John.
Daymond John:
Thank you so much, Tosh. Thank you, Chase For Business, for having me and it is really amazing to be here with such a great panel. The effects of the economic downturn have been especially severe for black-owned businesses. And it's clear that many into this crisis undercapitalized. JPMorgan Institute research shows that black-owned business experience a 26% decline in cash balances in March compared to the prior year, and many could require more assistance than others due to revenue shocks in recent months.
We're here today to help the Black Business owners who are watching gain access and insight that can help them survive this environment and position themselves for growth moving forward. I have an esteemed panel here and I'd like them to talk a little bit about themselves and their business. So I'm going to start off with Adrienne.
Adrienne Trimble:
Thank you so much. I'm so glad to be here. Again, Adrienne Trimble, president and CEO of the National Minority Supplier Development Council. NMSDC is what we're really called, kind of affectionate name. We are the arms of corporate America and helping to connect them with diverse suppliers, minority-owned businesses, that can meet their corporate supply chain needs.
We have 23 affiliate councils across the country and we certified those minority businesses that are looking to do business with corporate America. This is such an important conversation today and we're glad that NMSDC is joining our other advocacy partners and being able to help position black entrepreneurs for success as we all get ready to come through this crisis that we're in, and be positioned for success on the other side. So thank you so much for inviting me to be part of the conversation today.
Daymond John:
Thank you for being here. Ron. Ron Busby.
Ron Busby:
Thank you, Daymond. Man, it's great to see you, as well as the rest of the members and the panelists. Again, my name is Ron Busby and I'm the president and CEO of the US Black Chambers Inc, headquartered here in Washington DC. We represent 145 black chambers located in 42 states as well as around the globe in Africa, Canada, as well as China. We're based on our five pillars, which is advocacy, access to capital, contracting opportunities as it relates to government, corporate America, and where we should spend our own dollars. We're also very interested in entrepreneurial training, which we'll speak about today, as well as our continuing relationship with JPMorgan Chase for business. And most importantly, we develop our chambers across the country.
These times are particularly interesting for all of our businesses across the country. We represent 332,000 black-owned businesses. And now, as well as any more time, it's important for us to all be engaged, make sure that we're educating ourselves, and looking forward to the future. Thank you.
Daymond John:
Absolutely. Education is key. Let's go to Butch. Butch Graves.
Butch Graves:
Hi, good morning, everyone. And welcome to my other esteemed colleagues here who are joining this panel discussion. And Daymond, I want to thank Chase For Business for inviting us here to discuss something that's near and dear to the hearts of Black Enterprise and that is black entrepreneurship. Black Enterprise is the largest company dedicated to black-owned businesses. This year, Black Enterprise will celebrate its fiftieth anniversary.
We are chronicling or we have chronicled the success of black entrepreneurs since 1970, and have focused on what is the growth and development of opportunities for black entrepreneurs across this country. It is essential in this time today to identify how we're going to get through this pandemic-- both pandemics, I should say-- the both the pandemic of COVID-19 and the pandemic of racism, which has in fact impacted upon the ability for black entrepreneurs to grow. But I'm thrilled to be a part of this panel discussion today and welcome the opportunity to work with Chase For Business.
Daymond John:
Thank you, Butch. And Marc.
Mark Morial:
Hey, thank you very much. And I'm honored to be asked by Chase for Business. And Daymond, good to be with you and all of the other co-panelists, for what I know will be a strong and robust discussion today. As a leader of the National Urban League, we are committed to economic empowerment. And central to that work is the work we do with entrepreneurs across the nation through a network of 12 entrepreneurship centers that reside within 12 of our 90 affiliates.
Our commitment is strong. We provide services to some 14,000 entrepreneurs, mainly African-American entrepreneurs, each year. And we look forward to this conversation, which we think has to always focus on the three C's that represent the challenges that black entrepreneurs face. One is connections. Number two is contracts. And number three is capital. And so I look forward to the discussion today.
Daymond John:
All right, thank you, Marc, and thank you everybody for being here. I'm going to jump right in. So my first question I'm going to direct to Ron. We're in the midst of an economic downturn due to COVID-19 and the outlook is still very uncertain. What are the biggest challenges that black entrepreneurs are facing during this crisis and what can business owners do to address those challenges?
Ron Busby:
Great question, Daymond. Thank you again for allowing us to participate. Black business owners are really facing a trifecta. First you've seen that black people are facing the virus at much higher rates of death. And in our communities, death as it relates to health has a lot to do with our wealth. And so we were first impacted from the virus.
And secondly, we were impacted from a misinformed stimulus package that many black entrepreneurs were able to participate in. And then lastly, as Butch has stated, we're facing racism across the country that is really challenging black businesses as well as just black communities that have sustainability. And with that, we have been talking about losing upwards of 41% of black-owned businesses in this country, which represents about 441,000 black-owned businesses that were closed between the month of February and April. And so conversations like this are extremely important.
But the question that you asked is what are some of the things that black businesses can do? And the first and foremost is to establish great banking relationships. In this pandemic, the first thing that we heard was make sure that you go to your existing bank to provide you access to the capital that you're going to need to get through this pandemic. And many of our businesses weren't able to establish those kinds of financial opportunities, because they didn't have traditional banking.
The second thing I think is extremely important as it relates to banking is that yes, we've lost 41% of our businesses, but that means that all of those businesses had customers, clients, employees, contracts, and vendors, which means that those that are out of business are still going to provide opportunities for our existing businesses to do joint ventures, mergers, and most importantly, acquisitions. And so I tell our business owners to look forward. Look at the future of your industry. Look at how you can grow your business during difficult times. And much of that is looking back at your existing business plan, looking at your financial so that you understand where there are opportunities, and most importantly, continue to educate yourself.
The great thing about having a partner like JPMorgan Chase and the other organizations that are here-- we're all about advancing education. The average black-owned businesses that are doing less than $100,000 a year, they have one thing in common-- no continuing education platform. But those businesses that are doing above a million dollars, they have something in common, too-- they are all continually educate themselves, look to the future, how they're going to get through this, and have sustainability for the long term sustainability of our communities across the globe.
Daymond John:
Three really great points. Number one is don't be afraid-- go and address your bank and your banker. They're there for you. Number two is: if customers are going to go somewhere from those that are going to align, for you be the one to give them your service and take advantage of it. And number three, which is very, very important, but that's why everybody is watching, because they're smart enough to educate themselves, is to continually keep educating yourself in business. Those are really three great points.
The next one is going to be directed to anybody on the panel that would like to take it. So our poor cash flow management, even in good times, is the leading cause of business failure. And it's even more critical now. When so many businesses are struggling with lower revenues, what are some time-tested best practices for managing cash flow that business owners should lean now? And anybody, please feel free to take question.
Adrienne Trimble:
I'll jump in first, Daymond, thank you. I think it's important-- and I want to go back to something Marc said earlier around the three C's that every business should be aware of. And the C I'm going to focus on is around the contracts. I think what a lot of business owners don't understand is that corporate America, when you have contracts with them, they're willing to negotiate payment terms. Don't be afraid to go back to your customers and negotiate your payment terms and try to get something that's going to be a lot more flexible with your ability to meet your own demands within your supply chain.
So make sure you're working with your customers, understand what flexibility that you have to manage your cash flow through your payment terms. And try to get your cash upfront so that you can make sure that you have the ability to make your payments needed downstream made within your own supply chain. So don't be afraid to have those conversations and be more upfront about what your needs are versus reactive to that so that you can protect your relationship with the customer.
Tosh Ernest:
Thanks, Adrienne. I just want to add to that we actually have been amending and being very flexible at Chase For Business with our terms. So you are listening and you're one of our contractors and suppliers, please do reach out. We want to work with you on these terms.
Mark Morial:
Let me offer a comment and this is hard advice. Number one, pay your 941s. If you have employees, pay the IRS. When cash is tight, you have to prioritize and you have to prioritize by paying those things or partially paying, because sometimes partial payments in good faith will buy time if you can't make the full payment. But you've got to assess the prioritization in terms of what's the risk.
So if you think about the household, a household would pay for food. They might pay their cell phone bill, they might pay the electric bill, they might try to defer some of their rent if money is tight, because the electricity can be turned off immediately. The phone might be able to be turned off immediately. Maybe you can buy a little bit more time with a landlord.
I like when cash is tight, the concept of partial payments, because a lot of times, it's a good faith gesture towards someone you owe. And sometimes, it goes a long way as opposed to being paralyzed, freezing, and hiding because things are tough. You hide. You don't want anyone to know you're having cash flow problems. Don't want to talk to your customers. You don't want to talk to your suppliers or people you owe money to. And what you do is you make the situation get a lot worse.
It's best to confront it. And I think as Tosh said, banks will work with you, landlords will work with you. the economy is tough, the landlord, if you're renting space, many of your suppliers-- they have tough times, too. They may respect this partial payment. They may respect good faith gestures. So don't be afraid to have that conversation. In our entrepreneurship centers in 12 cities around the country, when times are tough, that's when people come to us asking for counsel and advice. So those are just a few practical tips that one must consider.
But the last thing I'll say-- this is a comment on the underlying challenge of under-capitalization of small businesses. Black-owned businesses who do not have a reserve, they do not have a cushion like many black households. They are living from week to week, month to month, payroll to payroll. And that is the challenge we face-- to grow black businesses of greater size, greater scale, and greater sustainability.
Butch Graves:
And if I could just jump onto something Marc said, I'm going to add a C to the three C's that Marc did. And this is something that is a challenge for black businesses, but I'm going to use the C called consolidation. The fact of the matter is-- and I know that folks don't want to hear this oftentimes-- corporate America wants to do business with less people, not more people. And so the biggest obstacle for black-owned businesses, I would submit to you, is not just access to capital-- it's scale.
Large companies do not want to do business with companies that can only make 100 widgets. That's not practical for them. So what we need to do as black-owned businesses is find out rather than six people going out of business that are in the same exact business, is find a way to get together, and merge, and bring your assets together-- bring your skill sets together, and create a company large enough that can do business with a Walmart. That is bankable with Chase For Business. With people that want to work with you from that perspective.
Too often, our egos get in the way of what makes sense. And if the only thing that matters to you is having a business card that says you're the CEO of a company that makes no money-- well, you can't deposit business cards at the bank, right? I'd rather own 20% of something that is profitable that 100% is something that's not profitable. And we've got to begin to address-- I know NMSDC, Adrienne, you guys are hearing this from your clients all the time-- they want to do business with minority-owned businesses, they want to business with black-owned business, but we've got to get to scale. And we've got to get to scale so we can get contracts that are valuable rather than getting the nickel and dime contracts that we're all fighting for the same problems, which ultimately means everybody starving and just getting a little piece.
So I'm going to add a C, Marc, to your C's. Is we have to say that consolidation-- mergers and acquisition. We've got to find a way to get our companies together to merge and find the benefits of what, in fact, we have collectively.
Daymond John:
Yes, so I really think those are really great points of course, Adrienne even touched on. Making sure that you're talking to your banks and you're talking to your vendors. And don't avoid those type of things, because they're all in business. And Marc was make sure you pay your taxes, of course. Also negotiate with your vendors. And of course, Butch said, which is my favorite, collaborate. I mean, that's your inventory collaborate-- entrepreneurship is important.
So often, we do not collaborate in the communities, but you'll go to 47th street, and you'll see jewelry store after jewelry store after jewelry store after jewelry store, because they're all working with each other. They're manufacturing or they're distributing or they're polishing or they're creating something of that nature.
My next question that I want to ask is one directed to Butch. Even with the economy starting to open back up, the last few months has shown just how critical it is for business owners to have a strong online presence. What are some of the must-haves for entrepreneurs when it comes to building a digital experience for their customers?
Butch Graves:
 So Daymond, that's a great question. But the reality is that we live in a digital world today. And we've been almost forced into this world, if you will, with COVID-19. But this was the direction it was going in, anyway. And the reality is that if in fact, you don't embrace technology, if you don't utilize and embrace technology, you're going to struggle. It doesn't matter what business that you're in. Every business is incorporating technology and finding ways to better deliver their product and service through technology.
And I'll use a real world example of being Black Enterprise. When one door closes, another door opens. Black Enterprise is known as being a magazine, but frankly, we're not publishing a magazine today, because young people don't read magazines and newspapers. So while we can hold on to the premise and hope that eventually, maybe it'll come back, it's like hoping that the ties that we used to wear in 1970 will come back-- it's not coming back. That part of it is not coming back.
And so when the door of publishing, the printed word, closed, another door opened, which is digital and media. And so now what we've gone from is being a monthly magazine that published once a month and got information together once a month to being a digital-first company, a multimedia company that has digital. We still have a magazine, but we print one or two copies per year. We put on multimedia events, we do all kinds of other things that way.
But digital has helped us to grow every one of those pieces of business. Everybody that registers for an event goes through registering digitally. Our audience, which was used to be only 200,000 uniques that we have now is at 6 million uniques per month, which is a huge audience for us from a digital perspective.
So while the door closed in something else, we've been able to grow our business in the digital area. And doing virtual events, we've got podcasts, we're doing all these are the things that did not exist before. So for black-owned businesses, the beauty of this is that digital technology levels the playing field, because now, you can actually utilize technology to make your company look and become larger than it would be if you had to use the more traditional channels.
So it is essential. It is absolutely essential that you've got a good digital team, a good technology team. We have seen the BE 100 companies-- that our annual listing of the nation's largest black-owned businesses, and I've seen the companies that have fallen off that list, the top 100 auto dealers that have fallen off that list, primarily because they refused to invest in technology.
Today, a young person buys a car and they may buy a car never going to visit a dealership. That was happening before COVID-19. And that was happening because if you don't have the ability to demonstrate and show people what they can have online, they're not going to do it. So if I could offer any piece of advice to our black-owned companies, please embrace technology. Please invest in technology. And level the playing field and make your company larger than it may even be by utilizing the benefits of technology.
Daymond John:
That's a valuable point. You're hearing it right from the source of somebody-- Butch, you were somebody who didn't want to learn technology. Then, you would consider yourself a magazine company, but you are more a content company, you're a media company. And today, with the palm of your hand, you can pick up a device and you can reach the entire world. And that's why your business has continued to grow. African-Americans need to understand the power of this.
You think about it, we make up 10% of the country, but we take up 35% of communication on the internet, because we love to communicate, we love to talk. And use that to your advantage to share what values you have and what products you have that will increase and better other people's lives in one way or another. And learn how to monetize, very important.
The next question I have is going to be for anybody and everybody. I know this very well because Robert Herjavec on Shark Tank happened to be one of the top 10 cybercrime experts in the world, and he's sharing some stuff that's going on. It's absolutely crazy. So next question is fraud is another big concern-- cyber criminals love themselves a good crisis-- how do you go about fraud-proofing your business? And please, anybody feel free to take that one.
Tosh Ernest:
I'll jump in. So we know, because we're a bank-- perhaps a few people don't know this, but banks don't have regular cyber security. Our cyber security is akin to CIA's-- military raid. So we know a little bit about cyber security and we've actually created Chase Chats, created by Chase Business, more than one on cyber security that is actually going to talk you through all the things you need to be looking for. How to do it, how to think about cyber breaches.
We also know that black businesses go out of business more typically than non-black businesses after just one breach in cyber. So that's something that we're acutely aware of, and we want to make sure that especially as Butch was saying, it's e everything. Everything is contactless, everything is virtual these days. And so we need to think through what does the world look like in a contactless world, where you're storing people's information, and they're trusting you with that. And so I want to encourage you as a free resource, go to Chase Chats, just Google it, and look up our cyber security conversation.
Daymond John:
Sure, Ron, please.
Ron Busby:
Yeah, we did a survey three years ago with the Joint Center and Google to ask that question to black-owned businesses about just that. And during this time of this pandemic, I think a lot of folks aren't really looking at some of the things that can happen each and every day that doesn't have to necessarily be a huge attack.
As Tosh stated, we found that 97% of black firms, when they are hacked, they go out of business. There's no reboot, restart, refresh. It is literally I have gone out of business and I have to either file for bankruptcy or I have to reopen under a new establishment. And so for us, we're telling folks, it doesn't have to be a pandemic. It could just be you not backing up your system on a Friday, and come back on Monday, and all of your information is gone.
There's a funny story of a good friend of mine who said his brother got pulled over by the police for DUI, ended up going to jail, and did not have a phone number that he could remember to get out. We have to go back to some old traditional methodologies to make sure that we are doing things that keep us out of harm's way. And many of that is utilizing technology to make sure that we're secure short term as well as long term.
Mark Morial:
 I was going to add-- this morning in terms of a question-- because I just met two young entrepreneurs that we work with. And they're young women who are building fashion lines. And the essence of their business is that they're using Facebook, Instagram, I guess, and PayPal, pretty exclusively to run the entire business. And so they do online buying, they do online Sales and then on a weekly basis, they have a show run that they share that you can go to if you bought a product and you want to pick it up versus having it delivered to you.
But they're using commercially available-- they don't have any customized websites. They don't have any customized payment systems. These are small you know cottage-based businesses in our community. What risk do they have? This is more of a question. If they're using Facebook and Instagram, and we've done some classes to encourage small businesses in the startup phase, to use generally commercially available tools, technology tools, to build their businesses because they're not at the spot where they have the capital to build a sophisticated customized website or a payment system. There's an audience out there who may be saying, OK, if I'm at that level, what are my cyber security risks, how can I protect myself?
Adrienne Trimble:
Marc, I think that's a really good question, because you're right. When you think about the microbusinesses that may be in startup phase or those who are operating in the gig economy, they don't have the ability to put in place those really sophisticated technology infrastructure that would protect their business. But what I would also say is that they should be well aware of what are the platforms that they're using and what are their security measures. And they make sure they understand that if they're relying solely upon those entities to protect them, they need to be proactive in understanding what measures they have in place that protect not just them, but their entire consumer base is using that platform.
And also know that the risk is if those companies are hit, they were hit, too, so they need to have a backup plan just in case that does happen. Because we know that there those criminals that are out there, some of them use it as just for fun to figure out how they can hack some of those large systems. And if that happens, then they are at risk. So they need to make sure that however they're operating, you have to have a backup plan just in case your infrastructure is in jeopardy.
Mark Morial:
Thank you.
Daymond John:
I couldn't agree more. I think as we think about what was just said-- Ron, did you say it was 97% do not bounce back after a cyber attack?
Ron Busby:
96.7% of the 300,000 businesses that we surveyed-- again, all of them that did not participate, but it was a large number that participated-- and the number was roughly almost 100%, but it was roughly about 96% of those firms that did get hacked ended up not being able to come back.
Daymond John:
I think that shows the gravity of the situation when you say, well, I'll get to it tomorrow. And challenge I know we're all thinking about as entrepreneurs is, I've got to be a distributor, I got to pay the bills, now I gotta be somebody over here who understands technology-- I just can't do it all, you know? But I think that this shows how important it is. And then going off of what Adrienne and Marc said, use platforms that if they get hacked, then you're in trouble-- that they're in trouble, excuse me-- because you may not have the funds.
I do know keeping up your technology as much as you can, meaning your computers and your phones as up to date as you can, is probably the best thing to do, because they're always coming out with new types of software, and that's how they're increasing the product. You don't want to have a flip phone from 2006 and wonder how you got hacked. But seeing that there's a lot of information out there, Tosh said it best-- they have resources on Chase Chat to go and find out some of this stuff to educate yourself. And listen, if you're home right now and you quarantined, take the time to continue to educate yourself. When you come out, you'll come out you get better and stronger.
The next question I'm going to have is directed to anybody and everybody. Health is a paramount concern for everyone right now. What are some steps that entrepreneurs can take to create a safe environment for their employees as well as their customers?
Adrienne Trimble:
Daymond, I'll start with that one, and this is really drawing on my human resources experience. That was my career before I moved into the diversity, equity & inclusion space. But I think that as a business owner, your people are your biggest asset. And you have to make sure that they are cared for, that they are protected, and that they know that you care about them, and their well-being. So there are times that you may need to just reach out to them to make sure that they are safe, they are secure, and that they have the necessary tools and resources to be able to do the work that they need to have done in a safe environment.
So make that the priority, because without your people in your operation, you have no way to really reach your customers and to deliver your services. So make sure that your people are out there at the foundation of any type of reentry plan that you may be developing in terms of reopening or getting those folks exposed to customers. Make sure that your folks have the necessary precautions and protection.
And we know that in this day, what I found is that there were a number of black businesses that were able to pivot into the PPE space-- making sure that you can have access to whatever materials or services are necessary to protect your folks. And there are a lot of businesses out there that can help you and provide those types of tools for you.
Ron Busby:
Daymond, as we get ready to reopen across the country many of our businesses, our business owners are saying, our health does equate to our wealth. And so for many of them, it is about communications. You have to be as the owner of your business, somewhat transparent, somewhat knowledgeable, because your employees are looking to you for guidance. They're looking to you for how they're going to transition back into work.
As well as your customers or clients. Your clients are concerned that you're making sure that your employees are safe as well as the products and services and the folks that work on their behalf are safe, as well. So for me, it really is about making sure that we're communicating with our employees, our customers, and that we have as much transparency as possible so that everyone feels comfortable.
Tosh Ernest:
Yeah, I'd like to add to that, Ron, that we know that black entrepreneurs suffer disproportionately from mental health issues. And so when you're on the airplane-- and in fact time, I'm jumping on one tomorrow to head back to the US, I'm currently in London-- one of the things that you hear them say is that you've got to put your mask on first before you reach out and help others. I think that it's really important, even while we're trying to be servant leaders, to make sure that we're healthy.
I think it was Marc or Rich that talked about there being multiple pandemics happening right now. And some of them require us to take the time to take care of our mental and emotional health, even while we're continuing to check up on the government guidelines around spatial awareness and mask wearing. You know your people need you to be mentally healthy as well, because whole people help people heal, and they're looking to you for that emotional stability, as well as making sure that they're physically OK.
Daymond John:
Yeah, I think that's a good point. Being an entrepreneur on a regular day is very stressful. You can't tell anybody your problems. You can't tell all the employees your problem, because they're going to say, I just walked into the office, the boss was crying, I think I got to find another job. You got financial stress at the house, but you got to listen everybody else's problems. So really go out there and think about your mental health and communicate with people that you love and strangers and whoever you need.
And also, keeping your people safe-- I'm not in a high touch business. I don't happen to have a restaurant or a spa. I am learning myself how to digitally get the most I can out of my staff. I'm in a hot spot-- I'm in New York, like several of you are. I don't know how I feel about having my people come back to work on the subway, because what would be the profit that I would make to find out that somebody took something home to their parents and they passed away? So sometimes, you have to also adjust your business model and learn to be virtual, as well, if you have that luxury. And I think we had touched a little bit on that.
So the next one I'm going to ask Adrienne this one, as well. The last few months have been a real wake up call to all of us about how critical contingency plans is. What should business owners consider as they develop plans to protect their businesses from disaster like pandemics that we're dealing with right now?
Adrienne Trimble:
Thanks, Daymond, and I'm going to get to mimic a little bit of what Marc talked about with his three, now Butch made, four C's. I'm going to talk about the three P's that is really important for business, whether it's a contingency plan or a business development plan. The three P's I think that every business owner should be focused on-- start first with your people. Making sure that you understand who your people are within your organization, making sure you have the ability to lead in a disaster, and making sure that they know what they're going to have clear roles, responsibility so that they can-- again, they're the face of your business. You cannot meet your customer's needs without the right people in place, and making sure you have the right people in place is really critical.
The second P is really around your processes. We talked about this earlier. We live in a digital era right now, so it is important that companies have the right infrastructure in place, the right technologies in place, the right communication tools in place to make sure that they can either reach their people when they need to, their internal resources, or their customers when they need to, and how they need to. You have to know how to meet your customers where they are by making sure that you know and you're proactively understanding what that looks like.
We all know that the way that we do business today is not going to be the way we do business in the future when we get through this whole pandemic. The pandemic fades. Some things are going to stay, some things are going to change. So we have to make sure that you have processes in place to understand what that's going to look like and how do you get ahead of it.
The third P that I will talk about is about your products or your services. So the products and services that you deliver and how you deliver them will be so critically important for your customers. There have been a lot of lessons learned as we've gone through this pandemic and as we've gone through the two pandemics, as we talked about. We are now doing business differently. We know that people are connected to their technology a lot more, because we have to be, because we can't take the risk of doing business face to face. And so we understand the safety measures that are in place.
Understanding that how do you continue building your business so that you can not only meet the needs of your customer today, but when we get through this period, how do you meet them in the future. What do your products need to look like. Those are things that business owners need to be thinking about now. And I know that everybody is in survival mode, but that needs to be part of the survival plan if you really want to be positioned to meet your corporate America needs in the future. And I think that's something we talked about earlier.
When you start to talk about your products and services and how those can be delivered, think out of the box. Think about innovation. And think about those spaces where we know that there are not needs being met today that will need to be met in the future so that your team can be positioned to meet those needs proactively and bring those business solutions to your customers before they even ask for them. So that would be my advice-- instead of working at your business, be ready to work on your business and in your business to prepare your business for success.
Daymond John:
Well, I really want to thank everybody for being here. In closing, what we've learned today, all we talked about today, you have to take inventory of yourself, your assets, what feeds you, your liabilities, what eats you. And you have to know who you can communicate with. You have to trust and talk to your vendors. You have to continually educate yourself.
Because whether it's going to be planes crashing into a building, the '08 crash, dotcom bubble crash, coronavirus, or something else-- something else is going to happen. But business owners, you know what you signed up for. You signed up to work 80 hours so you don't have to work 40 hours. And that's what you built for and that's what you're going to do.
And this great challenge-- it's rewarding as well if you can last through these times and bring other people up the ladder, especially African-American business owners. We didn't have really, a lot of legacy wealth in our past and our history that we can lean on. So a lot of time, we're leaning on the people that we are working with today. And it's been an honor to have this conversation with Tosh and Adrienne and Marc and Ron and Butch.
And I've learned as well. I think that the point that I learned is listen, my competitors, customers are going to go somewhere. How can I get them to come to me, because I've been waiting for them to see the value I can add. And I've learned a couple other things I've written down.
So thank you all for being on the panel with me. And thank you, Adrienne, thank you Tosh, thank you Marc, Ron, and Butch. Your insight is absolutely invaluable.
Tosh Ernest:
Thank you for having us.
Adrienne Trimble:
Thank you very much. Yes, thank you.
Daymond John:
And thank you everybody for tuning in. To learn more about Advancing Black Entrepreneurs by Chase For Business, please go and visit www.jpmorganchase/abe. Be safe.
END
Tools & Resources
Learn more about how we're standing with you through this time and browse resources, analysis, and insights.
Deposit products and services provided by JPMorgan Chase Bank, N.A. Member FDIC.