As the world faced the health and economic consequences of COVID-19, JPMorgan Chase worked to bring the full force of our core business and expertise to support our communities, employees, clients and customers affected by this unprecedented global crisis. We were there to help in the most challenging times.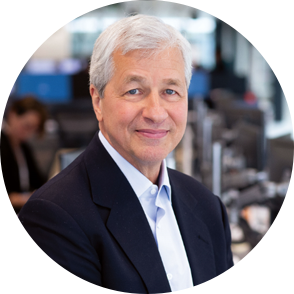 "Everyone was affected by the COVID-19 crisis — from our colleagues, families and communities to our customers, clients and partners. That is why our firm stepped up to help address immediate humanitarian needs and long-term economic challenges posed by this global pandemic. During crises such as these, it's important for us all to come together — and for our firm to harness its resources to assist those who need help the most."
_______
Jamie Dimon, Chairman and CEO, JPMorgan Chase & Co.
Supporting the "Real Economy" during the COVID-19 Crisis
To support the "real economy" — our customers, clients, employees and communities impacted by the global crisis — JPMorgan Chase has brought the full force of its core business and expertise.
In 2020, we raised capital and provided credit totaling $2.3 trillion for customers and businesses of all sizes, helping them meet payroll, avoid layoffs and support operations.
Through March 2021, we've provided more than $40 billion to more than 400,000 small businesses through the PPP program.
Since March 13, 2020, we've delayed payments and refunded fees for customers on over 2 million accounts.
We committed $250 million in global business and philanthropic initiatives, with particular focus on the most vulnerable people and communities hardest hit by the pandemic.
Our ability to do all this, and more, is the result of the actions and investments we've made over many years to build a strong and resilient company.

- Offered delayed payments and forbearance options for around 2 million mortgage, auto and credit card accounts representing $85 billion in loans
 
- Refunded $120 million in fees on consumer deposit accounts for nearly 1 million customers
 
- Streamlined relief benefit enrollment and renewal processes and required no evidence of hardship
- Supported distribution of funds through the SBA PPP


- Provided $18 billion in new and renewed credit for U.S. small businesses (outside of PPP) in 2020


- Delayed payments for 21,000 loans and refunded $24 million in deposit fees for more than 130,000 small businesses


- Committed $350 million to support underserved small businesses, including Black and Latinx companies

 
- Continued to pay employees for regularly scheduled hours even if hours were reduced by temporary site closures or other circumstances


- Provided a special payment to select full- and part-time employees whose role required continuing on-site work


- Enhanced support for working parents, including childcare and tutoring


- Expanded access to medical resources
 

Large Employers and Essential Services 

- Helped many large employers avoid layoffs and furloughs for countless Americans


- Extended funding to nonprofit and government services, such as hospitals and transportation, to support continued essential services for their communities


- Provided $865 billion in credit for corporations that, collectively, employ tens of millions of workers
- Provided more than $70 million in loan relief through nearly 1,500 multifamily loans, affecting housing for more than 27,000 tenants


- Offered landlord borrowers periods of interest-only payments, deferral of mortgage payments and the ability to capitalize prior deferred payments over two years or more


- Provided payment assistance to millions of Chase customers, freeing up capital for rent or other critical expenses
- Committed $200 million to help underserved small businesses and nonprofits access low-cost capital through community partners


- Committed $50 million to address public health and long-term economic challenges resulting from COVID-19


 
Keeping You Informed
Review our latest news, insights and information on COVID-19 and how to navigate through economic uncertainty.