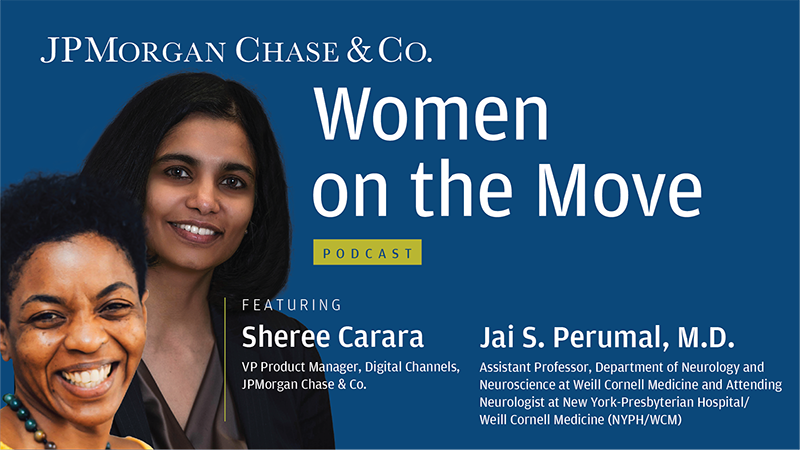 Workplace inclusion for individuals with disabilities: insights from an MS patient and a leading neurologist
Multiple sclerosis is a focus of interest for many medical researchers, and a critical issue for women as more are impacted than men. As a disease that also affects working-aged women more than retirement-aged, it's also the focus of many workplace diversity and inclusion experts. In this episode of Women on the Move, host Sam Saperstein sits down with a noted neurologist, physician, and MS specialist, as well as a diversity and inclusion leader at JPMorgan Chase who was diagnosed with MS nearly a decade ago.
Dr. Jai Perumal is the attending Neurologist at New York-Presbyterian Hospital/Weill Cornell Medicine, where she specializes in MS and other neuroinflammatory diseases. And Sheree Carara is Vice President and Product Manager for Digital Channels at JPMorgan Chase—where, as an employee with MS, she's also become a leader in the inclusion arena. In this conversation you'll hear their insights on MS as well as learn about their efforts to increase awareness of and treatment for all disabilities.
MS and the workplace
Sheree was diagnosed with MS in July 2013, and at the time she took the diagnosis as a death sentence for her career ambitions. As an autoimmune disease that can disrupt the functioning of the optic nerve or spinal cord, MS can cause symptoms ranging from vision problems, to numbness, balance issue, or cognition problems.
Not all MS patients experience all or even any of those symptoms, but they often share one common thread: emotional distress and fear after diagnosis. Sheree recalls that she immediately assumed she could never succeed in corporate America. "I realized that I couldn't do what I used to do," she tells Sam and Jai. "I didn't think there was any other option. I saw myself in a wheelchair. That's what I thought."
Instead, Sheree flourished at JPMorgan Chase—due to both her own tenacity and the support of colleagues. In fact, CAREERS and the disABLED magazine recently celebrated her as an employee of the year for her efforts on behalf of people with disabilities in the workplace. She says the JPMorgan's Office of Diversity and Inclusion offers great resources, including videos illustrating how to tell your manager about a disability as well as how managers can supportively respond to hearing the news. She says the more tools and information that is available, the better. "I now have a different ability," she says. "It's not the same abilities as before, but I can say I need help. It's okay. I just need support and help."
Treatment and the future
With many MS patients being diagnosed in their twenties, Jai says that one of her motivations for getting involved with MS research and treatment was the opportunity to develop long-term relationships with patients. "You start seeing patients in their twenties and they grow with you," she says. "You see patients over time and you become friends."
Jai describes the care she takes when a patient is newly diagnosed, and how the first visit can be overwhelming. "Because you're talking about the disease," she notes. "We have to talk about the next step too, which is treatment. The most important thing is understanding what it is committing to treatment. We have so many treatments now. So a patient diagnosed now can expect to have a treatment that controls their disease very well."
In terms of workplace policies around inclusion, Jai offers straightforward advice to employers: don't try to fit all people with disabilities into one mold. For instance, with MS, some patients have visible disabilities, and it can be easy for employers to make accommodations. But others have invisible disabilities such as fatigue or cognition issues. When employers and colleagues both recognize and communicate about these invisible disabilities, accommodations can go much smoother. Because, she notes, "sometimes you just need to make some adjustments and patients can continue their jobs."
Jai offers one other piece of advice for individuals with unexplained symptoms: Don't ignore those symptoms, seek answers by visiting a doctor. And look for a good fit with a medical provider. She notes that many patients find a good fit with the first provider they see. "But if they don't resonate with you, if you don't have a connection [seek another opinion] because this is a long-term relationship, you need to be perfectly in sync with your provider."

Workplace Inclusion for individuals with disabilities: insights from an MS patient and a leading neurologist Episode Guests:
Sheree Carara
VP Product Manager, Digital Channels, JPMorgan Chase & Co.
Dr. Jai Perumal
Assistant Professor, Department of Neurology and Neuroscience at Weill Cornell Medicine and Attending Neurologist at New York-Presbyterian Hospital/Weill Cornell Medicine (NYPH/WCM)
Subscribe