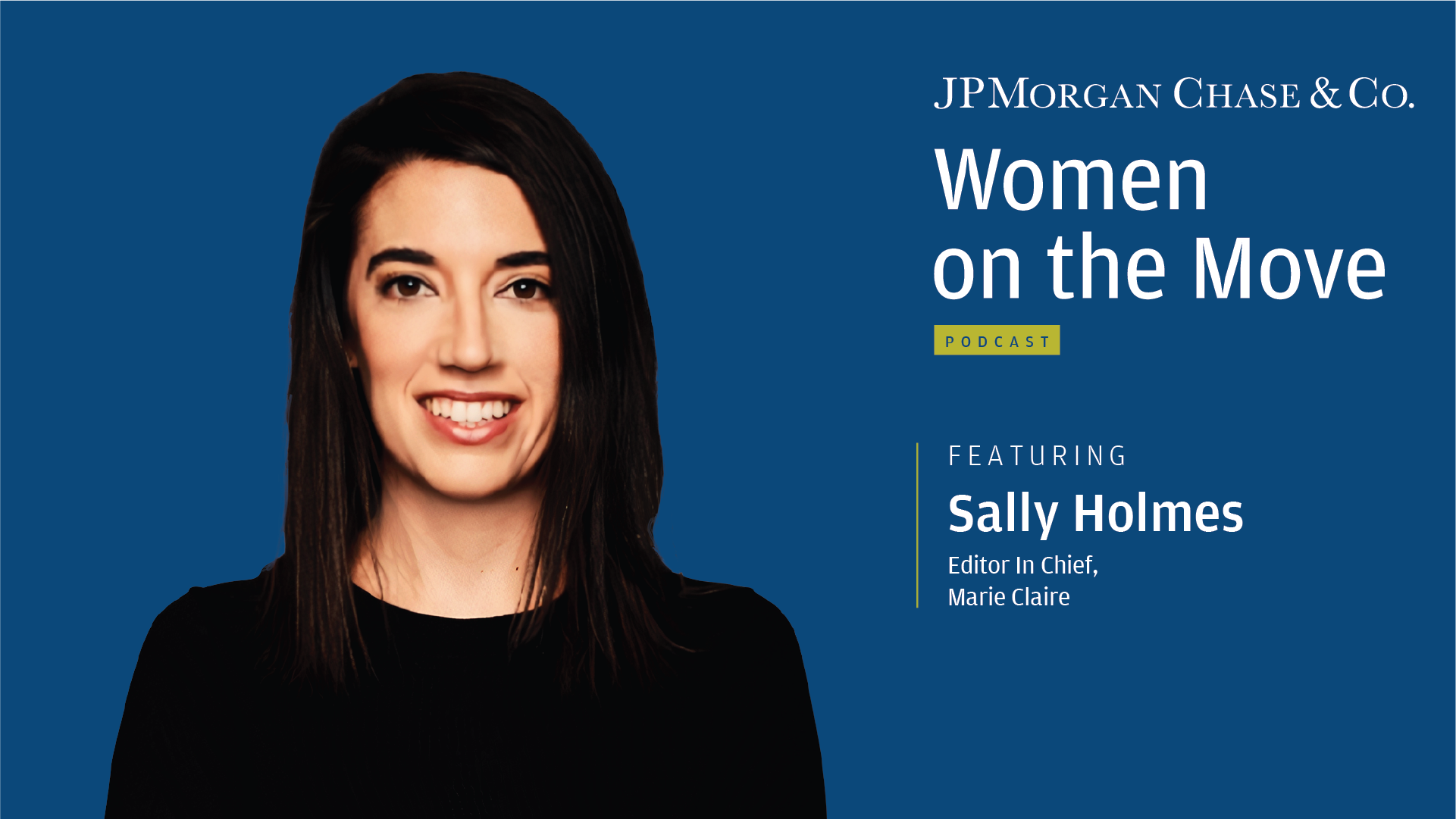 Marie Claire Editor in Chief on women, remote work, and a digital-first strategy
Taking on the role of editor in chief during the pandemic, Sally Holmes navigated change and growth under extraordinary circumstances. In this episode, she sits down with Women on the Move host Sam Saperstein to talk about her career, the women who make up Marie Claire's readership, and the importance of work-life balance.
As the daughter of television journalists, Sally caught the news bug at a young age. While she initially wanted to be a doctor, by the time Sally graduated college, she had decided to follow in her parents' footsteps and pursue a career in journalism. She went on to intern and work at a host of high-profile companies including Scholastic, The Cut, and Elle magazine. Nearly four years ago, she was hired at Marie Claire as digital director, and 18 months ago—just as the pandemic was shutting down offices—she was promoted to Editor in Chief.
Leading during a pandemic
Sally is currently leading Marie Claire through a "digitalfirst" transition—with more focus on the website rather than a monthly print magazine. She says that her ability to transition into her leadership role as Editor in Chief during the pandemic was made possible by the support of her incredible team. "It's pretty amazing to think about what we've accomplished and what we used to do in the office," she tells Sam. "Literally, you know, a paper would arrive on my desk and I would mark it up and write notes on it, and then send it to the next person. And that was all something that we had to pivot and figure out how to do that virtually or digitally."
Appreciating the support of others is a theme of Sally's—she discusses role models in her life including her mother, and two of her former bosses. It's that appreciation of the team aspect of work that leads her to see both positives and negatives in the virtual work model. On the one hand, she says, she's thrilled to be able to give credit to staff members and empower them to make decisions about their own schedules. But she misses both the creativity and the organic chemistry that happens in the office setting. "It's not the same as in real life interaction, which I think at the end of the day, unfortunately, is the glue that really holds the team together," she notes.
Sally and Sam also discuss a recent survey of working women by Marie Claire and LinkedIn. The survey found that half of women who participated are considering a career change to pursue more money and flexibility. Sally notes that those results highlight that stress or fear of burnout is forefront for many working women right now. And, she believes, there's inevitably going to be an evolution away from pre-pandemic work attitudes. "I think that our survey was both a way to empower women to say, you're not alone," she says "You're not the only one who wants flexibility. You're not the only one who thinks I can't go back to the office five days a week, or my priorities have changed or I don't feel safe. And then also to inform workplaces that we do need to rethink what employment looks like, what the state of our offices look like."
Reaching a diverse readership
Asked about the typical Marie Claire reader, Sally says she is a multi-faceted woman of diverse interests. She defines the Marie Claire reader as a woman of power, purpose, and style. "I always think about basically myself and the 30- or 40-something woman who is either at the top of her game or wants to be at the top of her game," she says. "She is career oriented, she's passionate. She is also totally multi-faceted. So I think it's totally fine and normal and good to love The Bachelor, but also be highly invested in the abortion bills being passed in Texas."
Sally believes that one key to meeting those diverse reader needs is to have a diverse staff. "I think it's really important to make sure we have a diverse roster of writers who are able to share different perspectives," she tells Sam. "Because I look a certain way. My staff looks a certain way. The world looks a certain way. We want to make sure that the stories that are represented really are told through multiple lenses so that we're able to offer different perspectives."

Marie Claire Editor in Chief on women, remote work, and a digital first strategy
Sally Holmes
Editor in Chief, Marie Claire
Subscribe