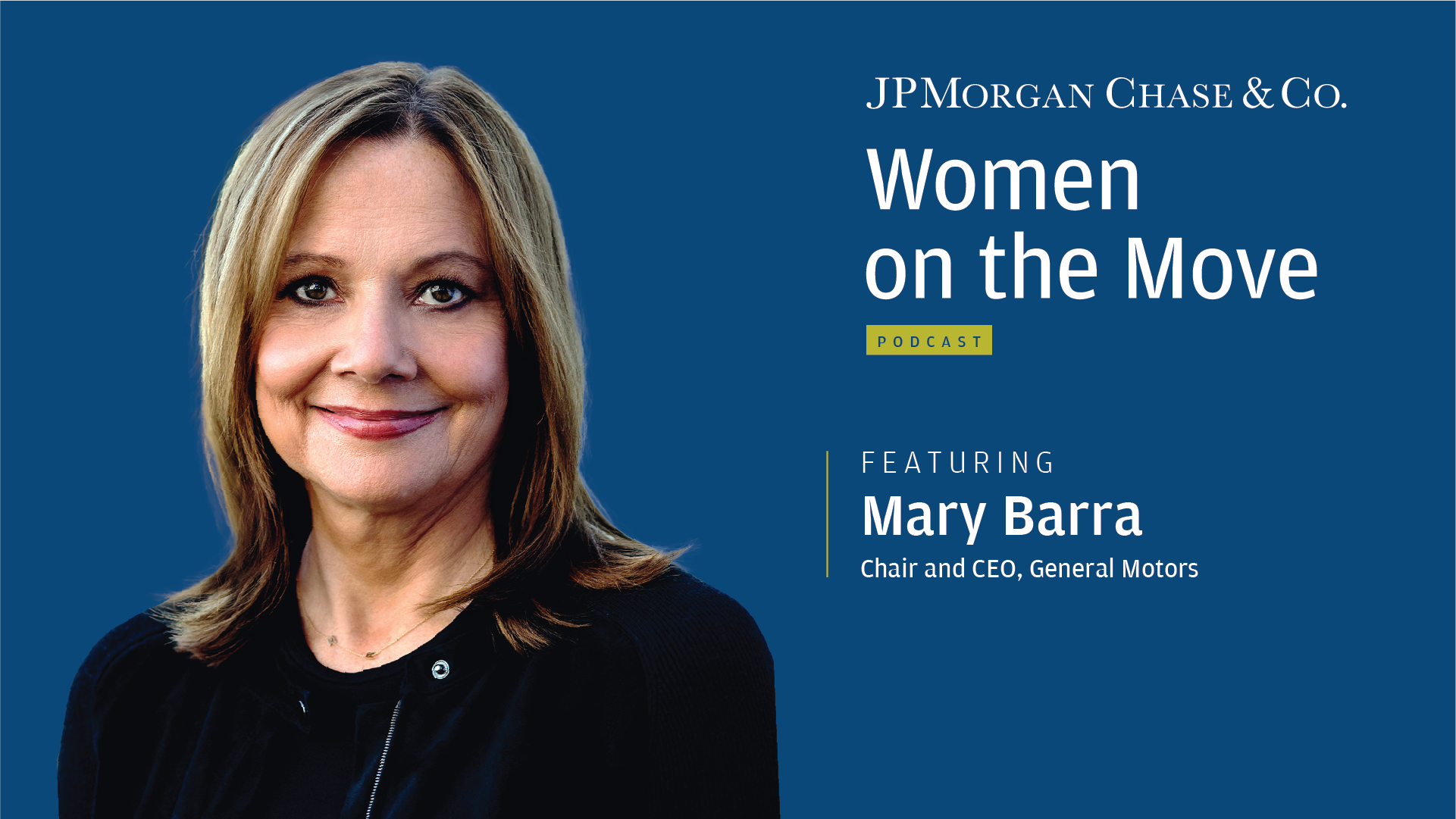 General Motors head Mary Barra talks leadership and tips for women
Mary Barra is a pioneer in the male-dominated auto industry and one of the world's most respected and influential CEOs in the world. As Chair and Chief Executive Officer at General Motors, Mary became the first female leader of a "Big Three" automaker in 2014. In this episode, she sits down to discuss leadership with Mary Erdoes, Head of Asset & Wealth Management at J.P. Morgan and share some insightful advice for aspiring leaders.
Focus on the job you're doing
As someone who worked her way up at GM from an hourly job that helped her pay college tuition, Mary offers one piece of career advice to talented and ambitious employees: Focus on doing the job you have well. "Do the job you're doing today like you're going to do it for the rest of your life, because that means you're going to invest in it, you're going to make it better, and you're going to drive efficiencies," she says. "If you're doing your job today and you're more focused on your next job, it's not going to work out well."
In Mary's experience, when you're invested in your job, your leaders notice your commitment, and that's what leads to new opportunities. For Mary, new opportunities at GM included being named vice president of Global Manufacturing Engineering in 2008, before being tapped a year later to be vice president of Global Human Resources.
Trusting and empowering the most vital resource
One of Mary's first big moves as head of HR was to abolish the firm's multi-page dress code and introduce a "dress appropriately" policy. Explaining that her real motivation was to recognize and empower employee's own instincts. Mary says, "When you think about it, you're trusting these people to do a great job every day to design a vehicle, or to service a customer," she notes. "And you can't trust them to know what they should wear?"
She recalls one incident where a manager came to her asking her to re-implement the old dress code because his employees were now wearing jeans to work and he didn't think that was appropriate since they sometimes had to meet with clients. Mary suggested he talk to his team about the issue rather than establishing a mandate. "He called me back two weeks later and he said, it was great. We all decided that we can wear jeans, but we'll have a pair of khakis or dress pants available. So if there's that rare time where we have to meet with someone, we will look appropriate for the meeting."
Recognizing what women bring to the table
Mary also shares tips for aspiring female leaders, drawn from her experiences. First she highlights the importance of women understanding that they bring a lot to the table. "I know we're all different, but in general, I think we approach things more collaboratively, we recognize people, we include," she notes. And those traits are invaluable in terms of being able to engage other people and get the best outcomes—especially in cross-functional teams and situations.
Mary also has words of wisdom about the perennial work-life balancing act, stressing that when women take ownership of their own balance and identify what's most important to them, they have the best results. "Your manager or your leader can't work life balance for you, because they don't know what's important to you," she says.
Once they've identified what's important to their own work-life balance, she advises women to give themselves permission to state their needs. She recalls a time when she watched the clock keep rolling after a meeting was supposed to end at 5:15 pm. She had to be home to relieve her childcare-giver so they could make it to an evening class. "Finally, I think I let another five minutes go and I just said to my boss, 'I really need to leave.' And he's like, 'Oh my gosh, go" she recalls. "From that point on, if it was toward that end of the day, he'd be like, 'Do you need to leave?' And he didn't say, 'You can leave. We're going to keep going.' He ended the meeting."
Mary says one thing she learned is that most managers will do that—once they understand what you need to be effective at work, they want to make it happen. "No one gets it perfectly," she says of work-life balance. But the important thing is advocating for yourself at work so you can meet the needs of your family. In the end, Mary wants her family to know she did what was necessary to meet her obligations to them: "I was dedicated and I cared and it was important."

General Motors head Mary Barra talks leadership and tips for women
Mary Barra, Chair and CEO, General Motors.
Subscribe