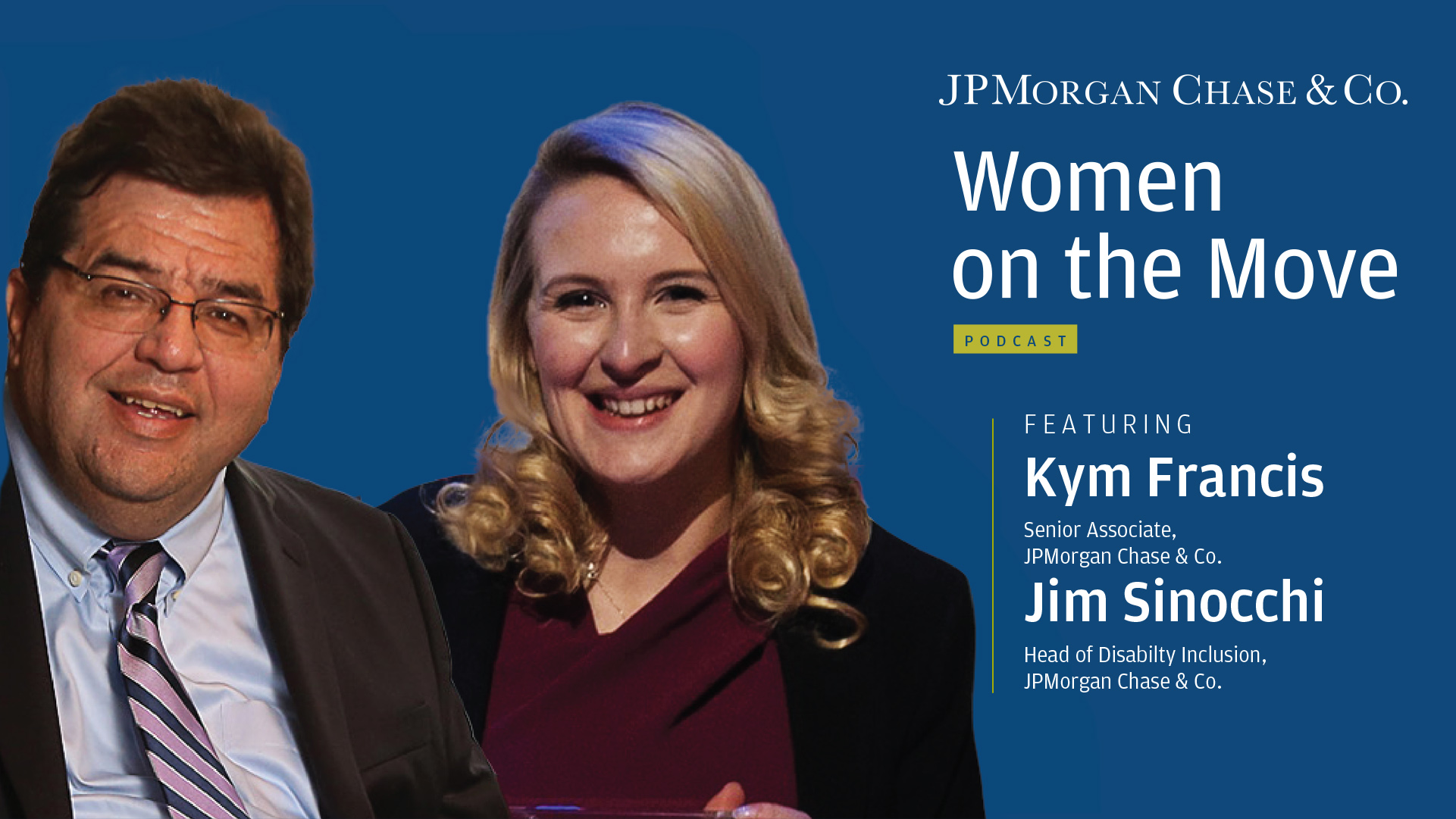 Stories
Disability Inclusion at JPMorgan Chase: Two Perspectives
In celebration of Autism Awareness Month, Women on the Move host Sam Saperstein sat down to look at disability inclusion at JPMorgan Chase through two different lenses. First, she speaks with Jim Sinocchi, head of JPMorgan Chase's Office of Disability Inclusion, to hear about the organization's goals, priorities, and the innovative Autism at Work program. She also talks with Kym Francis, an operations project manager who was diagnosed with autism shortly after beginning her career at JPMorgan Chase.


Normalizing differences
Jim Sinocchi was just settling into retirement when he was invited to run the Office of Disability Inclusion at JPMorgan Chase & Co. And although he'd been looking forward to time with his family after nearly four decades with IBM, he found the opportunity too enticing to turn down. "[They told me] 'we do a pretty good job with diversity, with all the other groups,'" he recalls. "'We just don't know how to do it for disability inclusion.'" Jim—who has been in a wheelchair since being paralyzed in a body surfing accident at age 25—was impressed with leadership's honesty and enthusiasm, and accepted the challenge.
Jim sat down for interviews with 16 of the company's leaders when he first joined in order to hear their perspectives. He says those discussions were invaluable because they were private and allowed for honest conversations around disability inclusion. He tells Sam that his team's overall priority is to make able-bodied people in the organization comfortable with people with disabilities. "Our society makes disability too complicated," he says. "They go into, are you blind? Are you deaf? Do you have a mental illness? And the idea is that that is really not a way to engage a population where we're trying to normalize people with disabilities."
Overall, Jim says JPMorgan Chase continues to make progress in the area of disability inclusion—although recruiting remains a challenge. He shared that many job candidates with disabilities are careful not to disclose their disability until they are deep into the hiring process. One of his priorities, he says, is to help hiring managers understand the value of recruiting people with disabilities.
Autism inclusion is an area where JPMorgan Chase is a worldwide leader. The firm's Autism at Work program started as a pilot with a handful of employees in 2015. Today the firm has more than 200 employees on the autism spectrum across nine countries. Jim notes that the program excels at figuring out where in the organization to place people with autism, and then ensuring their success. "And I'm not surprised in terms of the success of the program because of the skillset that we've been able to uncover with people on the autism spectrum," he shares. "The autism area is the rock star of disability inclusion because of the findings that we have learned about their brilliance in terms of certain jobs."


Autism at Work from an employee perspective
For a different perspective on the Autism at Work program, Sam also speaks with project manager Kym Francis. Kym joined JPMorgan Chase as an analyst in 2016. Soon after she started in that role, Kym received her autism diagnosis —at age 24. She described how helpful the diagnosis was "because I was able to use it as a tool to understand myself, to understand why I had struggled in certain areas and to stop beating myself up internally about things I had not done so well previously." Still, she says she was terrified to tell her manager about her diagnosis. But rather than viewing it as a negative, her manager stepped in to advocate for her. "He said to me 'I don't know what to do here, I don't know what the protocol is," she recalls, "'But I'm willing to go and do research and find out what's out there, what we can do for you.'"
Since then, Kym said, she has come to realize that the organization puts a huge amount of resources into disability inclusion, including the Autism at Work program. "The biggest game changer for me, that's made J.P. Morgan somewhere I could excel as opposed to anywhere else, is having supportive managers and having managers that have not been put off by some of the things I have struggled with as a result of autism, and are willing to have open conversations about those things, and offer me some guidance," she says. "And sometimes it's not as a physical, reasonable adjustment or change in the environment. Sometimes it's just about having someone you can talk to. I've always had encouragement to write, what's next? Where do you want to grow? Where do you want to develop?"

Disability Inclusion at JPMorgan Chase: Two Perspectives
Kym Francis, Senior Associate, JPMorgan Chase & Co.
Jim Sinocchi, Head of Disability Inclusion, JPMorgan Chase & Co.
Subscribe