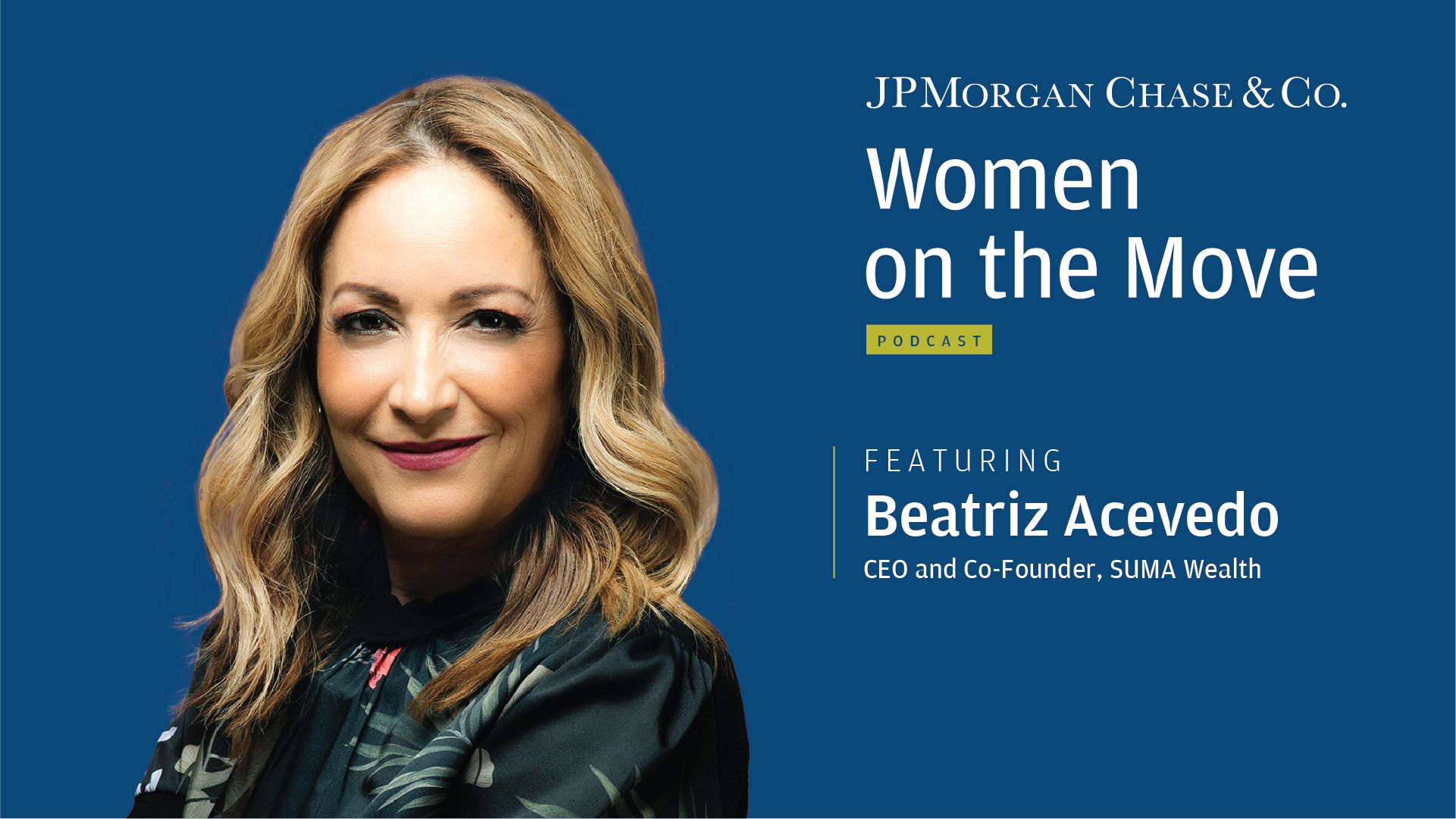 Closing the Latino wealth gap with youth-focused, digital content
Economic research has shown that among Americans, Latinos spend the most, but save and invest the least as demographic. Beatriz Acevedo has set out to change that. During the pandemic, she co-founded SUMA Wealth with the mission of helping close the Latino wealth gap via youth-focused, pop culture–inspired financial content and fintech tools. In this episode, Beatriz sits down with her friend, Alice Rodriguez, head of community impact at JPMorgan Chase & Co., to discuss the venture, her motivation, and her goals.
Motivation from her border roots
Beatriz describes herself as "a very proud border girl, an immigrant entrepreneur." Born to parents who lived in San Diego but purposefully moved across the border for their daughter to be born a Mexican citizen, Beatriz describes her father as "the classic Latino man who came from absolutely nothing." A proponent of hard work and education, he became an attorney and started a philanthropic foundation 30 years ago. "Every cent he made in his career, he put it back into the foundation for educational opportunities for our community," she notes.
Beatriz shared that her parents' work and philanthropic focus profoundly shaped her motivations. "I've always felt like I am one of those Latina outliers that was able to have opportunities from a young age," she tells Alice. "It doesn't mean I didn't work hard for them, but we know in our community, there are so many deserving Latinos and Latinas that worked so hard and are still not given the opportunities, whether it's capital, whether it's boards, whether it's advancement on a job. So I want to spend as much time as I possibly can every day opening as many doors as I possibly can for my community."
Ethos of a brand
Alice describes how the demographic discrepancies in the economic impact of the pandemic inspired her to move forward with SUMA Wealth. Alice was an established philanthropist and a leader in digital media and brings a focus on the Latino point of view to multiple mainstream entertainment platforms, but she recognized that Latinos were being hit the hardest by both health and economic measures during the pandemic. "We had the least amount of emergency savings [and] were not equipped for something like this to happen in our families," she says. Beatriz knew she could help reverse that trend. Despite the fact that her background was in media, entertainment and marketing—not finance—she co-founded SUMA Wealth at the height of the pandemic.
Knowing that younger Latinos are the fastest-growing demographic spurred Beatriz to focus SUMA on them. "These are U.S.-born kids who are English dominant, consume the content in English, but they're still untrustworthy of certain financial institutions because they just don't know, they want to learn more, and they want to have that trust," she explains. "And I thought, now's a really incredible opportunity to build a brand and a community that really speaks to them in culture, more than in language."
Beatriz explains that with SUMA, her goal is to empower the Latino community by building trust around tools and services that are already available to them. Adding the in-culture media context ensured its success: In its first ten months, SUMA surpassed all of its growth metrics.
Looking ahead
One key message that Beatriz strives to share with the Latino community is that when it comes to improving your finances or financial literacy, it's never too early and it's never too late. "A big goal that we have at SUMA is to really empower our community with so many tools and services that are already available to them, but to have the trust," she says. "And I think doing it through the youth, through the millennials, through the gen Z's and the families and the communities, is a really smart way to do it because they are the big influencers and an ROI through one of them is never one-to-one, it's always one-to-many. So I think that's how we need to think about really scaling this information into our community."
This month SUMA is launching a free financial check-up tool where people can track how they are doing on saving, paying off debt, investing, and other financial indicators. "I would love to see that growth in our community of feeling comfortable, not just being the biggest spenders," she tells Alice. "I would love to change that data from the biggest spenders to the biggest savers and investors. I would feel incredibly satisfied with that as part of my legacy."

Closing the Latino wealth gap with youth-focused, digital content
Beatriz Acevedo, CEO and Co-Founder, SUMA Wealth
Subscribe