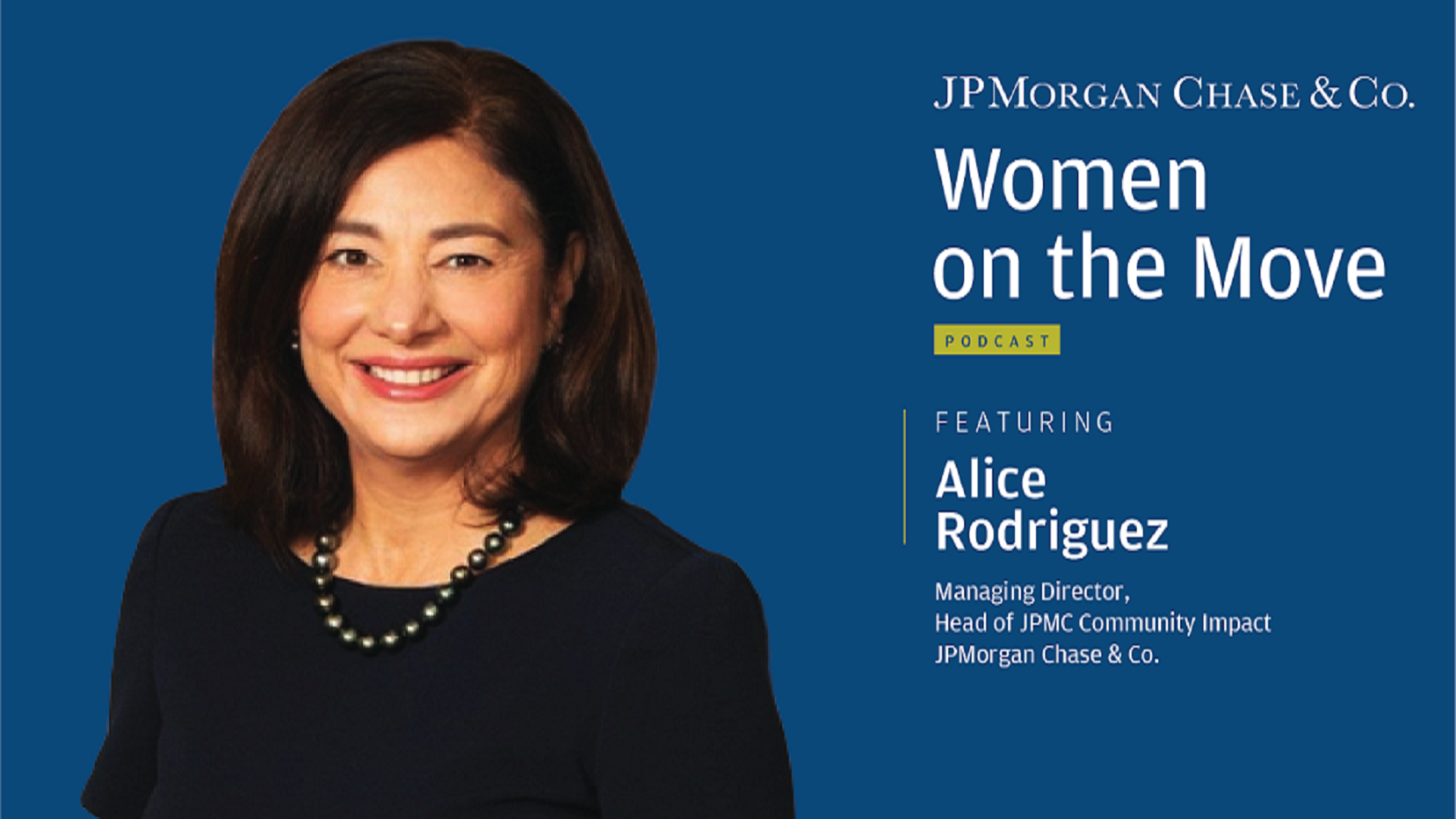 JPMorgan Chase's Head of Community impact on closing wealth gaps in America
Three weeks away from her retirement, JPMorgan Chase & Co.'s Alice Rodriguez accepted the opportunity to lead the organization's new community impact department. In her new role, she is helping manage the firm's 5 year, $30 billion investment into racial equity. In this episode of the WOTM Podcast, Alice speaks with host Sam Saperstein about some of the early wins that the department has seen, her work as chairwoman for the U.S. Hispanic Chamber of Commerce, and the importance of recognizing Hispanic Heritage Month. Alice also discusses the important role that mentors like her mother have played in her life and how her new role at the firm has allowed her to make a positive impact in her own community and beyond.
Focusing on the wealth divide
The community impact department was created as a part of JPMorgan Chase & Co.'s continued effort to reduce wealth gaps and systemic racism in society. As Alice discusses, the median net worth for a white household was $188,000 in 2019, compared to $36,005 and $24,000 for Latino and Black households respectively. Given this alarming discrepancy, Alice discusses the work that her team is driving to bridge these gaps.
Throughout her conversation with Sam, Alice outlines some of her team's key focuses like home ownership, entrepreneurship and access to credit that will help them to achieve their goal of increasing opportunities for minorities to build wealth. Key to this initiative is how the bank has aligned and engrained this effort as an integral part of their business strategies in order to ensure sustainability. As Alice states, "The only way to successfully do that is to have the businesses think about (diverse communities) in their strategic work."
Reaching entrepreneurs
While female minority entrepreneurs are starting businesses at increased rates, Alice notes that many don't have access to mentors to guide them through essential business practices, from business planning to technical details and challenges. To help with this issue, J.P. Morgan has sponsored a business owners forum in Chicago for Black women, and has helped fund the upcoming Los Angeles Latina Fest in October. Through these events and others, J.P. Morgan is focusing on reaching women of color in an intentional and purposeful way.
From the Chamber
At a moment in history when many Americans are having more conversations about racial equity, Alice mentions that she wants to see Latino communities become a larger part of those discussions. "I've been very vocal as the chairwoman of the United States Hispanic Chamber of Commerce that we're not paying enough attention to this," she says.
Through her role as a member of the Dallas and U.S. Hispanic Chambers Alice has learned valuable insights about how to meet communities where they are, explaining that trust is a critical component of reaching Hispanic and Latinx communities. "People that come from other Latin American countries, the bank doesn't really have the same reputation that a bank here in the U.S. would have. There's just a lot of horror stories that have happened in their countries, that the bank is actually the last place they're going to come for help on what they need for their business."
Alice highlights that in order to build trust, the bank can leverage its relationships with organizations in the community, utilize accessible language and be more intentional about recognizing Hispanic culture.
Passing down lessons
During the episode, Alice discusses the pride that she feels in celebrating Hispanic Heritage Month, which takes place from September 15 to October 15. "I just know the sacrifices that my mom in particular made for our family," she says. "There's just so much beauty in the family and culture and the faith and the traditions."
Alice takes pride in passing down traditions from her mother to her own daughters—everything from making tamales to having a strong work ethic. "One of the most important values that my sister and I always talk about that we got from our mom was we can be scrappy. We do not have to have perfection. You know, we know how to be scrappy. And I think that has served me well over the last 35 years."

JPMorgan Chase's Head of Community impact on closing wealth gaps in America
Alice Rodriguez, Managing Director, Head of JPMC Community Impact, JPMorgan Chase & Co.

Subscribe