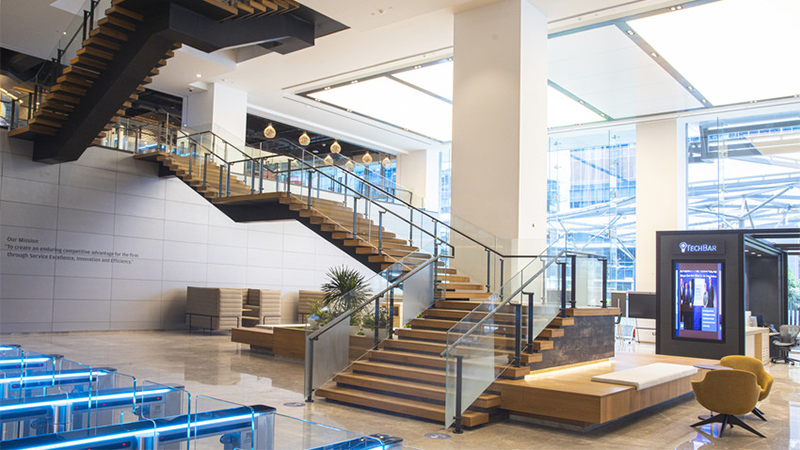 Stories
A World-Class Workplace for JPMorgan Chase in India
For employees at JPMorgan Chase's new campus in Hyderabad, India, the new office is a great place to balance work and life.
Imagine an office that blends the necessities of a workplace with the lifestyle needs of its employees. A place that is driven by a wellness agenda and a sense of community. That's the idea underlying JPMorgan Chase's recently unveiled campus in Hyderabad, India—a smart, green 822,000 square-foot space. The company's largest campus in Asia Pacific, it brings together employees in technology, risk, operations and support services.

Hyderabad is one of six JPMorgan Chase locations in India, and—with 7,000 employees—the company is one of the preeminent employers in the city. The 8,000-seat campus will give the company even more room to grow.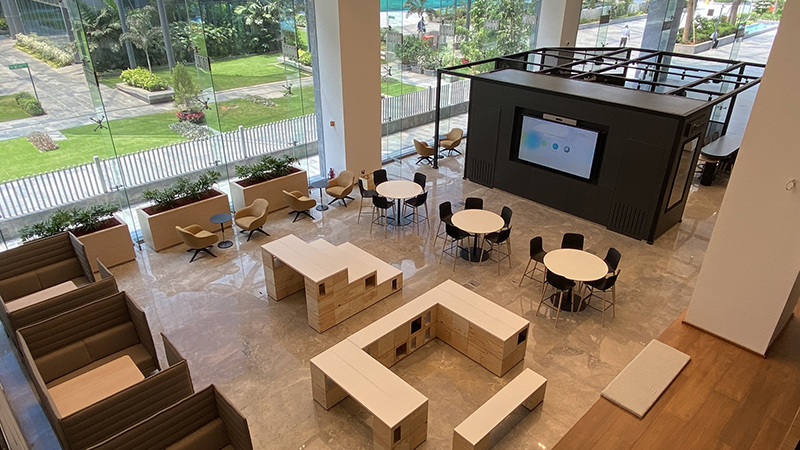 The new campus is also filled with amenities to ensure that employees remain happy and healthy, with an attractive work-life balance. It includes dedicated relaxation and reflection areas, a library, a child care center, a fully-equipped medical center and an emergency life-support ambulance. "Every single decision made regarding the design and features of the campus prioritizes the needs of our employees, as well as how the workplace environment will continue to evolve in the future," said Gaurav Ahluwalia, head of HR, India Corporate Centers.
The campus is also designed to offer a superior work environment, with plenty of functional high-tech and collaborative workspaces to give employees greater levels of flexibility, as well as the spaces they need to network and foster a strong sense of community. It includes an innovation lab, scrum spaces, 14,500 square feet of conference center facilities, break-out rooms on every work floor and tech bars.
The facility has only been open for a few months, but many employees have already identified their favorite spots or amenities. For Sandeep Ithigani, a team leader in operations, the best part is the employee restaurant, which serves up over 10 different cuisines. "I live all by myself in the city and cooking is something that I don't have the time or the inclination for," he says. "That's one chore off my list and the food is almost 5-star quality!"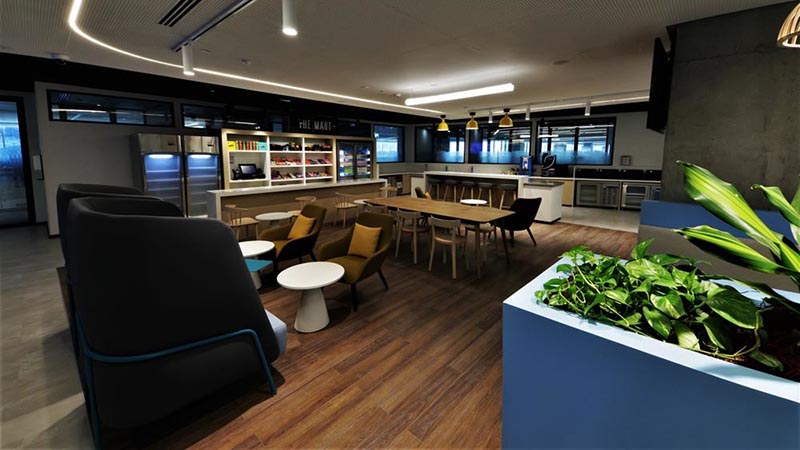 For others, the best part is the campus' relaxation zone. "I love the meditation space," says Rajyalakshmi Bojja, who works in banking. "After a long day or even while I am in the middle of one, it helps me break the monotony of constantly looking at the screen and come back to the desk fully relaxed." The campus also caters to those requiring more strenuous activities, offering an indoor cricket net and a multipurpose room for group activities like Zumba.
Still others are floored by the sustainability features. The building was awarded a LEED fit-out Gold Standard certificate, and includes features like electric vehicle charging points and zero waste management. "Having worked on a number of Green initiatives, I am super impressed with the campus, especially its energy-efficient building management system," says Krish Chilvery, part of Hyderabad's tech team. "The system controls and monitors energy use and works to maintain optimum air quality."
The campus is also designed to support employees with special needs, and includes a dedicated parking lot, basement access, signs in Braille, customized furniture, and elevator buttons positioned to be accessible to people in wheelchairs. Davinder Singh, MD, a senior sponsor of the AccessAbility India Business Resource Group says, "In line with furthering the firm's Diversity, Equity and Inclusion agenda, our design focus was on access, inclusive workspaces and building innovation, so that employees feel welcomed, safe and valued."
Ultimately, what defines JPMorgan Chase's new home in Hyderabad isn't its sprawl or its amenities. Rather, it's that the space invites its employees to bring their whole selves to work, in a place where they're cared for and given everything they need to contribute to the customers, clients and communities they serve.