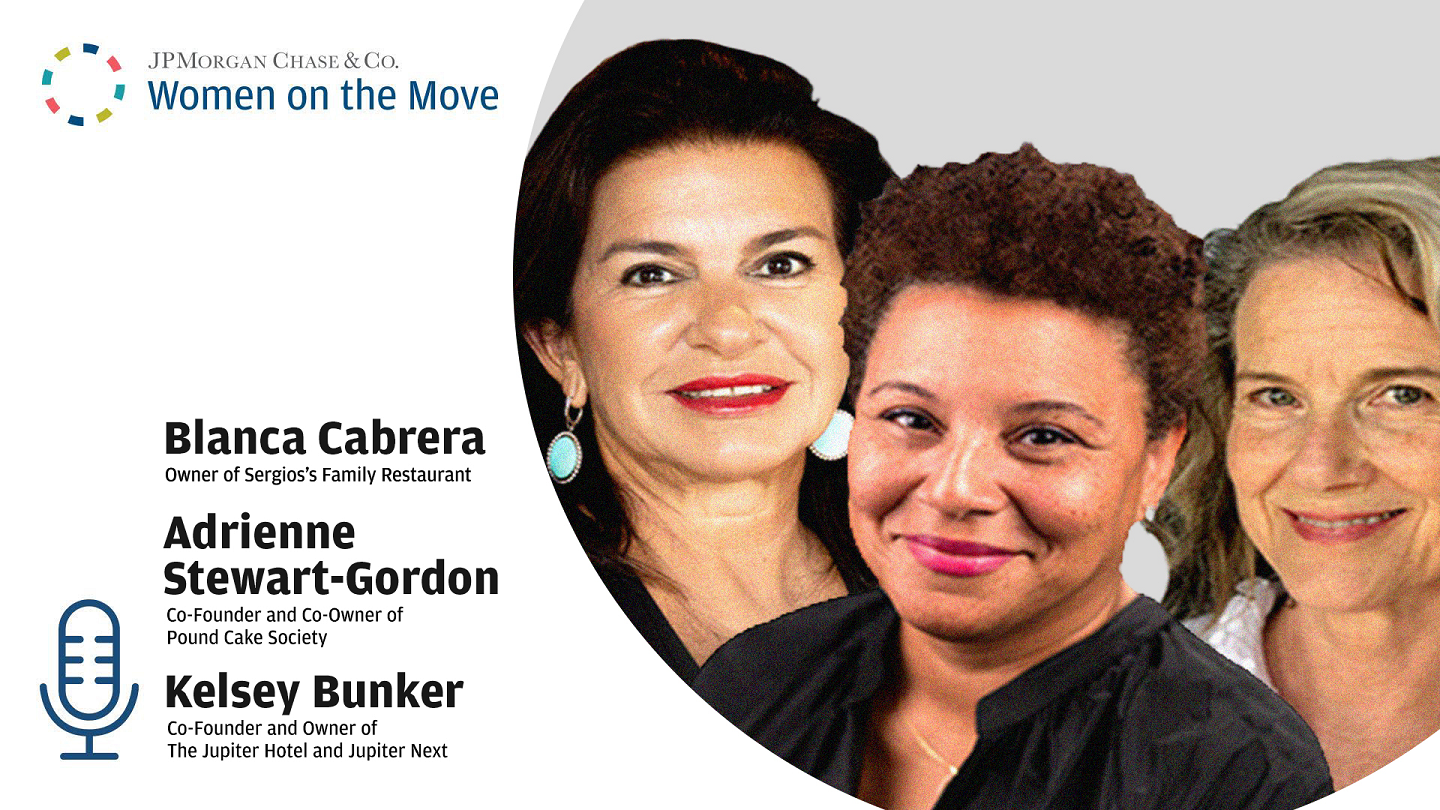 Stories
Women in Business Roundtable
This engaging conversation explores navigating COVID as a woman business owner, and is moderated by Jennifer Roberts, CEO of Chase Business Banking. Jennifer gets input from three pioneering women: Adrienne Stewart-Gordon, co-founder and co-owner of Pound Cake Society, an apparel design, manufacturing, and consulting company; Kelsey Bunker, co-founder and owner of The Jupiter Hotel and Jupiter NEXT in Portland, Oregon; and Blanca Cabrera, owner of Sergio's Family Restaurant in Miami.


Pandemic Pivots
All three of these businesswomen run companies that were directly affected by the COVID crisis, and all three were forced to make quick and strategic changes when the country went into lockdown. Blanca's restaurant had an advantage since it already ran a robust takeout and delivery service, but she chose to push into catering and outsourcing to replace the lost income of in-person diners. Kelsey's properties took a huge hit when travel became impossible, so she offered empty rooms to the medically vulnerable in her area. And Adrienne made a switch early in the pandemic, changing from loungewear production to face masks, and from wholesale to a retail model.


Giving Back as Businesswomen
Adrienne, Blanca, and Kelsey also found ways to donate resources to their local communities. They say that listening outside of their own four walls and outside of their own employee bases to find out what was needed was crucial to making donations with meaningful impact.
The conversation wraps up as Jennifer asks these three powerhouse business owners about the people and forces in their lives that have kept them feeling hopeful in the face of tough times. Listen in for great advice and loads of inspiration.


Subscribe