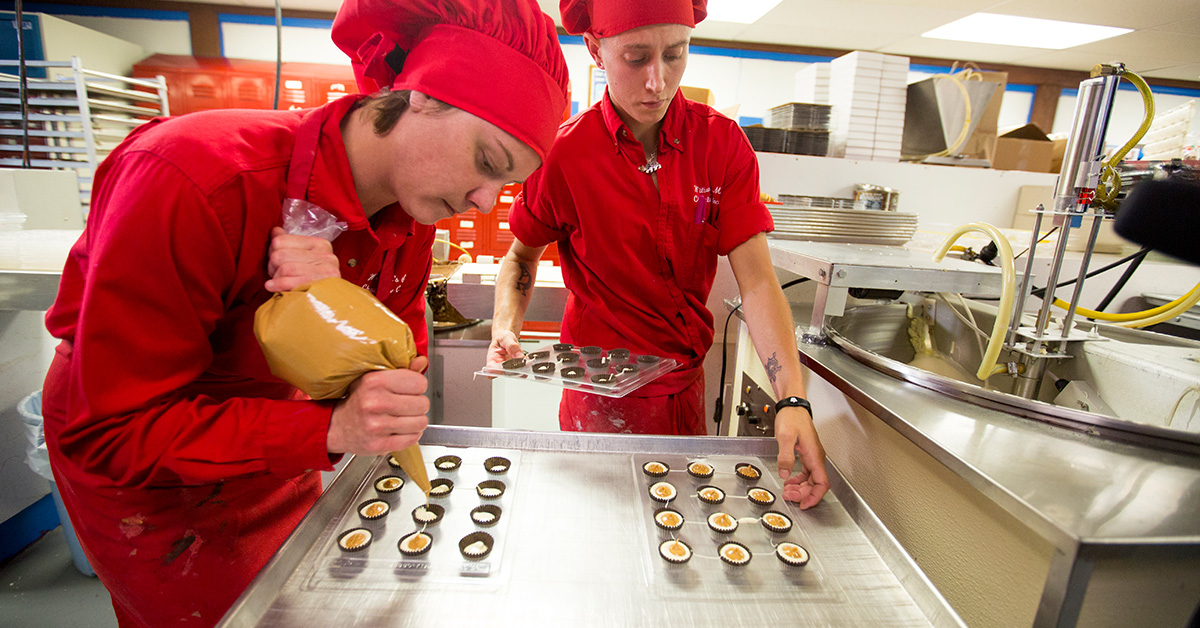 Stories
Chocolate, Caramel, and Community
Wilbur's of Maine is more than a neighborhood candy shop.
Catherine Carty-Wilbur and Tom Wilbur knew nothing about candy making in 1983, when they opened Wilbur's of Maine Chocolate Confections in Freeport, Maine. They started the business because Catherine could never pass a candy shop without going in, and sweets seemed like a steady year-round business.
Both former teachers, the Wilburs began with little capital and spent long hours building the company. Catherine handled retail and decorated the space, giving it the homey, welcoming feel of an old-fashioned candy store. Her husband took charge of production and set about becoming a confectioner.
Teaching himself how to make chocolate, Tom worked out of the family's basement to the delight of their three children. The whole house was fragrant as he crafted chocolate moose, bark and truffles. He made caramel on the stove, perfecting the recipe over a year with the help of his wife's discerning palate.
Initially, they used 1,000 pounds of chocolate a year and made five different items. Today, production takes place in a factory, where they go through 160,000 pounds of chocolate and make 200 products, including caramel turtles (her favorite) and chocolate-covered cranberries (his). Locally-sourced ingredients from Maine are incorporated as much as possible, such as blueberries, sea salt and cream. "We use the best quality, premium ingredients," Tom says.
Wilbur's now has three locations and 30 employees, most of whom have been with the company for at least 10 years. But the couple wants to bring in even more visitors by renovating the factory and turning it into a larger local attraction. With a $100,000 Mission Main Street Grant recently awarded to them by Chase, they can do just that.
"We plan to use the Mission Main Street Grant to make Wilbur's of Maine Chocolate Confections a destination."
Tom Wilbur, co-owner
A major plan for the renovation will be a demonstration kitchen, where visitors will learn how truffles and butter crunch are made. The company even hopes to start a chocolate school, where visitors can learn how to make the sweet treat at home—just like Wilbur did in the early days of the business. The grant will ensure that these additions create memorable experiences for tourists, while fueling the local economy and creating jobs.
Learn more about Mission Main Street Grants®
By Rebecca Dalzell
Rebecca is a journalist who lives and works in New York City.