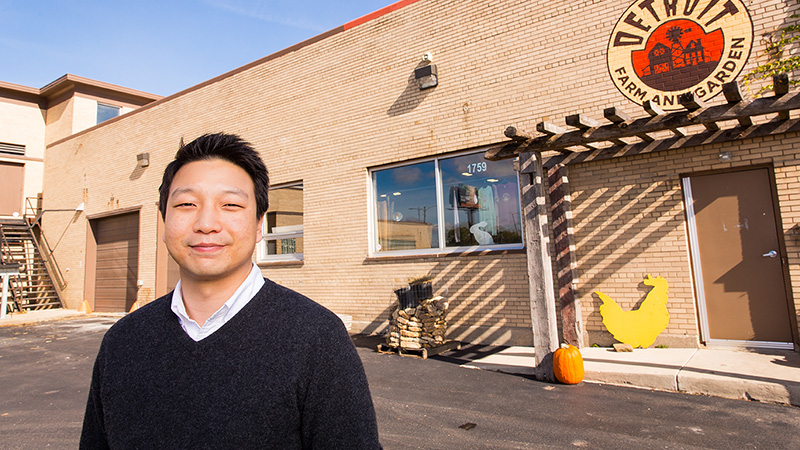 The Service Corps
What's an E-Commerce Investment Banker from Hong Kong Doing in Detroit?
Tom Choi uses skills from his day job to help nonprofits thrive and he is one among the thousands of our employees giving back to the community.
Tom Choi works in e-commerce sales in Hong Kong, where he spends his days building relationships with corporate and institutional clients and helps them trade through Chase's e-commerce platform. As an avid volunteer, when Tom first saw the opportunity to apply for the Service Corps program at JPMorgan Chase, he was immediately inspired by the idea of applying his skills from work to helping a nonprofit in need.
The Service Corps program at JPMorgan Chase sends top employees from around the world to work with nonprofits in various cities. They share otherwise costly, expert advice on ways to increase the power of the nonprofits' community impact. The power of the program lies not only in the positive impact for the nonprofits, but also for the employees like Tom who relish the opportunity to volunteer their time and expertise to help communities thrive. "Our company has been very committed to helping Detroit. We've been talking about Detroit for years," Tom said. "I wanted to help in my own way."
So far, employees have been assigned to work with nonprofit partners in Mumbai, Detroit, Johannesburg and New Orleans. Tom's participation in the program officially marked the 100th Service Corps participant. "In my current role back in Hong Kong, I leverage electronic platforms and technological solutions to help clients streamline their trade workflow, and grow their market shares," Tom said. "I was very interested in coming alongside a project like Service Corps where I can learn about a new business and apply my technical skills."
Along with 15 other employees from Hong Kong, the United Kingdom, and representatives from ten different JPMorgan Chase offices here in the U.S, Tom flew to Detroit to spend three weeks this October, tasked to support four different non-profit organizations. In Tom and his team's case, this organization was Southwest Solutions. This nonprofit offers programs and services for those at the margins of societies who need assistance, such as veterans, homeless, and people with mental illnesses in Detroit. Southwest Solutions has been growing extremely fast expanding their many programs covering different facets of life such as counseling, housing solutions, and economic development. This growth however, is beginning to pose new challenges for the nonprofit in understanding their data and impact.
This is where our Service Corp team comes in. Tom and his fellow teammates Eric Bitell, John Kopanski and Prachi Patel, worked side by side with them to develop and formalize strategic goals and build a blueprint for future data and reporting. "We looked at their processes and policies. We all caught onto the heartbeat of the organization and what drives them," Tom said. "They are doing incredible work. We are humbled to work alongside them to help."
With over 50 programs, the non-profit has a large volume of information to process. The team mapped out the data plan for the non-profit. "The blueprint shows them what information they can source, the gaps that we've identified, and the ones they need to focus on," said Prachi.
Tom used his technical skills in a refreshing way. The premise of Service Corps is to leverage employees' expertise to help nonprofits build internal capacity and expand impact in the communities where they work. That's certainly the case for Tom, whose experience with data and relationship management empowered him to help the nonprofit understand and improve their data analytics. "We needed to understand Southwest Solutions, what they need and what we can recommend," he said. "I help clients be more strategic all the time in my day job."
As the program ended, Tom began to feel refreshed from spending time supporting a nonprofit that's helping to improve the lives of people in Detroit. He deeply believes his experiences in Detroit will have an enormous positive impact on his perspective back at his day job in Hong Kong. "It's giving me a good focus for my work back home. Even if you're a part of a bigger institution, there is always a person that you are dealing with," Tom said. "We are in the business of helping people." Tom speaks very proudly of JPMorgan Chase, underscoring how it encourages employees to donate time to helping cities and communities thrive.
"There's a ton of different things happening with their work, and personally I think that's not achievable without passion behind it," he said. "People in Detroit really believe in the city. They are committed to seeing it grow. I think that's why it's succeeding."