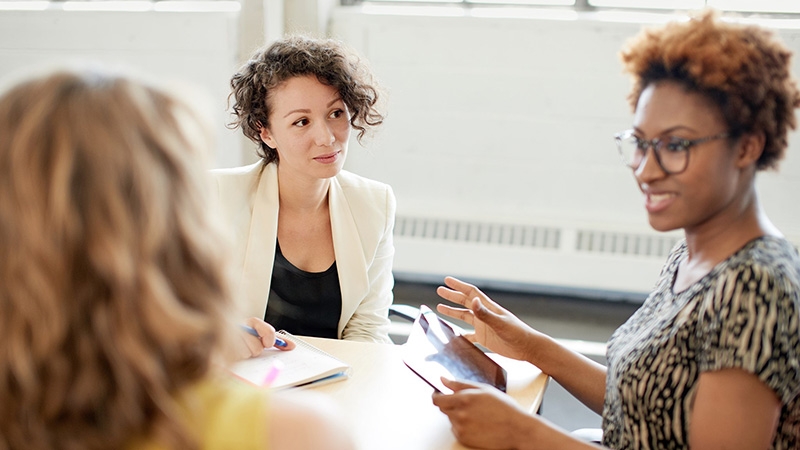 Stories
What It Really Takes to Advance Women in the Workplace
Gender parity is impossible to achieve without scalable efforts that ensure strides are being made towards equality in the workplace.
This article was originally published by Ozy.
In 1948, a century after the Seneca Falls Convention that marked the beginning of the women's rights movement, the U.S. Department of Labor reported that 71 percent of the U.S. workforce was male. Now, over 70 years later, women make up nearly half of the American workforce.
But there's still a long way to go to achieve gender parity in the workplace. A recent "Women in the Workplace" report from McKinsey & Co. and LeanIn.org found that women are still underrepresented at every level of corporate America. According to the report, women are less likely than men to get hired for entry-level jobs and reach senior levels of leadership in the workplace. In fact, the findings indicate that for every 100 men promoted to a manager-level positions, only 79 women receive the same opportunities. The result? Only 38 percent of managerial positions in today's workforce are held by women.
Findings from a 2019 JPMorgan Chase report about gender diversity in the workplace echo this sentiment. Although there is increasing pressure for companies to prioritize gender equality in both recruitment and senior leadership, "progress on female representation at the executive level stalled in 2018," the report reveals.
These statistics indicate that it takes more than good intentions to implement sustainable, lasting change. Organizations making visible strides towards gender equity often take a two-pronged approach: dedicate resources to company-wide diversity programs and establish more immediate, actionable initiatives every employee can participate in.
JPMorgan Chase, for example, created Women on the Move, a global initiative that invests in the advancement of women. In addition to fostering an inclusive culture for women at the company, the program helps female employees, clients and customers expand their businesses, improve their financial health, and empower their career growth. When these three focus areas work together, they are poised to drive meaningful change both inside and outside of the organization.
"We attract and develop great talent and know that women can absolutely succeed at JPMorgan Chase, however, there's still more to be done," said Samantha Saperstein, head of Women on the Move. "We are strengthening our organization by providing women with more tools and information, but also training managers on unconscious biases. By tackling gender issues together, especially around talent development and promotions, we offer give women more opportunities."
To translate the large-scale ambitions of Women on the Move into results internally, JPMorgan Chase launched the 30-5-1 campaign. 30-5-1 encourages employees to set aside 30 minutes a week to have coffee with an up-and-coming female colleague, five minutes to congratulate a female colleague on a recent success, and one minute to talk up that colleague to coworkers. These discussions not only encourage both men and women to support their female colleagues' growth and development, but also promote a culture of open dialogue across all levels. Thirty-six minutes may be a small slice out of a 40-hour work week, but such conversations can boost confidence, promote change and ultimately increase the number of women in senior management positions.
Although these smaller, more actionable efforts should incorporate professionals at every level, it's important that they are driven, and supported, by senior management. "Increasing gender diversity takes conscientious planning and support at every level, but it especially has to start at the top," says Shavon Lindley, CEO of Mentoring Method, an enterprise learning and mentoring technology company. "Senior leadership needs to be transparent in admitting their biases."
Financial services is not the only industry working to become more inclusive. Retail giants like Gap, Inc. are also prioritizing the advancement of women. As part of its broader gender equity program, Gap offers workshops that educate both junior- and senior-level employees about the ways in which unconscious biases influence workplace relationships, as well as strategies they can utilize to minimize its impact.
Additionally, food and beverage companies such as Diageo are looking not only at themselves, but also at their partners, to ensure strides are being made towards gender equality in the workforce. For instance, Syl Saller, Diageo's chief marketing and innovation officer, makes a deliberate point to request gender diversity and pay gap statistics from every advertising and media agency her company engages with.
From spearheading large-scale gender diversity initiatives, to providing educational tools and resources to advance women in the workplace, it's important that companies ensure such large-scale efforts go hand-in-hand with smaller, more actionable programs to truly implement lasting change.