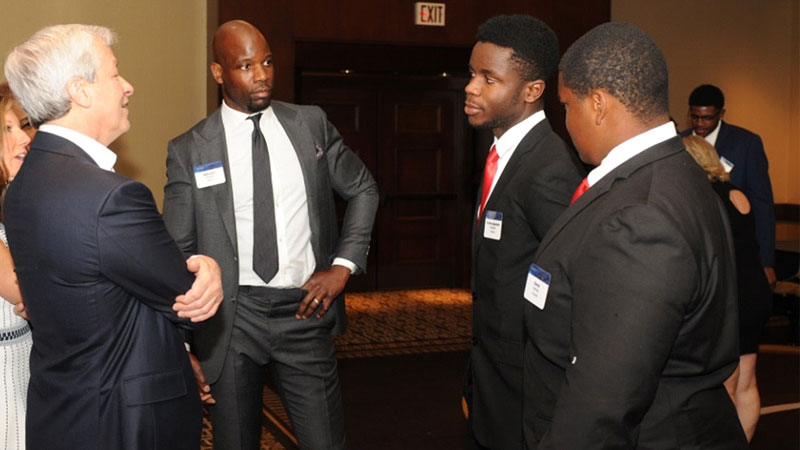 Stories
What Can High School Students Learn from Jamie Dimon?
A Q&A Session with The Fellowship Initiative Los Angeles.
For three years, 40 Los Angeles high school students spent three Saturdays a month at the JPMorgan Chase downtown offices, along with their JPMorgan Chase employee mentors, to develop the knowledge, skills and networks needed to complete high school and succeed in college and beyond.
The Fellowship Initiative (TFI), launched in 2010, is a JPMorgan Chase program for young men of color that provides academic, leadership, mentoring, college access and experiential learning opportunities for students in Los Angeles, Chicago and New York City.
The Los Angeles program boasts tremendous results:
100% of the Fellows who completed the program will graduate from high school on time and are on track to attend college – this is remarkable considering that some Los Angeles schools graduate less than 50% of African American males1
About 70% of the Fellows were the first in their family to attend college
The Fellowship Initiative is part of the firm's broader ongoing efforts to provide adults and young people with the education, skills and resources that contribute to greater economic mobility, including its $250 million New Skills at Work and $75 million New Skills for Youth initiatives.
In 2017, 117 students completed The Fellowship Initiative in Chicago, Los Angeles and New York City and 100 percent of those students are graduating from high school. Combined, they have been accepted into over 200 colleges and universities across the country.
Given this positive momentum, TFI has been expanded to Dallas, Texas, and will recruit new classes of Fellows in Chicago, Los Angeles and New York.
As part of the Los Angeles TFI graduation, Jamie Dimon – a strong supporter of the program - participated in a fireside chat with the Fellows, answering a range of questions from the Fellows about leadership and career development.
Q: Of all the skills you've learned over the years, which ones have been the most important? How do you continue to grow and learn?
A: Hard work is always going to be important. I've never met anyone who became successful by cutting corners and not working. It does not mean destroying your life. You need to take care of your mind, body, spirit, soul, friends and family. But you will spend your whole life learning. There are only two ways to learn: reading and spending time with people. Sit down with anyone and have a chat with them about their experiences. You will learn.
Q: When your daughters left for college, what was your parting advice?
A: College is a lot like camp without the counselors. You have to wake yourself up in college. You have to make sure you do the homework yourself. I wanted them to enjoy their lives. But also I wanted them to do the work. I'll accept B's. But I won't accept not doing the work. Give it your best shot.
Q: As you've traveled around the world as a CEO, what is your fondest memory?
A: We are an amazing company. We operate in 100 countries. I've met 70 prime ministers and presidents. Too often, I'm just in hotels and airports. Every now and then, I try to have a local experience. Cape Town is one of the most beautiful cities in the world and Mumbai has significant poverty. You stop and ask yourself: what can I do to help?
Q: How can we help Americans who are frustrated and feel they are being left behind?
A: It's true. Many people are frustrated. In our inner cities, too many kids aren't graduating. They won't have an opportunity to get ahead. We have to take care of those being left behind. I think business has a responsibility to make it better. TFI is part of that effort. New Skills at Work and New Skills for Youth are also part of that effort to create opportunity for more people.
Q: If you left for college today, what would you major in? What fields seem most interesting to you and offer the best career opportunities?
A: A major is not that important, necessarily. A lot of jobs just want a well-rounded person. It's a big world out there. You can go into finance, technology or manufacturing. They are all fascinating. I majored in psychology and economics. I wanted to be part of building something.
Q: Why have you made helping young people and being a good corporate citizen a priority for the bank?
A: I think everyone has an obligation to society to help. You can't be in a community and not participate. I feel a tremendous obligation to leave the planet better than I found it.
Q: Who's your mentor and how has it helped throughout your career?
A: I didn't really have a mentor. When I started, it was pretty much sink or swim. I learned from watching other people.
Q: Have you ever made any mistakes in your career?
A: If I wrote a book about my mistakes, it would be 1,000 pages long. That's normal. You have to learn from them. I can give you the nature of my mistakes. Associating with the wrong people is a mistake. Making any decision out of anger is a bad idea. Making decisions when you're tired is bad. Get the right people in the room to help you.
Q: Now that you've reached the pinnacle of your career, what's next?
A: I'm 61. This is my company. I bleed JPMorgan blood. I won't go anywhere else. I will do some teaching. I enjoy that. I will probably serve on one large company board and one charity board.
Q: How do you take care of yourself? What do you do for fun?
A: It's important to take care of yourself. I try to exercise four times a week. I take all of my vacation. I work some weekends but you won't find me at a black-tie. I spend time with my family. I read and I eat right. You have to take care of your mind, body, spirit, soul, friends and family.
---
We are expanding economic opportunity initiative for young men in color, learn more.
See how we are helping our TFI fellows complete high school educations and excel in college and universities.