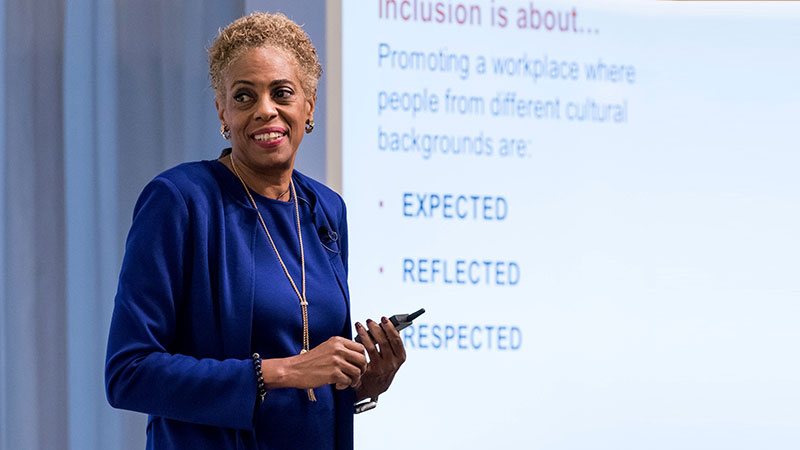 Stories
Why Women Matter: How to Move Gender Equity Forward
Vernā Myers shares insights with JPMorgan Chase employees during our Women on the Move Leadership Day.
Women have power: They make up half of the workforce, they head up one-third of the households and their leadership styles are effective at driving profitability. Getting more women into power isn't just the right thing to do, it's simply good business.
Yet, as "diversity lady" Vernā Myers shared that sometimes women are responsible for reinforcing the same biases that hold them back. According to Myers, if you want to "rectify the tilt," or level the male and female playing fields in the workplace, you need to face the "pesky problem" of unconscious bias and embrace differences.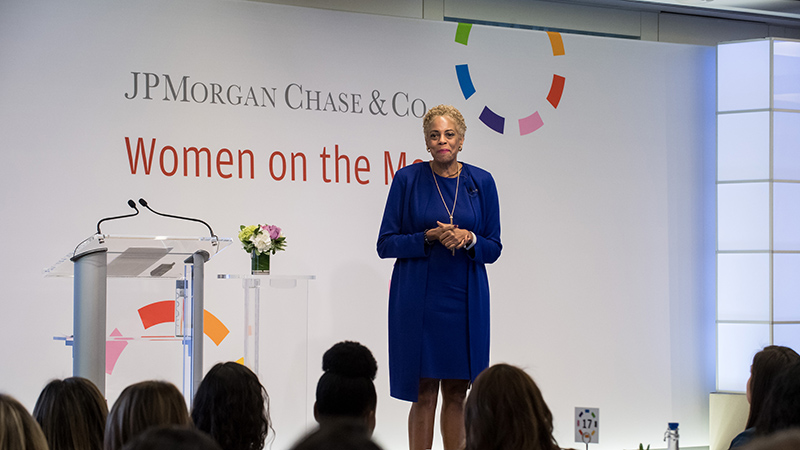 And it starts with each and every worker — functioning as an employee, a colleague and a leader.
Each of us has different spheres of influence that we can work within to promote inclusion," she said.
Myers encouraged leaders to do a better job of cultivating talent, of capturing and sharing what employees are doing well, and educating them about how they can move to the next challenge. And, she urged women to slow down when making big, career-altering decisions.
"While men and women both see themselves at the top, women can visualize more obstacles along the way," said Myers. "Too many women quit without talking to someone. Don't make assumptions about what can or can't work without talking to someone for more information."
Myers, a Harvard-educated lawyer and diversity, equity & inclusion entrepreneur, offered several insights on how we can all move the needle on gender equity:
Stop with the micro-inequities
Micro-inequities are the comments that call into question a woman's background, capabilities and commitment. "No, I mean where are you from-from?" Or, "There's no way to be a good mother and do your job well." Each sharp slight adds up to one big painful bias that rips through a woman's self-worth.
Raise visibility and voices
Do an audit of who is in your "in" and "out" groups — whose voice is missing? Whether you're hiring a new employee or embarking upon a new project, look beyond your usual suspects. Expand your circle to include someone from a different region or background.
Know and use your privilege
Myers said that we need to be aware of our own privilege — the advantages that each woman hasn't had to fight for — whether that is her upbringing, education, age, gender identity or race. Women should approach privilege with "high responsibility and low guilt," and use their unique position to offset other challenges that women in the workplace face, especially young women starting out in their careers.
Insist on accountability
Throughout the session, Myers reminded woman to stand up for and champion one another. She demanded the same level of accountability from women who have been witness to sexual harassment, as we have seen in the recent #metoo campaign. A culture of not speaking up is a complicit culture, she said
"When there is a lot of power and dominance in one group, we think we cannot change things. We think speaking up won't matter." Not so, she said. "We are awesome. We are powerful. We are capable. Let's use that power for each other, the world and the larger society."
---
Learn more about Women on the Move, our initiative that supports the advancement of women by addressing the unique challenges they face.