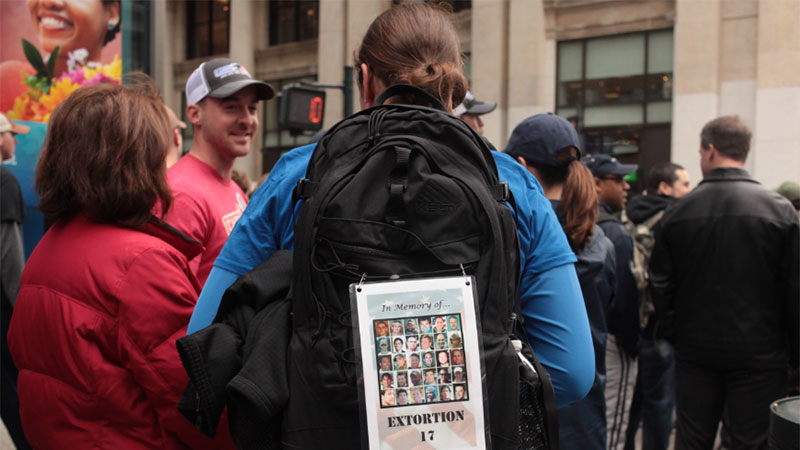 Stories
The True Meaning of Memorial Day
Employees across the country march to honor fallen military.
The rain held off as Caitlin McGilley, a former U.S. Navy intelligence officer, trekked three-and-a-half miles of New York City streets with a 31-pound pack on her back. Carrying the heavy pack symbolized for her the pain carried by families and loved ones of fallen military. And that's the point of Carry the Load, a 33-day, 6,600-mile national relay culminating on Memorial Day in Dallas.

Caitlin served on active duty with the Navy from 2008 to 2015, deploying multiple times around the world. She now works as a vice president at JPMorgan Chase, but she remains closely connected to the military and Veteran communities. On May 4, she joined hundreds of JPMorgan Chase employees – many of them also veterans – in marching from Midtown Manhattan to Ground Zero to honor friends, family, and fellow service members.
Caitlin carried with her the photos of 30 men who never returned from war.
"That was one of the most tragic events in the Afghan war," she said of August 6, 2011, the day a U.S. Chinook helicopter was shot down by enemy forces in Wardak province, west of Kabul, Afghanistan. All on board – including 30 U.S. service members and one military working dog – were killed in the resulting crash. Caitlin didn't know the men personally, but she would go on to serve in their unit.

Years later, when she learned of JPMorgan Chase's partnership with Carry the Load just a few months into her job at the company's Manhattan headquarters, it touched a nerve.
"I knew I had to get involved. Any opportunity to get out and honor fallen service members and the families they left behind means a lot to me," she said.
"Any time JPMorgan Chase sponsors an event in honor of the military, I'll be there. We can't do enough for service members and their families, and I'm really proud to work for a company that recognizes the importance of providing funding and support for organizations like Carry the Load."
Caitlin McGilley former U.S. Navy intelligence officer
She and her wife, West Point instructor Captain Becky McGilley, joined the Chase Tri-State employee team and began fundraising for the event. As part of its mission, Carry The Load gifts a large portion of relay funds to nonprofits serving veterans and first responders. Since 2011, the organization has gifted more than $3.4 million to initiatives across the country.
As she trudged down 5th Avenue, speaking and sharing with her new colleagues, Caitlin thought back to that morning when she had carefully weighed 31 pounds of books—one pound for each life lost— and placed them into her backpack. "No matter how much pain I'm in today," she said, "it pales in comparison to what the families of those men have been through."
---
About Carry The Load
Carry the Load is a Dallas-based non-profit organization founded in 2011 by former Navy SEALs Clint Bruce and Stephen L. Holley, Jr. to restore the true meaning of Memorial Day as a time to honor military service members and first responders who lost their lives in service to their country. For a second consecutive year, Chase is the presenting sponsor of its 2016 National Relay spanning 6,600 miles along the East and West Coasts throughout the month of May. The relay progresses 24 hours a day, rain or shine, to raise awareness and funds for nonprofits directly serving service members, Veterans and military families.