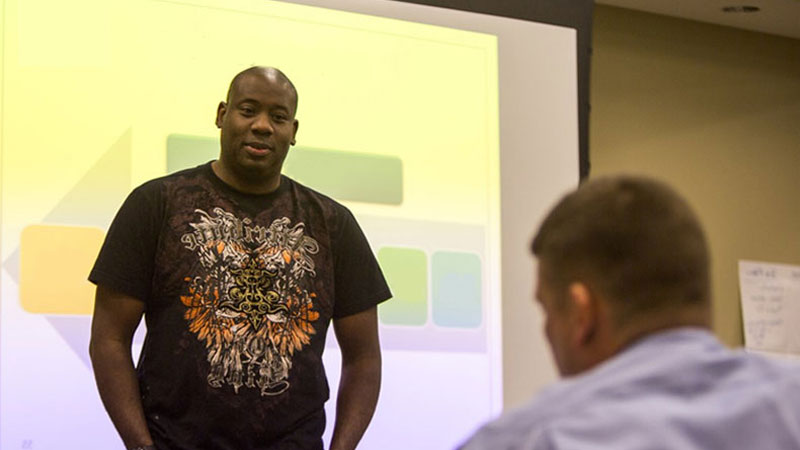 Stories
Why These 'Translators' are Vital to Helping Vets Find Careers
Making the transition from uniform to corporate life can be a challenge, this mentorship program aims to help.
Originally published by OZY on November 9, 2017.
Imagine moving somewhere new, where you don't understand the language. You're not sure about the day-to-day rules—the customary etiquette, beliefs and behaviors seem different, undefined. Feeling adrift, you try to stumble through, but the more you struggle, the more you start questioning why you came. It's nothing like where you've been, but you can't go back.
It may sound like a bad dream, but for many veterans, this is exactly how it feels to start their first non-military job. The differences between civilian working life and the armed services are stark—and disorienting. In fact, veterans struggle to adjust to the civilian workforce so much that, according to research by VetAdvisor and Syracuse University's Institute for Veterans and Military Families:
44 PERCENT OF VETERANS LEAVE THEIR FIRST CIVILIAN JOB WITHIN A YEAR, AND ANOTHER 21 PERCENT LEAVE BEFORE THE END OF YEAR TWO.
A major problem? The language barrier. Jamal McCall spent 12 years in the U.S. Air Force before deciding late last year that it was time for a challenge outside the armed forces. Job hunting was "very frustrating—you get a lot of no's," he says. Veterans can find themselves stuck in unsatisfying jobs, which McCall attributes to trouble "articulating our skill set." Despite being qualified, "it's tough for us to put it on paper," McCall explains. Talk of squadrons, awards and units, after all, "doesn't translate to the corporate environment."
The VetAdvisor/Syracuse report seems to prove McCall's point. Reasons cited for quitting by those surveyed included unfamiliar work culture, work that lacked meaning and scant opportunity for career development. The findings suggest that care isn't being taken to assimilate veterans into new work environments, and that employers fail to recognize these employees' true potential. Many veterans find themselves with unfulfilling jobs instead of fulfilling careers.
"We heard from a lot of our veteran employees that, because they felt so untethered, everything seemed foreign," explains Elizabeth Lynch, the JPMorgan Chase executive director of Military and Veterans Affairs. In response, a dedicated veteran recruitment team now helps applicants "translate" skills onto résumés. The veteran internship program also presents corporate culture in more familiar terms: comparing company values to military values, showing the differences between corporate and military communications, and helping employees understand roles in terms of their "mission" and their "team."
The banking giant has also piloted a mentor program pairing new veteran employees with established veteran employees. The point, explains Lynch, was to improve retention by "tackling any issues they might have within those first 12 months." McCall, who this year moved from his New Mexico military base to work for JPMorgan Chase's technology division in Florida, speaks highly of these techniques, especially the mentor program. "My mentor was immensely helpful because he understood the things I was going to struggle with or that wouldn't make sense to me, and jumped on them right away," he says, noting that without this support, "I would have had more of a learning curve to fight against, and I wouldn't have been able to adapt and move forward as I have."
Lynch acknowledges, however, that helping veterans into roles that best suit their skills remains a work in progress: "We're asking, what are those bright spots where veterans are bringing specific skills needed by the firm? How do we make sure we're using that great fit?" The company has identified several "job families"—such as technology, operational roles and cyber security—that fit the bill, and hopes such insights will improve retention going forward. Another challenge, Lynch adds, is making understanding a two-way street: "We're also thinking about what managers need to understand the veteran perspective." A training program geared towards just that is in the planning stages.
McCall agrees more mutual understanding is needed. Veterans are versatile in both skills and experience, he says, and deserve proper opportunities. "You have to avoid that approach of thinking you know what all vets bring to the table," he says. "You have to take the time to understand exactly what you're getting."
---