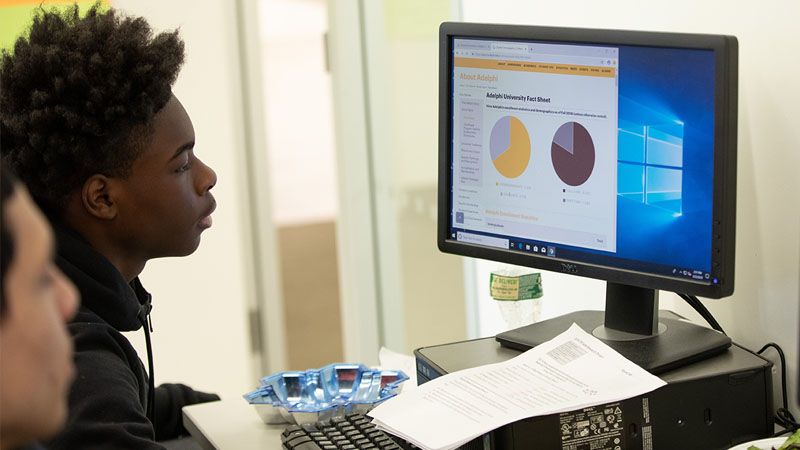 Stories
Top-Seeded Selections
The Fellowship Initiative puts new spin on March basketball brackets to help young men of color choose the right college.
The anticipation rises as a group of high school juniors wait to see which colleges will earn the No. 1 seeds in this year's bracket. The students have also identified a few Cinderellas -- those schools that don't possess dynasty status but have the potential to upset the elite teams and advance far in the competition.
The madness has begun. And it won't stop until the students finish college, degree in hand.
This is a different take on The Big Dance, one that The Fellowship Initiative (TFI) used this spring as an innovative method to help their students learn about the importance of selecting a college where they'll not only survive and advance, but also thrive on the road to graduation.
More than 350 JPMorgan Chase employees have served as mentors for TFI, a college and career success program for young men of color. Launched in 2010, TFI is part of New Skills at Work, JPMorgan Chase's global investment in jobs and skills, and serves students in Chicago, Dallas Los Angeles and New York. TFI Fellows participate in three years of mentoring; academic support; SAT/ACT preparation; college tours and readiness workshops; leadership development; and hands-on learning opportunities to equip them with the education, skills and resources needed to achieve greater economic mobility.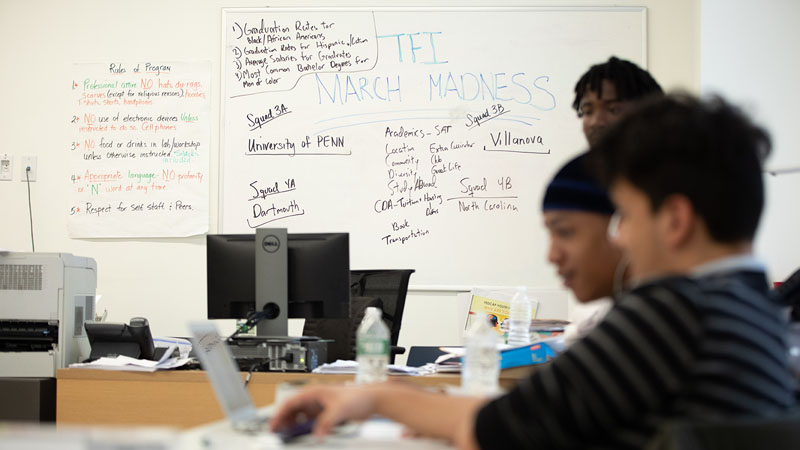 The bracket challenge was the most recent program TFI launched to help Fellows navigate the college selection process. While the project was scheduled around the annual basketball tournament to ride the wave of excitement in March, these brackets weren't completed based on teams' on-court success or general perceptions of prestige. Students split into groups of four to research graduation rates for men of color, support services available for students from their respective ethnic and socioeconomic backgrounds and post-graduation salaries.
Each group selected two "dynasty" schools – perhaps a Duke or a North Carolina – and two "Cinderellas" to advance to their Sweet 16. Only one would make it to the Final Four.
"Is there a relationship between historically successful basketball championship schools that have reached the Sweet 16 in the past five years and college success rates for young men of color?" were among the questions they considered as they completed their brackets. With such research inquiries, the mentors were able to support the college planning process by discussing the importance of not only getting into college, but also selecting institutions dedicated to ensuring that their students succeed.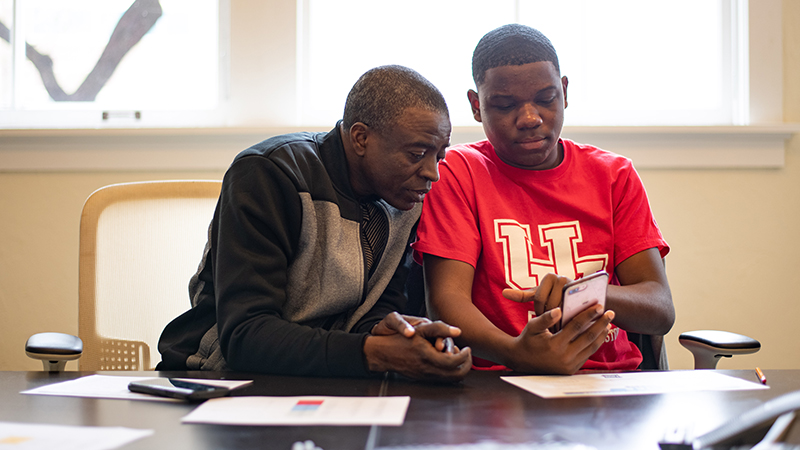 JPMorgan Chase employees who serve as mentors make a significant time commitment to invest in the lives of the Fellows, helping them manage the academic and personal challenges they often face in their everyday lives.
"I didn't have any guidance while I was in high school or transitioning into college and I made several mistakes throughout the process," said Stefany Rodriguez Agudelo, a mentor in New York. "I see it all as a learning experience I want to share with students so their path going forward is easier."
Other employees say they benefited from having a mentor when they were teens. Some were the first members of their families to earn a college degree. Now, they all want to give back.
The process isn't a one-way flow of resources -- TFI Fellows have challenged their mentors in positive ways through cross-cultural learning opportunities and one-on-one engagement in the student's favorite sport, instrument or other pastime, among some examples. Mentors say they've learned to be better listeners by working with the Fellows and discovering how to meet their needs.
"We actually relate in so many ways," said Brandon Smith, a TFI mentor in Dallas. "I was a teenager who loved video games, football, basketball, the latest trends and music. I've gotten away from those things because of my career and family time, but it's amazing how quickly I can relate back to them - that really helps my mentee and I connect."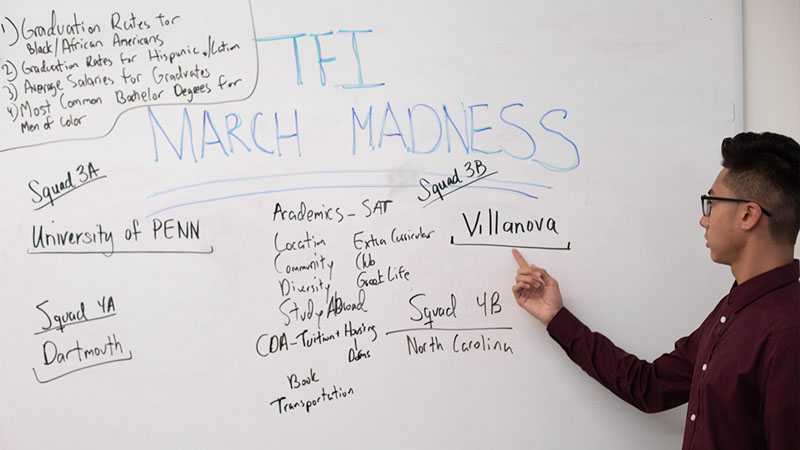 March was time for bonding through brackets. During the first week of competition, the Fellows gained some new insights about finding the right colleges to help them reach their future goals.
"It's important to choose a good college that fits me and my needs so I can make sure I'm in a safe and positive environment," said New York fellow Ezae Darby. "I'm looking for a diverse and accepting community, something different than my own that will make me feel more welcome and comfortable in that space."
Darby and the other Fellows will have plenty of options as outstanding students and community leaders, but the bracket exercise helped him identify a few contenders.
"I'd like to go to a college that has an architecture major," he said. "The information that I found about Dartmouth University is that the graduation rate for African and Black scholars is 97.3 percent and the graduation rate for Hispanic and Latino scholars is 98.9 percent."
He just might have found his bracket buster.