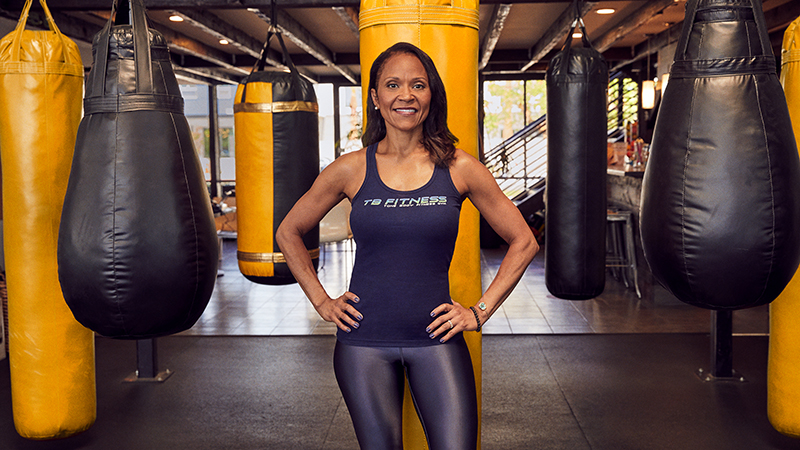 Community Branches
Fitness Center Owner Finds New Success Amidst Pandemic Setbacks 
Fitness Center Owner Finds New Success Amidst Pandemic Setbacks
WATCH VIDEO

Aliyah Ortiz always had a passion for fitness, but she didn't always know she could make a career out of it.
A college guidance counselor opened up Aliyah's future when she suggested she study healthcare administration, nutrition and anatomy. She got her degree and hit the ground running, opening her fitness center, Tone Body Fitness, in 2001.
Since then, Aliyah has been growing her business and creating opportunities in her community. "I wanted to take my education and give back," she says. "And that's exactly what I've done for 20 years." Tone Body Fitness is in Hawthorne, California, just outside Aliyah's hometown of Los Angeles. "It's been wonderful, because my soul is on fire for it," she says.

The path hasn't always been easy. As a Black female business owner, Aliyah has faced many challenges.

There are systemic barriers that put Black women, in particular, at a disadvantage when starting their own business. According to the JPMorgan Chase Institute, Black, Hispanic and Latina and women-owned small businesses are underrepresented among firms with substantial external financing, limiting opportunities to scale their business. Furthermore, around 61% of Black women self-fund their total start-up capital, Harvard Business Review reports, putting financial strain on long-term cash reserves -or- working capital.

After years of pushing the boundaries in a male-dominated industry, Aliyah was faced with another obstacle. In 2020, COVID-19 forced gyms across the country to close their doors. With her fitness studio temporarily shut down, Aliyah needed to quickly pivot from a physical business to tech services, like virtual coaching and touchless payments.

Aliyah knew she needed a business partner to help reach these short-term goals as well as long-term goals, like expanding to include classes for kids with special needs, senior citizens and other underserved communities.

That's what led Aliyah to go to the Chase Community Bank in Crenshaw, where she met Lisa Stevens, a senior business consultant. Lisa has a long history of helping local minority small business owners get access to resources, technology, support and the mentorship they need to grow their business.

"When I first met Aliyah, she told me, 'I don't need another financial institution to deposit my money. I need someone to help me grow,'" Stevens said. "I knew at that moment that we could succeed together."

Located in an underserved neighborhood in S​outh Los Angeles, the Crenshaw Community Center, which opened up this past May, is the first of its kind in California and one of 16 community centers opening up across the country.

Chase Community Center branches are designed to help the firm better collaborate with local organizations, maintain strong local connections with the community, offer guidance and expertise, and provide accessible tools, resources and information to community members. Business consultants like Lisa aim to help strengthen business growth for entrepreneurs like Aliyah.

These services are a part of a new program that matches small business owners in 13 cities across the U.S. with Chase senior business consultants who provide mentorship, business development coaching, resources and financial planning. This program is just one piece of the $30 billion commitment to help close the racial wealth gap and provide economic opportunity to underserved communities.

Through this program Lisa was able to support Aliyah's business needs, which enabled her to grow and pivot her business post-pandemic.

Tone Body Fitness is now offering virtual coaching services, including group fitness therapy and a YouTube series to expand her impact to a new, virtual audience. Aliyah is also enhancing customer experience with new contactless payment options, and progressing toward building ownership to give her small business a permanent physical location.

"To have that support is essential to understanding that I can do what I need to do… and my bank is going to be there to support me and help fund those goals," Aliyah says. "Now I feel like the sky's the limit."

Lisa is exceptionally proud of everything Aliyah has accomplished. "I just love working with her," Lisa says of Aliyah. "She's the reason for what we do."

To learn more about how Chase is supporting minority entrepreneurs in your area, visit chase.com/businessconsultant. JPMorgan Chase Bank, N.A. Member FDIC.