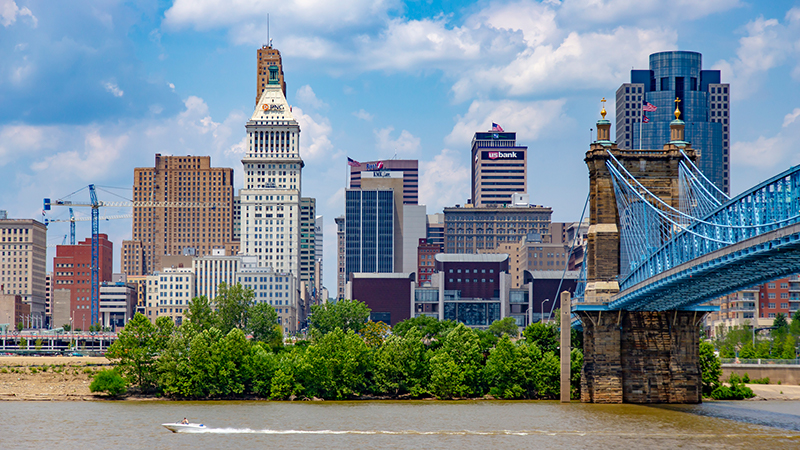 Stories
Three lessons I learned in Cincinnati that I've Carried Throughout my Career
Born and raised in Cincinnati, I'm a graduate of Finneytown High School and Ohio University. Though I moved around a lot, I still call Cincinnati home. Having grown up in a small neighborhood, I've learned lessons that I've carried throughout my professional journey — several may ring true for you, as well.
Local Experiences Leave Lifelong Impacts
After graduating from college, I took my first career role working for a financial institution, right at Fountain Square Plaza. Starting out at home gave me a true sense of the impact local businesses really have on the local economy, whether it was a trip to Gold Star for a coney or to Graeter's for ice cream. In my current role as global head of Diversity, Equity and Inclusion (DEI) at JPMorgan Chase, I have the opportunity to take some of the lessons learned in Cincinnati, as well as my 30-plus years in banking, and apply them to the work we do supporting small and underrepresented business owners.
The facts are clear: communities, and the people who live there, win when local businesses thrive. However, every entrepreneur faces a different set of challenges when getting their business off the ground. That's where we come in. For many, especially those from underrepresented groups, accessing capital is a huge hurdle to opening their doors. For others, it's a lack of technical assistance or other challenges. At JPMorgan Chase, we're investing in underrepresented business owners because of the important role they play in the economy, as well as the impact building long-term, financial success will have for their families and the larger community.
Communities Are Only as Strong as Their Members
The definition of community is "a group of people living in the same place or having a particular characteristic in common." As a lifelong Bengals fan, I can say with confidence that a team is only as strong as the individuals who comprise it. Why am I emphasizing the word individuals, intentionally? Because I learned long ago, and remember every day in my current role, the importance of celebrating our individuality. At JPMorgan Chase, we see you as both an individual and as part of a team. When it comes to driving systemic change, we're not only creating an inclusive environment for our employees, we're also applying a diverse, more inclusive and equitable lens to developing products and services across our company's business and operations, globally.
Within the DEI organization, we have teams wholly dedicated to delivering an enriched, inclusive and intersectional experience to the communities they support ― women, people with disabilities, Black, Hispanic and Latino, military and veteran, Asian and Pacific Islander, and LGBT+ employees, clients, and customers. I'm energized to be among colleagues dedicating their entire workdays to improving outcomes for others and striving to see that everyone can have an equitable chance at achieving economic success.
The People in Your Circle Influence Your Choices
Some of my closest friends and family still live in Cincinnati, and I've been fortunate to have an extensive network of friends, family and colleagues across the country who have impacted my professional journey.
While I have had many positive experiences in both my professional and private life, I've also experienced first-hand and witnessed the need for greater equality and inclusivity. That reality, plus what the world saw unfold with the murder of George Floyd in 2020, fueled my decision to use my experiences to drive and lead efforts that improve outcomes for more people, whether it be our 275,000 employees, the communities where we work or the 67 countries where we operate around the globe.
I'm fortunate with the inner circle I've had along my journey. They have provided me with perspectives that have influenced my career choices. We should all look to grow and evolve in ways that put others at the forefront of our thinking and efforts. We have to be the change we want to see in the world.
This story originally appeared in Cincinnati Business Courier.