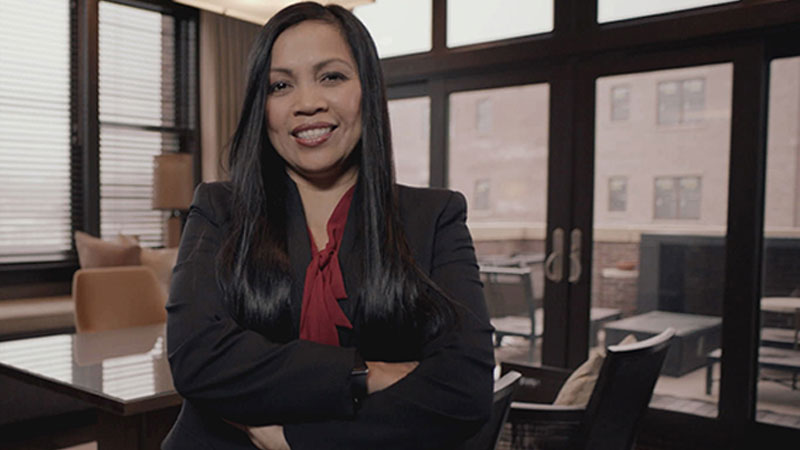 Stories
This Firm Helps Families Rebuild After Disaster
In 2001, Rowena Zimmers founded ALE Solutions in the basement of her home. Today, it's a vibrant 400-employee operation that helps families throughout the United States and Canada who have been temporarily displaced from their homes.
Growing up in the Philippines formed Zimmers' entrepreneurial mindset. Each week, she accompanied her grandmother to the market to sell vegetables from a humble bamboo mat. Her ability to take risks was learned from her mother, who came to the US on her own when Zimmers was just 2-years-old, in hopes of finding a better life for her family.
When Zimmers' family was reunited in the US five years later, it sparked the fire to pursue her own American dream—to build something out of nothing.
A better approach to temporary housing
Because Zimmers knew what it was like to make a fresh start, she was well-suited to build a business that helps families get back on their feet after a significant loss. Shortly after having her second child, she decided to start ALE Solutions. The company contracts with insurance carriers to fulfill the additional living expense (ALE) coverage for their policyholders. They provide temporary housing and logistical support to families who have had to evacuate their homes, whether due to an isolated event like a house fire, or a community-wide catastrophe like a hurricane.
Zimmers, who serves as president of the company, had worked in the temporary housing industry for six years prior to founding her own firm. That enabled her to draw on her existing knowledge and contacts to, in her words, "build a better mousetrap." She established a strong reputation with insurance companies by being transparent about pricing and consistently delivering a superior level of service to their policyholders.
Rather than feeling trepidation about this new venture, Zimmers' husband Robert was always firmly in his wife's corner. "Row is the true definition of an entrepreneur," he says. "She could have gotten into anything and succeeded."
In fact, the business grew quickly and within a few months Row needed help. So she hired her husband. Today, he's the company CEO.
For their first six years, the Zimmers focused exclusively on long-term temporary housing. As their expertise grew, they expanded into short-term housing, booking displaced families quickly into hotels. At the time, insurers didn't know how much they were spending on hotel stays due to the way they reimbursed policyholders. ALE was able to reduce costs for insurers while making the process easier for families—a differentiator that fueled their rapid expansion.
From the initial handful of families ALE assisted in the first month of business in 2001, the company now serves the temporary housing needs of at least 10,000 families every month.
Helping to rebuild lives ALE Solutions' work goes beyond simply filing an insurance claim. Employees lend an ear to distressed individuals, often on the worst day of their lives. The staff works to quickly reestablish a family's normal lifestyle—finding housing that keeps the kids on their usual bus route, or equipping empty rental homes with everything from forks to furniture—so that the family can start to address tougher issues.
"My favorite part of my job is knowing that when an insured [family] stays at a hotel they don't have to worry about keeping the receipts," says hotel billing specialist Karonica Carney. "Knowing that we've lessened the burden and given them more time to put their life back together, that's important."
The work can be an emotional experience for employees, especially if they're assisting a family who's lost a loved one. As Rob explains: "We attract people that have what I call a servant's heart. You're dealing with one personal disaster after another. You have to be the type of person that wants to help people."
The caring, family-oriented culture of the company is also what prompted the Zimmers to establish ALECares, their self-funded nonprofit that expands on the company's work by providing financial and on-the-ground assistance to uninsured or underinsured families who've lost their homes.
"When you see someone's belongings out on the curb—all of the things near and dear to them ripped out of their lives—it's absolutely devastating," says Paul Storck, Midwest Regional Manager for ALE Solutions, who has spearheaded efforts for the nonprofit following several natural disasters. "We're there to make a difference, to piece back together their lives."