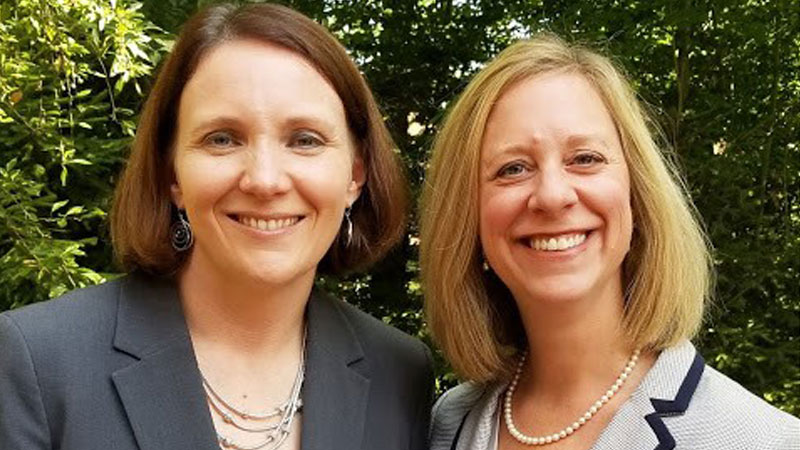 Stories
These Colleagues Share Everything, Including a Job
Megan Snider's and Regan Bohnert's working relationship at JPMorgan Chase started more than a decade ago and their closeness has paid off.
Megan Snider and Regan Bohnert needed a miracle.
Based in Columbus, Ohio, the two Asset & Wealth Management colleagues were running late for a 9:30 a.m. client meeting in Cleveland. Although they gave themselves plenty of time, traffic was at a standstill, and the GPS showed they wouldn't arrive until 9:47 a.m. They were trying to figure out what to do next when the road opened up and Bohnert hit the gas.
"I don't know how Regan did it, but we arrived at 9:30 on the nose," Snider recalled.
It was just another adventure for the longtime colleagues, who are not only friends, but also job-share partners. Each works three days a week with an overlap day on Wednesday. The unique arrangement has proven to be successful—and a possible work-life balance template for certain careers.
Working relationship
Their working relationship dates back to 2010, when Bohnert, a trust administrator, joined the team and partnered with Snider, a trust officer. At the time, Snider was a new mom and negotiated with her manager to work four days a week with Fridays off. This allowed Bohnert to take on the trust officer responsibilities one day a week and gain experience.
"It certainly helped develop our professional relationship because she knew she could count on me on those days she was off," said Bohnert. "And it helped me gain some good experience as a trust officer. It took off from there."
The start of the job share
By the end of 2014, Bohnert had given birth to her first child, and the two started fantasizing about a job share. But there were bigger issues to tackle: JPMorgan Chase decided to close their division of the Private Bank in Columbus. At the same time, a former colleague reached out to see if Snider and Bohnert would be interested in joining her at her new employer. They said yes, but only if they could share one position; that bank soon hired them.
Snider and Bohnert quickly set up some ground rules for the job share. At the end of each day, the person on duty would leave a detailed note about what was accomplished, which clients they spoke with and what meetings were scheduled. They shared one phone number, so a client would have a single point of contact if there was a question.
The experiment proved successful, but there was one thing missing: the culture of JPMorgan Chase. "I just compared everything there to JPMorgan Chase," Snider said. "I missed the resources, and the way the team worked together."
Returning to the firm
What she didn't know at the time was that things were lining up to make Snider's hope of returning a reality. Leadership changes prompted a renewed interest in the Columbus Private Bank office and JPMorgan Chase began rehiring former employees. Before long, Snider and Bohnert were offered a position, only this time with the job share they dreamed about.
A successful arrangement
Snider and Bohnert began their second stint at JPMorgan Chase in August 2017, and it's been an overwhelming success.
"Megan and Regan work so well together and are always accessible to each other on their off days," said David Lee, an executive in the Midwest Region's Trust Officers group. "Anyone who might be considering a job-sharing arrangement like this has to recognize that there is a heightened need to be accessible when they're not at work—and Megan and Regan certainly meet that expectation. I don't believe that every role and every person would benefit from job sharing, but Megan and Regan have proven that it is possible for this job."
Nearly 18 months later the two are still celebrating their return. They are grateful not just for their unique work arrangement, but for finding a partner each can trust to handle things the right way.
"Megan and I think alike and communicate in the same way," said Bohnert. "I'm fully confident that when I'm away, she'll handle things the exact same way I would, and vice versa."
"Who gets to work with one of their best friends and do what we do?" Snider added. "We're very blessed."