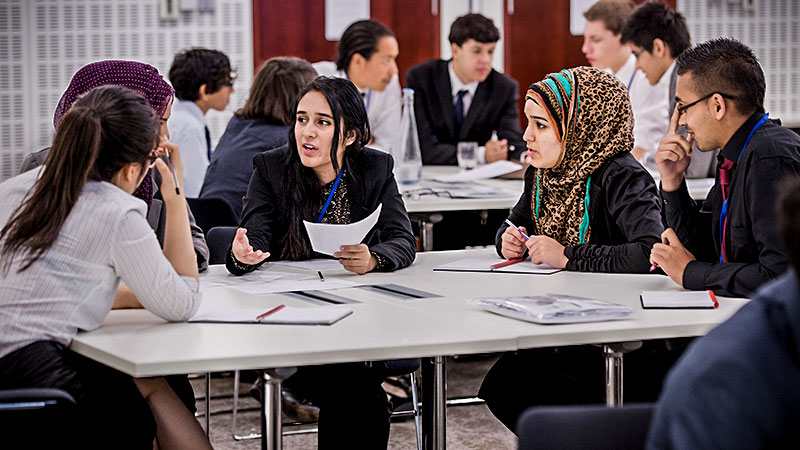 Stories
The Schools Challenge
Encouraging young people to think about their career prospects while building out professional networks.
In today's competitive marketplace, students are encouraged to think early about potential career paths.1 But what exactly helps guide these important considerations?

Giving students the opportunity to work directly with J.P. Morgan employees on specific projects and access to hands-on, practical workshops, office visits and career workshops, the Schools Challenge is a new program designed to help support 12-15 year old students from disadvantaged backgrounds/neighborhoods with the mentorship they need to succeed. By pairing students with coaches from across J.P. Morgan, and creating teams focused on tackling real-world issues around clean water and recycling, the young men and women are exposed to the kind of skills, experience and networks they will need to compete for jobs in the future. Whether it is access to professional networks, career advice, or presentation skills – the Schools Challenge will expose young people from neighborhoods like Tower Hamlets, Newham and Lambeth to a range of new experience.
"Young students want their work to make a real impact in the world. The J.P. Morgan Schools Challenge is an opportunity to use their science and math skills to make a difference on causes they care about."
VIS RAGHAVAN Head of Banking for EMEA
Expanding access to opportunities for those people and communities being left out of today's economy is crucial to creating economic growth in underserved communities. "Investing in our youth is critical to tomorrow's future. I am very excited to support the J.P. Morgan Schools Challenge and provide East London students with the opportunity to learn about different career pathways," said Sikander Ilyas, co-head of international sales for J.P. Morgan.
Making the world a better place is an exciting prospect for today's young people, and serves a unique way to engage with young people and to set them up for future success. Partnering with nonprofits EcoActive and WaterAid, the program addresses real-world issues and brings together young people across the United Kingdom. Being involved in real life challenges provides our participants the chance to make a change to their city using skills that will help in the future.