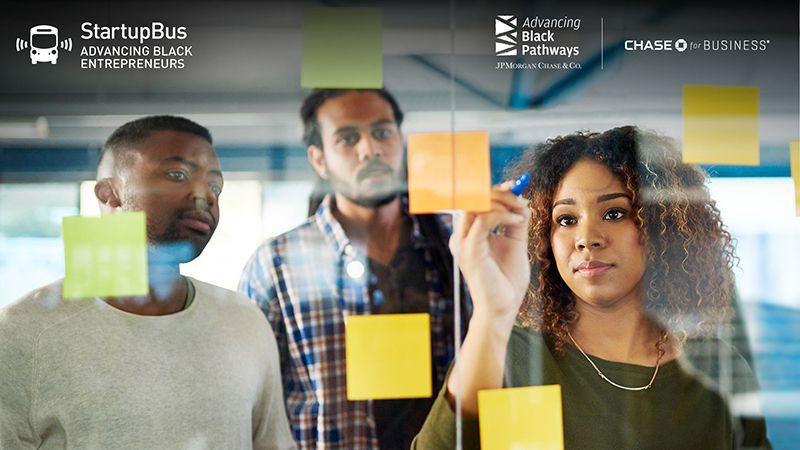 Stories
The Road-Trip of a Lifetime for Black Entrepreneurs
Thirty rising black tech entrepreneurs joined JPMorgan Chase bankers on a five-day startup boot camp on a bus.
There's no shortage of talent when it comes to black entrepreneurs with cutting edge tech startup ideas. Yet only 7 percent of all startups have black founders.1 Determined to boost these numbers, 30 rising black entrepreneurial stars are packing their sticky notes and taking a five-day road-trip by bus across the U.S. this July–with JPMorgan Chase bankers.
The bank's Advancing Black Pathways (ABP) initiative is sponsoring an 'Advancing Black Entrepreneurs' bus to take part in this year's StartupBus hackathon on wheels. This is the first time the StartupBus competition has included a vehicle with all-black talent.
Start Your Engines
The trek began on July 24th with eight buses taking off from different cities in the U.S. and Mexico. The Advancing Black Entrepreneurs bus departs from Harlem, NY.
During the first 72 hours on the bus, teams are created and their days are spent conceiving, building and launching fully-functional products. On the last two days of the journey teams participate in a pitch competition in New Orleans, where every team has the opportunity to pitch their product to a panel of judges. Some entrepreneurs will only get this far. But the lucky few that make it to the final round will pitch again in front of prestigious judges and thousands of viewers via live stream. Regardless of who advances to the finals, everyone will win the opportunity to build entrepreneurial skills and form lasting relationships.
ABP's ultimate aim with the road-trip is to boost diversity in the startup world. But it also hopes it'll be a once-in-a-lifetime adventure for everyone on board.
"The intent is to push entrepreneurs beyond their limits and change their perspectives of what is possible," said Tosh Ernest, who heads up ABP's Pathways to Wealth. "Hopefully they will make lifelong friends, meet potential business partners and have the experience of a lifetime."
Buspreneurs
Many 'Buspreneurs' have gone on and created successful startups since StartupBus itself began in 2010. ABP has sponsored the road-trip to expose top black talent to financial and investing advice and networks that are so often the sole domain of the wealthy and well-connected. JPMorgan Chase bankers will also be on the bus to give advice and guidance along the way.
"We want to teach rising black entrepreneurs about the startup process and enhance their financial experience through advice from business bankers," explained Sekou Kaalund, Head of ABP. "This competition aligns with our long-term goal to drive inclusive growth, by empowering more people in the black community to further their education, grow their careers and build wealth."
Not everyone on board is a coder or designer. People with sales, finance and marketing backgrounds are also vital members when it comes to developing customer pain-points the startups need to address; the development of the startup's mission, it's vision five to 10 years from now, and other elements needed for an investor pitch.
Tech Tools to Improve Financial Health
Those on the Advancing Black Entrepreneurs bus are being asked to focus on products that could improve the financial health of black Americans. They include tech tools to improve savings and credit, provide homebuyer counseling or help black-owned small businesses get access to capital, said Ernest. "Because economic opportunities continue to remain out of reach for many black Americans, we're working to expand their pathways to wealth," she said.