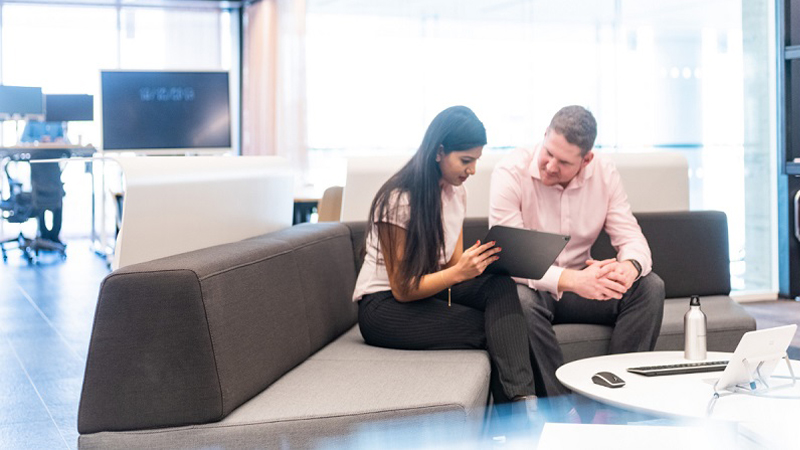 Stories
The Importance of Mentors and Sponsors in Career Development
Why are mentors and sponsors so integral to career development? What is the difference between them? And how can you use them to elevate your executive career?
Despite the progress companies have made by investing in mentorship and sponsorship programs to advance female talent, high-potential women are still less likely than men to be awarded high-level promotions and appointed to top roles.1 Without sponsorship, women may also be more reluctant to apply for these roles.2
This is even more the case for women of color, who have fewer interactions with senior leaders, which means they often don't get the advocacy they need to advance.3
Here are some expert tips on how to use mentoring and sponsorship to advance your career.


Mentoring and Sponsorship: What's the Difference?
Mentors and sponsors are not the same thing. Both mentors and sponsors can help you to make connections at work, influence and aid your career and expand your network and knowledge. However, sponsors are internal colleagues at a higher level who can support and promote you.
Julie S. Nugent, Senior Vice President of Learning & Advisory Services at Catalyst, explains that, "Mentors provide advice, feedback and coaching through formal or informal relationships, while sponsors use their influence or leadership status to advocate for your advancement or provide you with access to opportunities."
Many women build up very successful mentoring networks with colleagues both within and outside their industry who share knowledge and advice. But a sponsor's role is entirely different. A sponsor will actively advocate for you, put your name forward for high-stakes assignments that win notice and promotion, and spend their political capital at work in your name. These roles are hugely important and can build your career in different ways.


Mentoring: Guidance for Growth
Many people think of mentoring as a process that's only important in the early stages of your career, when you don't have the knowledge and information you need to navigate your office or business structure. But the truth is that women at all levels of advancement — even senior positions — can benefit from guidance. The pool may get smaller the higher you go, but there's always someone at the next level who can help, notes Nicole Denson, Tech Portfolio & Transformation Director for Consumer Lending at JPMorgan Chase.
When you choose a mentor, the key is thinking about what you need and who can help you with it. Nugent advises identifying someone with the specific expertise that can guide you on a particular issue. That means narrowing down the area you need help with, and finding the person best positioned to advise you.
Mentorship is a two-way street, and you may find that the person best positioned to help you with your development may need your help with theirs, too. With that in mind, be as prepared to offer advice as you are to receive it, setting up a reciprocal relationship that can benefit you throughout your whole career.
Nugent also advises building a diverse network of mentors who provide different perspectives and challenge your thinking. These are the interactions that stimulate the most valuable professional and personal growth.


Sponsorship: Unlocking the Door
While a mentor could provide career-changing guidance, a senior sponsor can help your career directly advance. With a sponsor advocating for you, you're more likely to land important opportunities and be more visible. According to Denson, "When you're considering going to the next level, it is critical to have a sponsor at the table who can represent you."
A career sponsor elevates your visibility at work, places you in new roles, ensures you get credit and defends you in your absence. Winning a sponsor is not a straightforward process, but there are steps you can take that will help. The first step is to make sure your contributions are noticed. Focus on being visible and vocal, and building a reputation as an ambitious, highly skilled part of the team. Nugent advises being proactive in order to make yourself noticeable and make your accomplishments known. Don't let others inadvertently lay claim to your ideas or contributions; try to ensure that you are the one who presents them to senior colleagues.
The second step is to show your ambition by taking on more challenging tasks, especially with people you haven't collaborated with previously. If you're ready to take it on, ask for it. If you don't feel prepared, shadow or support someone on a similar project and then put your hand up for the next opportunity. Make it clear that you want to grow at work and ensure that your efforts contribute to the big picture in terms of what your team and company are trying to achieve.
The third piece of the puzzle is your network. Work at forming good relationships by solving problems for your team, helping others and putting yourself forward for projects.
This allows you to demonstrate your skills to someone who's already a mentor or a senior colleague. If people can vouch for your work and believe you are the kind of person who can get things done for them effectively, they are more likely to support you.
When you identify a potential sponsor, be bold and clearly articulate what you want. For example, you could ask them to endorse your work for a specific purpose. Or you may ask them to name you when discussing big projects that you were involved in. When a new project comes up, you might ask them to remind colleagues of your previous contributions. Even single instances of sponsorship can be powerful in advancing your career and if you ask for that endorsement once, they are likely to be more inclined to think of you again.


What's in it for You – and Them?
The sponsorship stakes are high for both parties. You benefit from your sponsor's network and connections, power, influence and status. On the other side, your sponsor is effectively putting their name on the line for you. As you seek out and connect with sponsors, think about what you can offer each other.
As a sponsor herself, Denson says she gets satisfaction from a relationship that benefits both parties. "For example, I've just promoted a diverse candidate on my team from a vice president to an executive director. The company now recognizes that I'm a serious advocate for diversity, equity & inclusion."


Taking the Initiative
There are companies who have official sponsorship programs, but these are not always effective. It's much more authentic and helpful if you develop a sponsor organically.
It's not easy to find a sponsor, but most often, it's a mentor or a manager who becomes your advocate. Not every mentor can become a sponsor, because they need to have the appropriate influence, but every mentor can help you. And, in many companies, you'll find that there's already a supportive network willing to help. Engaging in that network and making yourself visible and known to those you work with are key to securing sponsorship.
Alaoui Zenere, Executive Director at J.P. Morgan, has experience building her community as the co-chair of the company's Vice President Women's Network. She says that throughout her career with the company, senior women have always been approachable. She recalls arriving in New York on rotation and asking Liz Myers, Head of Global Equity Capital Markets, to grab a coffee. "She answered immediately and said, 'Yeah sure!' We had a great conversation."
As Myers herself advises, "I always encourage people seek both mentors and sponsors. If someone comes to me, they will never leave without me introducing them to someone else, even in another area, even if they're not looking for a new job."


Find out how JPMorgan Chase actively empowers women to excel in their careers through resources and global initiatives such as Women on the Move.