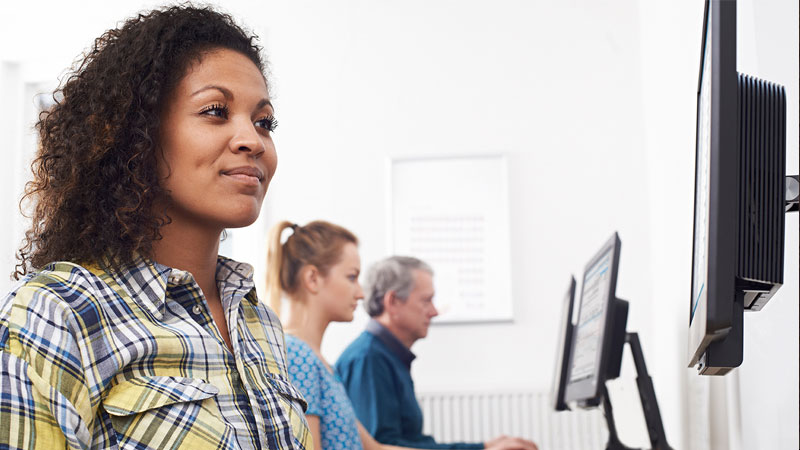 Stories
The Future of Work: Helping Black Women Face the Challenges of Job Automation
JPMorgan Chase and the Institute for Women's Policy Research explore how automation is impacting employment for women of color.
Equal Pay Day began in 1996 as a public awareness event to highlight the gender pay gap. It takes place in April to symbolize how far into the year women must work to earn what men earned in the previous year (the exact day changes each year). Today—26 years after President John Kennedy signed the Equal Pay Act—pay equity remains an elusive goal. And new challengers (for the entire workforce) have arrived in the form of machines, robots and artificial intelligence.
The technological advancements propelling this "fourth industrial revolution" we're engaged in are happening at such a rapid pace that an automated world seems poised to disrupt the American workforce on an unprecedented level. As was the case with the previous three industrial revolutions, some fear they will be left behind.
The Institute for Women's Policy Research (IWPR), with support from JPMorgan Chase, recently released a new report that put it this way: "The prospect of driver-less cars, factories operated by robots, and stores without cashiers—or need for cash—conjures up visions of a jobless future."
It seems that news headlines on the future of work can range from total hysteria to near eye-rolling. But given what's known as "job segregation" in the U.S. labor market, women are substantially more likely than men to work in jobs that are more vulnerable to technological substitution such as, administrative assistants, customer service representatives, bookkeepers, accountants and retail staff. The study found that although women make up about 47 percent of the workforce, they account for 58 percent of the workers in jobs at the highest risk of automation.
The risks are even more acute for women of color, who not only experience an increased wage gap in comparison to white women, but are also employed in a larger percentage of high-risk jobs.
But, despite having the highest labor force participation rate, black women are over-represented in low-wage, high-risk jobs. That puts a higher concentration of black families in peril.
This matters. And it's in line with IWPR's analysis estimating that 60.9 percent of black families had a significantly higher percentage of "breadwinner mothers." But, despite having the highest labor force participation rate, black women are over-represented in low-wage, high-risk jobs. That puts a higher concentration of black families in peril.
Having yet to adequately address current challenges, the study acknowledges that machine-learning, robotics, artificial intelligence, and digitization will continue to forge ahead in the workplace. Recognizing this, the authors maintain that "it is critical that employers and policymakers focus on reducing inequalities."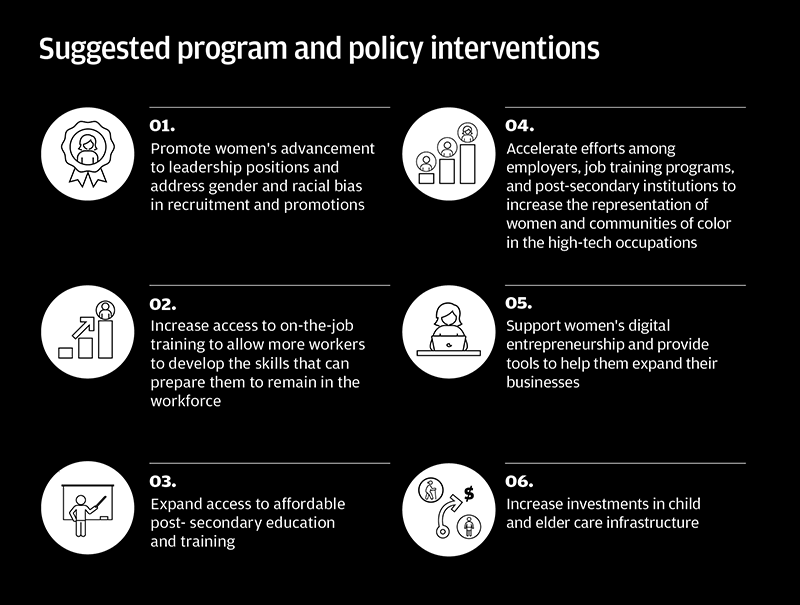 Many companies are making strides to implement these recommendations into day-to-day operations. Take, for example, JPMorgan Chase's Advancing Black Pathways (ABP) initiative. At the launch event in February, JPMorgan Chase's Chairman and CEO, Jamie Dimon, said that "making the economy work for more people is not only a moral obligation – it is a business imperative."
But more than just rhetoric, ABP is working to expand economic opportunity for black people by strengthening education and job training, growing careers and building wealth. And part of that commitment starts within JPMorgan Chase's own walls. The company is now working to proactively identify the skills that they will need for the future of work and provide training and education so employees can continue to grow their careers at the bank.
"It is possible," said Jennie Sparandara, JPMorgan Chase's head of workforce initiatives, "to build a future of work that reduces inequalities, improves economic security, and ensures that women and communities of color reap the many benefits of technological change."
---