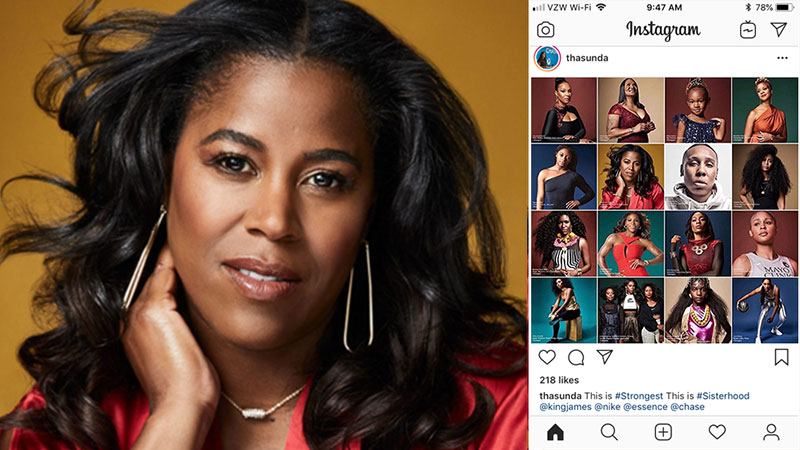 Stories
Thasunda Duckett Featured in LeBron James' New Sneaker Campaign
Chase's Consumer Banking CEO is among the 16 strong black women who inspired James' first shoe for women
"African American women are some of the strongest people on earth." It's with this statement that LeBron James announced his 16th sneaker for Nike and first shoe for women, the HFR x LeBron 16.
It's inspired by the unsung, strong women in his life, like his mother, wife and daughter. And the shoe does convey power: it's detailed with gold, a snarling lion on the heel, and the insert is stamped with the words "strength," "courage," "loyalty" and "dignity." And while inspired by strong women, the sneaker is designed for both men and women.
Thasunda Duckett, Chase's Consumer Banking CEO, is one of the 16 women who inspired the shoe and is featured in the campaign.
"I am so honored to be among this group of talented, strong Black women," she says. "LeBron is not just a legendary basketball player, he's an inspiration as an entrepreneur and for making such meaningful impact in his community."

You'll see another Chase friend in the campaign, Serena Williams, as well as Olympian, Simone Biles; actor, producer and screenwriter, Lena Waithe; and marketing and brand guru, Bozoma St. John. Also included are LeBron's own mom, wife and daughter, Gloria, Savannah and Zhuri, respectively.
The shoe was designed by black female designers, Brandice Daniel, Fe Noel, Kimberly Goldson and Undra Celeste from Harlem Fashion Row, a New York-based design organization that helps promote multicultural artists.
"I grew up around incredibly strong women and continue to be inspired by the female strength I see around me," said LeBron in a press release. "I thought it was important to recognize that strength through this shoe." Mission accomplished.