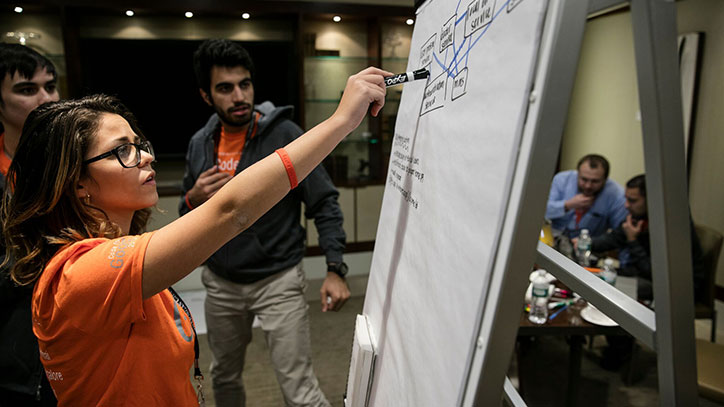 Stories
Pulling an All-Nighter While Doing Some Serious Good
Students and JPMorgan Chase employees team up to develop solutions for local nonprofits at a 24 hour code challenge.
As a risk manager for a large financial institution, Aldo Solares spends his days examining trading algorithms. "Sometimes it's very technical," he said. "What's missing for me sometimes is the human aspect...the fulfillment of helping people."

So when Solares heard about Code for Good, he jumped at the chance to volunteer. Code for Good is the company's program that invites its employees to collaborate with high school and college students and develop technology solutions for nonprofit organizations. "I had been wanting to work with nonprofits and give back for a while," he said, "but this was an ideal fit for me to get started."
Held at JPMorgan Chase offices in seven cities globally, the Code for Good 24-hour challenge offered Solares the opportunity to do just that. New York City's Code for Good program – where he participated – celebrated its four-year anniversary in the Fall of 2015 and saw its largest code challenge ever, with more than 150 volunteers and 130 students from 39 universities across the country.
"It's our most anticipated event," said Ali Marano, who founded the Code for Good program for the company in 2012.
JPMorgan Chase employees are eager to participate and donate their personal time on weekends to give back to charities. Through the program they contribute approximately 8,000 hours every year. "It's really incredible to see how passionate our volunteers are about Code for Good, the students and the nonprofits," said Julia Backon, Program Manager for Code for Good.
Organizations that have presented challenges to the student coders include Rock the Earth (NYC Code Challenge), the LeBron James Family Foundation (Columbus Code Challenge), AgeUK (London Code Challenge), and the Happy Hearts Fund (Mumbai Code Challenge).
The challenges are always difficult to solve, but also always inspiring. In 2015, nearly 700 college students around the world, who were chosen from more than 3,000 applicants, broke into teams to recommend solutions by noon at their location's Challenge. JPMorgan Chase employees, as energized as the students, sat by their sides, providing advice and encouragement.
Analyst Cynthia Roldan noted, "I thought it was a phenomenal idea to bring students into the office," she said. "It's a great learning experience for them — as it is for us." It's an ideal way to leverage the company's talent pool to help nonprofits excel.
JPMorgan Chase is also trying to do its part to foster technology education – starting at the high school level. Each of the U.S. Code for Good Challenges also included a high school competition, which tend to be shorter and more theoretical than the college battles. For example, organizers in New York made a special push to bring in more young women, partnering with nonprofits such as Girls Who Code and the YWCA identify the right 65 high school participants. They all went home at 9:30pm, while the college students pushed on.
---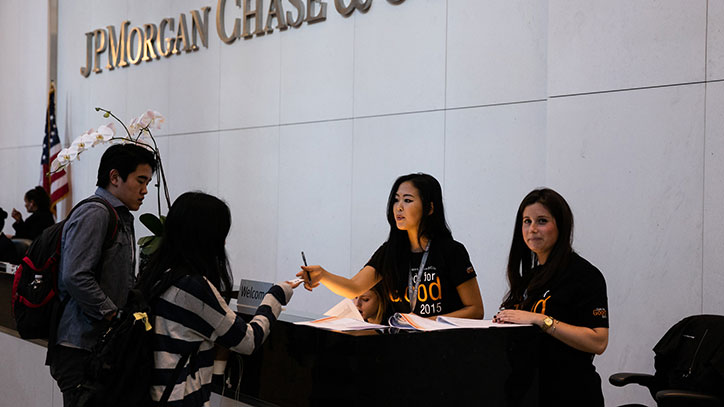 Students are checking in for the Code for Good Challenge at our NYC headquarters.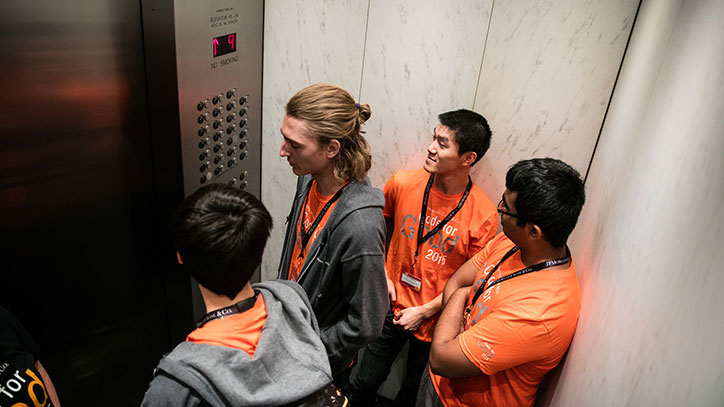 All ready and decked in their Code for Good gear, the students ride up to the 50th floor to meet the nonprofits and receive their challenge for the night.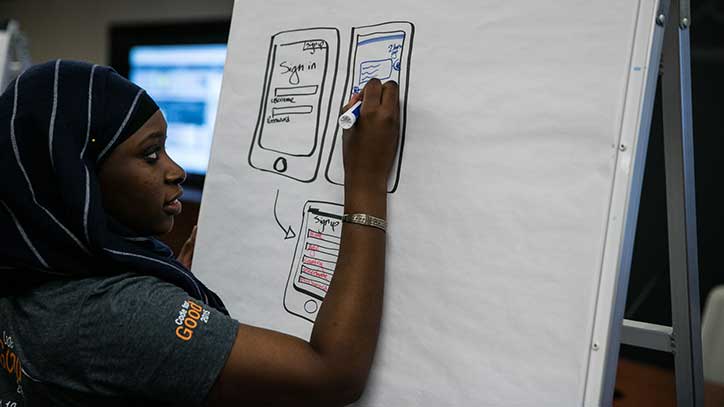 A High School student envisions her team's solution as she sketches and designs wireframes.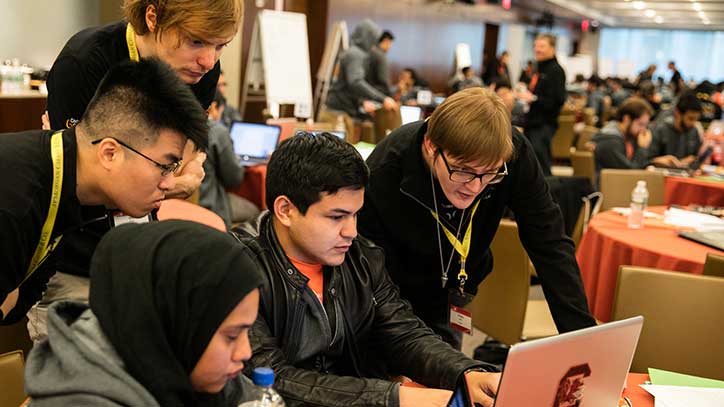 Three JPMorgan Chase employees lean in to help the student coders solve the challenge at hand.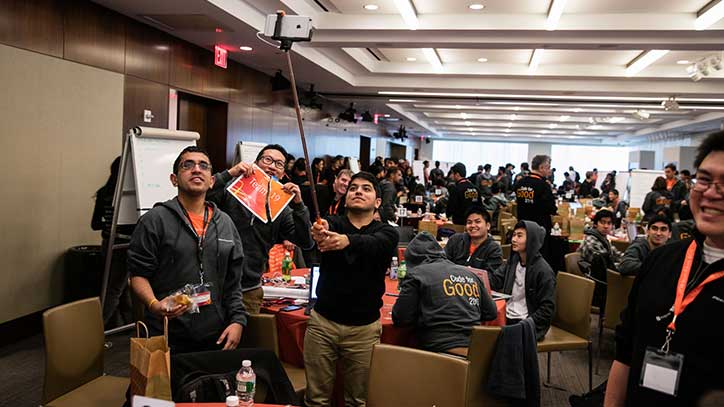 Even serious coders need a fun break. Students took photos of their experience and shared them on social media using the #Code4Good hashtag.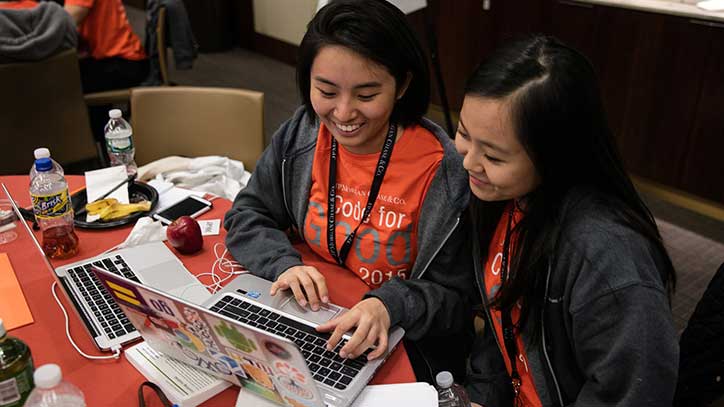 As the night goes on, university students keep their spirits high and continue to work together.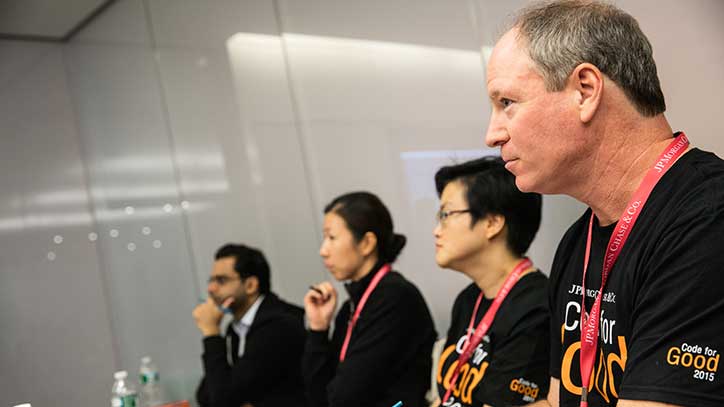 After a night of brainstorming and coding, students pitch their solutions to a panel of technology employees at JPMorgan Chase.
---
Overnight, the office felt like a freshman dorm. Bleary-eyed teenagers in hoodies stared at laptops, surrounded by coffee cups and pizza boxes. A room was set aside for sleeping and new toothbrushes were available in bathrooms. By the next afternoon, everyone was exhausted but the results were impressive.
The winning team in New York came up with web and iOS applications for Rock the Earth, which will help the nonprofit bolster its environmental advocacy. These prototypes will then be brought to life in the Force for Good program, which are built with the skills of our own employees.
"This technology will be a game changer, not only for Rock the Earth but also for every single nonprofit that engages in petitions and canvassing," said Paige Heydon, the organization's executive director.
Basil Vetas was on the winning team and will soon be joining JPMorgan Chase as a Technology Analyst. He is proud to have produced something with real, tangible value in such a short time and enjoyed every minute. "This was my first-ever code challenge," he said, "and I could not have had a better experience."
But he couldn't have done it without the experts, he says.
The employee volunteers provided valuable guidance, helping to fix a bug and improve the user interface for the winners. "They were very engaged and created an exciting atmosphere," Vetas added. "I was impressed that they stayed with us for the entire night and seemed to care about creating a positive impact for the nonprofits. It really says a lot about the culture at JPMorgan Chase and I'm thrilled to be joining the company soon."
---

To learn more and apply for the program, please visit http://bit.ly/codeforgood
Learn more about technology career opportunities at JPMorgan Chase & Co.