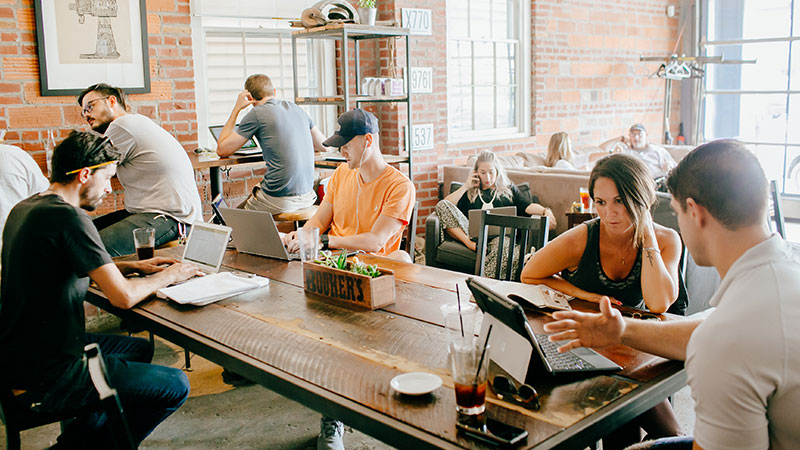 Stories
Are These Cities America's New Tech Hubs?
By Ben Dickson | Produced by Politico for JPMorgan Chase & Co.
The American tech industry has been traditionally dominated by cities like San Francisco, New York and Seattle, where the world's largest tech companies are based. However, in the past few years, as technology and connectivity have become ingrained in every part of society, cities across the U.S. have emerged as promising centers for the establishment and growth of tech companies.
America's new tech hubs are helping reshape the country's economy, creating job and business opportunities that were once only available in centralized coastal locations, a trend Steve Case coined "the rise of the rest." The rise of non-traditional tech hubs such as Wilmington, Delaware, Columbus, Ohio and Portland, Oregon, once smaller, industrial cities, showcases the critical role technology is playing in driving radical change in traditional businesses across every industry. The successful rebirth of these cities provides a window into the pivotal forces that are shaping America's economy today, and perhaps even a snapshot into what its future cities will look like.
To businesses and policy makers, these forces do not go unnoticed. They give cause to tech-ed initiatives like President Obama's TechHire, and the recruiting of top tech talent and acquisition of tech startups by some of the biggest non-tech companies such as General Motors, Walmart and Honeywell.
For JPMorgan Chase, tech hubs are part of a global strategy to streamline operations, recruit top tech talent and reinvest in U.S. urban communities. As part of this strategy, the company has placed 40,000 technologists across 14 global tech hubs, including locations in Columbus and Wilmington. And the timing couldn't have been better.
Wilmington: Win back your workforce
It's not uncommon for a U.S. city to experience a major industrial shift. After the departure of two chemical giants that accounted for thousands of jobs in Wilmington, Delaware, the city struggled to preserve its local talent. But as local corporations shifted their focus to technology and startup culture took root, the city has renewed its focus on workforce development to meet the opportunity head on.
Zip Code Wilmington, a nonprofit coding bootcamp launched by venture capitalist Ben DuPont with the help of JPMorgan Chase, has played a crucial role in training and re-training the city's workforce to fill the increasing number of tech jobs. The school started over four years ago when then Delaware Gov. Jack Markell sought partners to create a tech training program that aligned with the TechHire initiative. As a known tech-leader in Wilmington, JPMorgan Chase was selected to help create the program's first coding curriculum.
Since its launch, 96 percent of Zip Code's graduates found jobs in local companies, including at JPMorgan Chase, which has employed 50 Zip Code-trained software developers. "The hiring needs of companies like JPMorgan Chase are the key factor in the evolution of our curriculum and the topics and technologies we teach on a day to day basis," says Tariq Hook, Director of Education at Zip Code.
Coding bootcamps are not distinct to Wilmington, though. CourseReport, which keeps a running database, recently recorded over 100 such schools across the U.S. And the TechHire initiative claims a network of almost 240 training providers. As more and more technologies come to market, these coding schools have become a competitive source of talent for tech recruiters looking to fill new and often above-average salary positions.
Other elements of Wilmington's burgeoning startup community are 1313 Innovation, Start It Up Delaware and The Mill, co-working spaces that provide solo entrepreneurs and startups with office space. By hosting local talent and regular networking events, the incubators encourage a sense of community and culture across Wilmington's downtown area.
The city's evolving tech scene is also an opportunity for its 1,700 displaced chemical industry workers. "These people have years of experience working in highly analytical jobs, and with a slight pivot in their skill set could prove to be highly effective programmers," Hook says. "With JPMorgan Chase committing in 2015 to adding 1,800 Delaware jobs, by the year 2019, these displaced people could be re-skilled and utilized."
But other factors can make Wilmington a magnet for entrepreneurs from other parts of the country. A few hours from Washington, D.C. and New York, Wilmington is favorably positioned for anyone who wants to set up their business within easy reach of well-established tech hubs and metropolitan areas while benefiting from considerably lower costs.
Meet Silicon Valley's Competition
---
Explore the growing startup culture and evolving tech scenes of Wilmington, Columbus and Portland.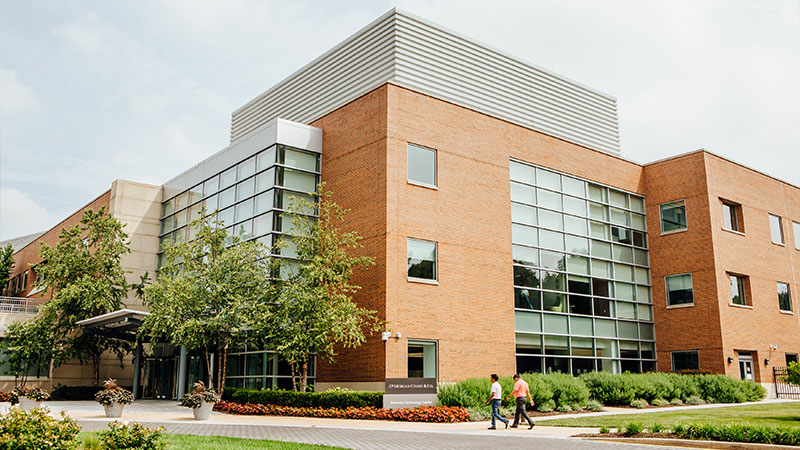 Technologists walk outside of JPMorgan Chase's tech hub in Wilmington, Delaware. The company spends over $9.5 billion dollars in technology a year and employs 40,000 technologists across the globe.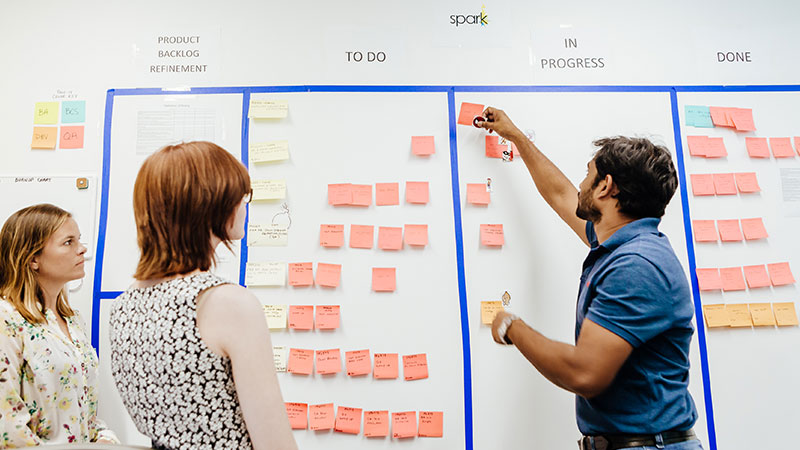 JPMorgan Chase technologists at the Wilmington tech hub work to create solutions that enhance the company's employee and customer experience.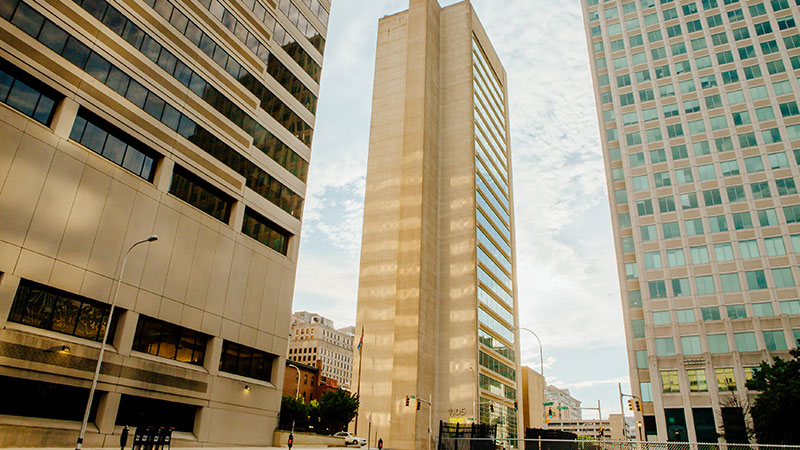 With the help of JPMorgan Chase, venture capitalist Ben DuPont created Zip Code Wilmington (ZCW), a nonprofit coding bootcamp that is part of Gov. Markell's Delaware TechHire initiative.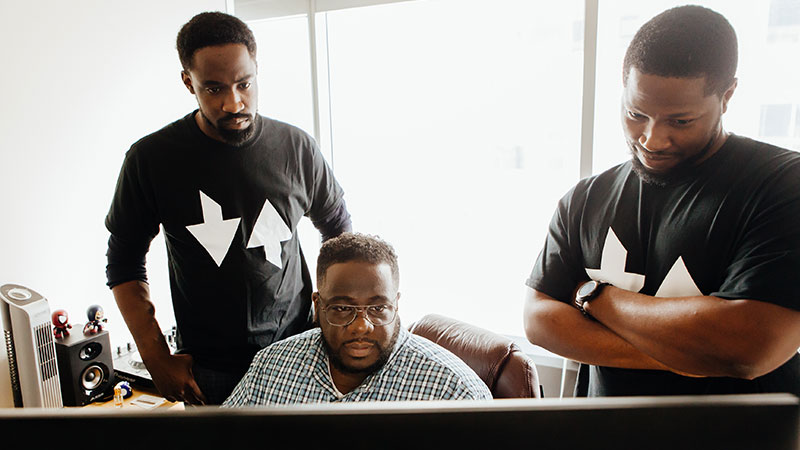 "The goal of Zip Code is to have our graduates hit the ground running and provide business value by contributing from their first day on the job," says Tariq Hook (center), Director of Education at Zip Code.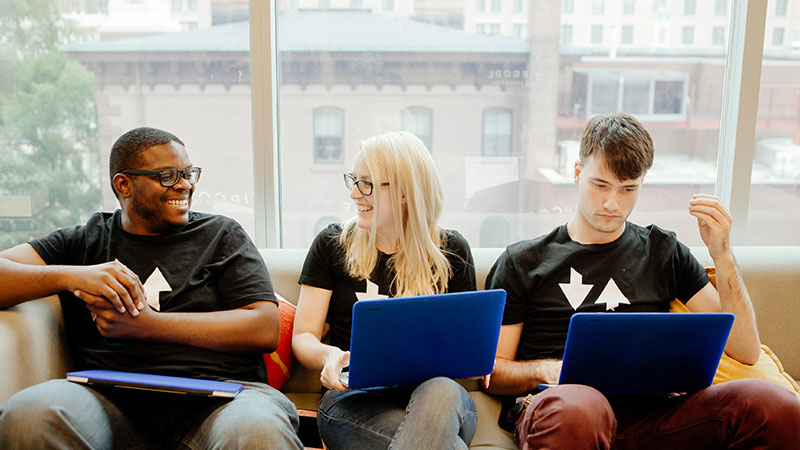 Since its launch, 96 percent of Zip Code's graduates have found jobs in local companies.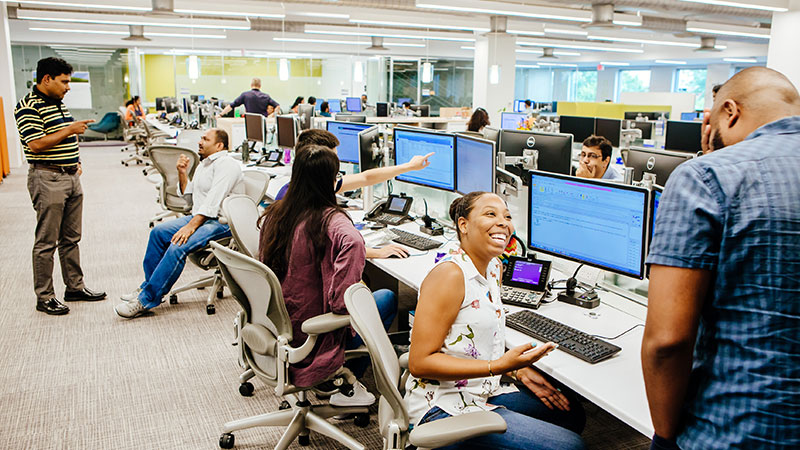 JPMorgan Chase has employed more than 50 Zip Code-trained software developers at its Wilmington tech hub.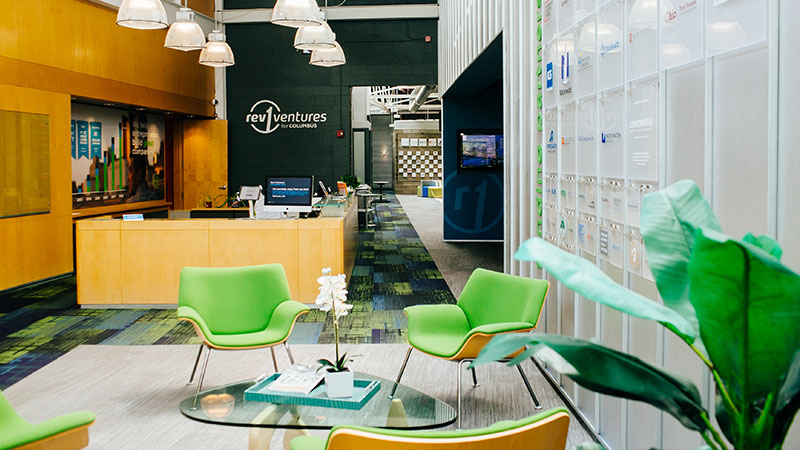 Rev1 Ventures is one of Ohio's largest investment firms. In 2015, it received a $175,000 grant from JPMorgan Chase to help fund data analytics startups. The two also recently partnered to open the Columbus Chapter of Bunker Labs, a national nonprofit organization that supports early phase Veteran-owned startups.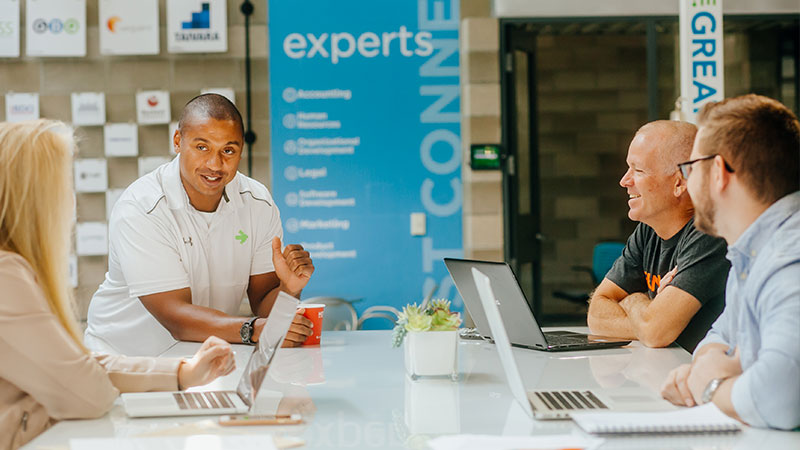 Local Veterans meet with members of the Columbus chapter of Bunker Labs to discuss business opportunities and receive advice. In 2016, JPMorgan Chase announced a $1.5 million national investment to help expand Bunker Labs, including the Columbus Chapter, and create more opportunities for Veterans looking to start their own business.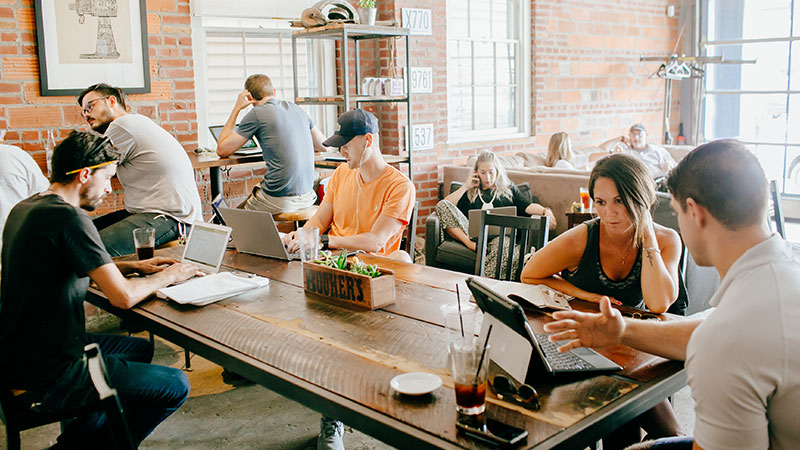 Local residents and entrepreneurs meet at one of many local Columbus coffee shops.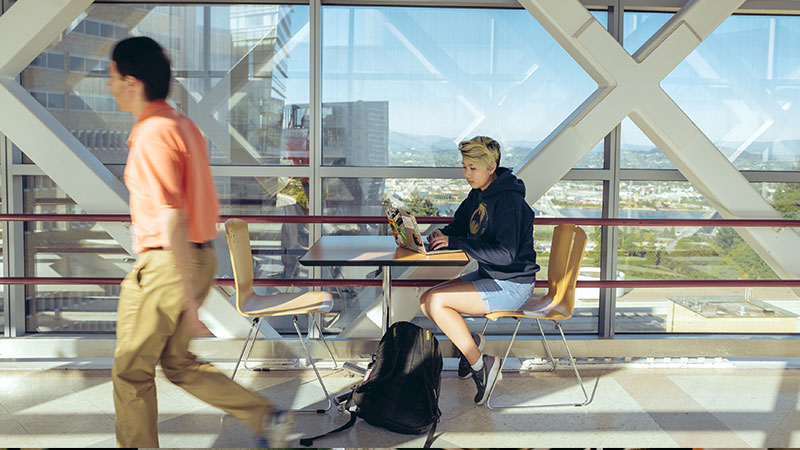 Students studying in the scenic Oregon Health and Science University (OHSU) halls. OHSU works closely with local startups on federally funded research, including ADPM Wearables, with which they have conducted over $10 million worth of projects.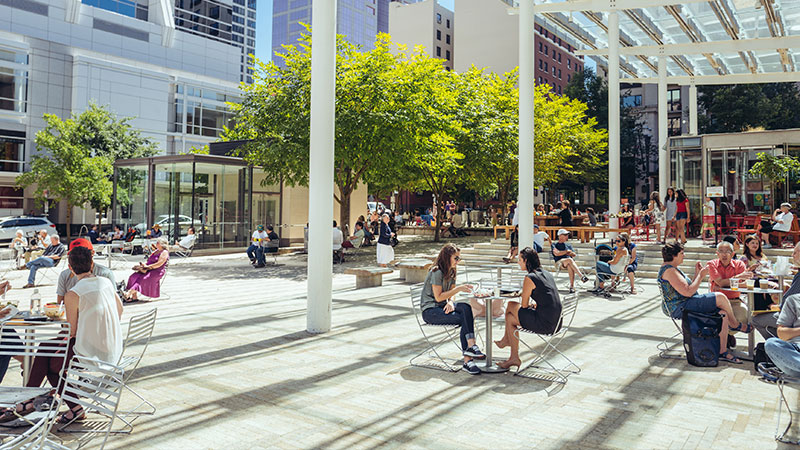 Portland residents enjoy their lunch hour and the city's mild summer climate in one of downtown's many outdoor areas.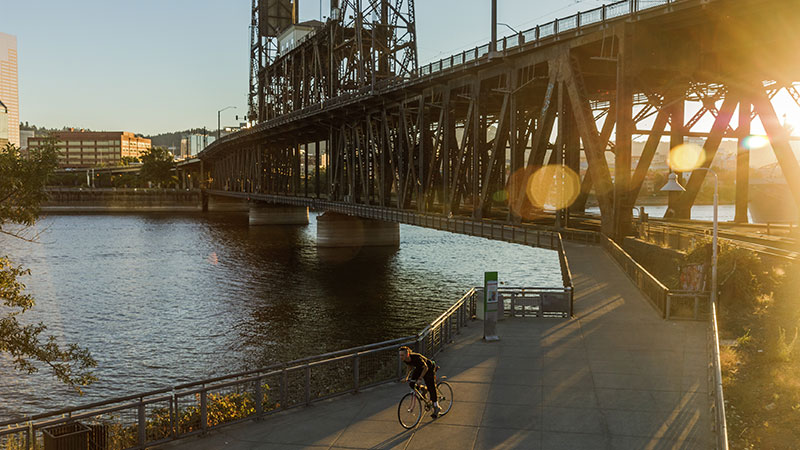 Portland is one of the most bike friendly U.S. cities with scenic pathways along the river and bike lanes across town, creating easy and active commuting options for residents.
---
What starts Columbus up
One of the key distinctions that makes a traditional tech hub traditional is its investment community. Columbus' proximity to many Fortune 500 companies, including its largest employers, Walmart, Kroger and JPMorgan Chase, has helped the city attract the investment climate it needs to make it one of the best U.S. cities in which to start a tech-based, high-growth business.
One company that grew out of this climate is MentorcliQ, an award-winning SaaS provider that helps organizations launch, support and grow high-impact employee development programs. While the founders, Andy and Phil George, both lived in California, they decided to move to Columbus to launch the company, raising $1.73 million in three rounds of funding.
"Columbus is truly a fantastic place to start a B2B business because there are so many great companies in the area," Phil George says. While MentorcliQ has customers in over 60 countries, the company has benefited immensely from being in an area that is within a day's drive of 60 percent of U.S. GDP.
It helps that the city is the fastest-growing city in the U.S. for startup activity. According to the Kauffman Index of Entrepreneurship, Columbus has more new businesses that grow to 50 or more employees in their first 10 years than any major metropolitan area in the country. As part of this, the city has seen a steady increase in venture capitalist activity in recent years. In 2016 alone, Ohio saw the deployment of $362 million in venture funds, and Ohio $420 million in new venture capital raised by new funds according to the National Venture Capital Association (NVCA).
Among these is Ohio TechAngel Funds, the largest angel network in North America with 340 contributors. Columbus also houses two of the state's major VC firms, Rev1 Ventures and Drive Capital — both Rev1 and TechAngel were early funders of MentorcliQ.
Local leaders have played a prominent role in shaping Columbus' tech scene. In 2010, soon-to-be-governor John Kasich convinced Mark Kvamme, from Silicon Valley's Sequoia Capital, to relocate to Columbus to run economic development agency, JobsOhio. The partnership eventually led Kvamme to found Drive Capital, which launched with a $250 million fund, including a $50 million investment from Ohio State University. Drive has funded some of Ohio's more successful startups, including CrossChx and FarmLogs.
In 2015, Rev1 received a $150,000 grant from JPMorgan Chase to support startups in the data analytics cluster. More recently, the two firms partnered to launch the Columbus chapter of Bunker Labs, a nonprofit organization that supports early phase Veteran-owned startups, as part of JPMorgan Chase's $1.5 million commitment to help expand Bunker Labs across the country.
"The bottom line," says Rev1 Ventures COO and CMO Kristy Campbell, "is that startups in Ohio are only a step or two away from being able to validate their market, iterate on their product, access capital and close first customers."
Portland: College town rising
Some of the most successful startups, including Facebook and Dell, started on college campuses. In Portland, Oregon, wearable tech is leveraging the city's universities to systematically breathe life into its next big inventions.
Home to tech giants such as Intel, HP and Xerox for decades, a flourishing startup scene has recently thrust the "Silicon Forest," as Portland is nicknamed, into the limelight. It also boasts some of the country's top academic institutes.
"Having access to the local universities is a huge plus," says Matthew Johnson, General Manager at APDM, a Portland-based wearables company that worked with the U.S. men's gymnastics and diving teams.
Many of APDM's employees are Portland State University graduates. The company itself came out of PSU's Business Accelerator, which is home to 30 technology and science startups and is ranked among the top 25 university business incubators by UBI Global. APDM is also closely tied to the Oregon Health and Science University, with which it has conducted most of its federally funded research projects. Together, APDM and OHSU have worked on over $10 million worth of projects, mostly funded by the National Institute of Health.
Although APDM now relies on its own revenue stream, its bonds with universities still remain strong. "Being sandwiched between two universities is extremely helpful," Johnson says.
Portland continues aspiring for a tech-forward future under the leadership of its new mayor, Ted Wheeler. An advocate for infrastructure and driverless cars, Wheeler was elected on an ambitious "25-25 Jobs Strategy" that promises workforce development and wage growth — 25,000 more Portlanders with jobs paying at least $25 an hour — in the city's most lucrative fields, including health tech.
As the tech industry continues to grow at an accelerating pace, the economy and employment landscape is being disrupted in an unprecedented fashion, a disruption that has mostly benefited coastal hubs like San Francisco and New York. America's new tech hubs are providing an opportunity to distribute job growth and capital more evenly across the U.S., and to create a future where many of today's overlooked areas can become major contributors to the country's economy and centers for innovation.
---
Learn more about technology career opportunities at JPMorgan Chase & Co.