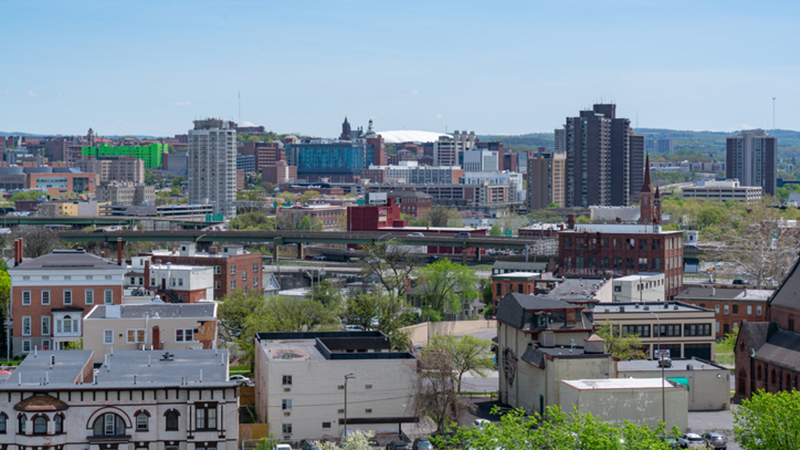 Stories
Syracuse's New Game in Town
With a deep bench of talent and a $3 million investment from JPMorgan Chase, Syracuse just might become the next Silicon Valley.
Syracuse, NY
Feb 11, 2020
When you think of Syracuse, the color orange likely comes to mind. After all, the Orangemen: Syracuse University's basketball team is considered one of the most prestigious college teams in the country.
But what about industry? It got its start with salt mining in the 1800's, but by the 1900s, it was swept up in the manufacturing boom. Home to major operations from some of the country's biggest companies—including Smith Corona, Chrysler and GM—it is probably best known for its connection to GE, which built its main television manufacturing plant there. But by the 21st century, manufacturing was declining and it was unclear what the future held for the "Salt City."
For many of the city's leaders, the logical next step is technology. Between its rich manufacturing history and its association with one of the country's top research universities, it's poised to be a major tech hub. And, thanks to a host of recent investments in the city's technology corridor and "Tech Garden" incubator, the path is primed and ready.
But if there's one thing Syracusans have learned over the years, it's that, when it comes to economic growth, practice makes perfect.
While economic growth and advancement are essential to take the city to the next level, that progress should not be detrimental to existing residents. The new investments have energized the city and created momentum to develop a growth strategy that ensures all residents benefit from the region's growing economy. Responsible growth is the new game in town.
To achieve this lofty goal, Syracuse Surge, an economic development initiative led by the city in collaboration with the business community, local nonprofits, and educational institutions, is developing programs to connect underserved residents with the tools and training they will need to benefit from—and contribute to—the technology boom.
In other words, Syracuse Surge is leading and collaborating—which happens to be one of JPMorgan Chase's 7 Traits of Advancing Cities—to make this technology transition not only seamless, but also beneficial for residents.
Case in point, a partnership of Syracuse's political, business and nonprofit leaders recently won $3 million from JPMorgan Chase's AdvancingCities Challenge, an annual competition to source innovative and sustainable solutions to address the most persistent problems facing communities. One of five winning cities in JPMorgan Chase's inaugural AdvancingCities Challenge, Syracuse was chosen out of more than 250 proposals from 143 communities across the nation.
Syracuse plans to invest the $3 million to help residents, businesses, and communities in the city's southern Downtown district and Southside neighborhoods. It is putting strategies in place to attract, expand, and incubate technology businesses led by diverse founders, and find talent from underrepresented populations.
Out of all places, Syracuse knows what it is like to advance to the top. And with this new surge of funding and the right game plan, it is sure to be victorious yet again.
---
In Syracuse, CenterState CEO led a successful collaborative that included Allyn Family Foundation, City of Syracuse, Le Moyne College, Onondaga County, and Syracuse University.
This is part of a five-part series on the inaugural winners of JPMorgan Chase's AdvancingCities Challenge. To learn more about AdvancingCities visit here. To learn more about the firm's 7 Traits of Advancing Cities, visit here.