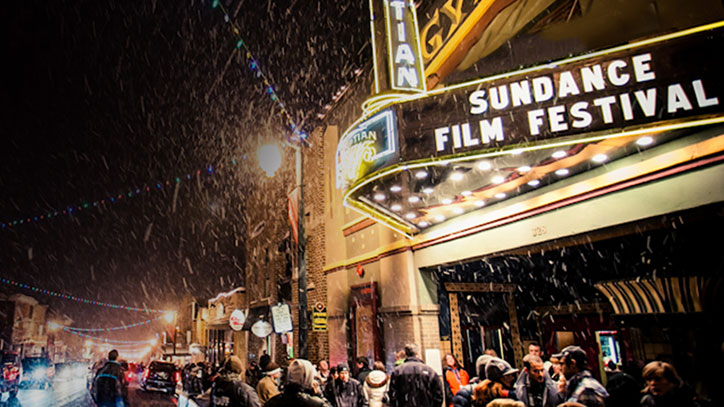 Stories
Telling Great Stories, No Matter the Medium
How the Sundance Film Festival is supporting the next generation of filmmakers.
The benchmark for showcasing emerging talent, the Sundance Film Festival is the largest independent film festival in the United States. Chase Sapphire has proudly supported the festival since 2011, and in honor of this year's festival, we spoke with Sundance Institute Executive Director Keri Putnam about its history and impact.
On the Development of Sundance
KERI PUTNAM: The film festival came out of the Sundance Institute, a vibrant nonprofit organization founded by actor Robert Redford and a group of others in 1981, as a way to help emerging filmmakers hone their skills and get their movies made.
It didn't take very long for Bob (Redford) to realize that the films produced were, indeed, getting better, but there was no place for them to be seen. The Sundance Film Festival was then born as a showcase for the work of those independent filmmakers.
The festival is dedicated to helping artists tell great stories, whatever the form – stage, screen, etc. We are grounded in a sense of purpose and we're on a mission to give new artists a voice. And that, I believe, is what sets Sundance apart from other festivals.
The very first Sundance festival, in 1985, was a pretty small affair in Park City. Bob often talks about how he walked up and down Main Street with a placard in an attempt to get people to come into the theater! It definitely wasn't the festival that today draws over 45,000 people from around the country and the world to discover great new stories of all types.
On How Sundance Stole the Show
KP: What transformed us into the premier showcase for an entire spectrum of film was, I believe, the appeal of Steven Soderbergh's Sex, Lies, and Videotape at the '89 festival, and its eventual sale. It gave the film industry a sense that independent films could go on to reach a wide audience. That sector of the business that was relatively small prior to that.
As eyes opened in the 90s, many other directors came along, including Quentin Tarantino, and independent film began to explode. Today, we filter nearly 12,000 annual submissions down to about 200 gems that we screen.
On Sundance's Impact on Film and the Economy
KP: It's undeniable that the films, stories and artists that have come out of Sundance have rippled throughout our culture in powerful and exciting ways. From Sex, Lies and Videotape and Reservoir Dogs to 20 Feet From Stardom and Brooklyn, the award nominations and winners lists go on and on.
The festival also positioned the Institute and many other organizations dedicated to the arts as excellent examples of the arts as economic drivers. Over the past five years, the festival has had a cumulative economic impact of nearly $400 million for the state of Utah. It also works to drive the economic performance of the films we show.
On the Support Chase Sapphire Provides
KP: Chase Sapphire understands what the festival is all about, and that's critical to us. Its sponsorship has allowed us to grow and sustain not only the festival, but also the work we do to support artists year round. Each year, we give nearly $3 million in direct grants1 to artists, and that wouldn't be possible without Chase and our entire community of festival sponsors.
Chase also funnels audience support. People from all over the world, including Chase Sapphire's preferred card members, come to Park City every January with a sense of discovery, looking to find new stories that touch them. That first moment, when the movie meets the world, is undeniably powerful. Based on their experiences with the film and filmmakers, they then become ambassadors for those films, spreading the word long after the festival is over.
---


By Lin Rice
Lin Rice lives and works in Columbus, Ohio, as a freelance writer and editor.
---
Keri Putnam oversees all programs of the global nonprofit Sundance Institute, including the Feature Film Program, Documentary Film Program, Sundance Film Festival, Film Music Program, Theatre Program, and Native American and Indigenous Program. She is also responsible for expanding the Institute's international work, initiating strategic partnerships, and growing the Institute's annual operating budget. In addition, Putnam leads Institute initiatives to provide independent filmmakers with access to digital distribution through the Artist Services program and to identify and lessen roadblocks for women in the independent sector via the Women Filmmakers Initiative.