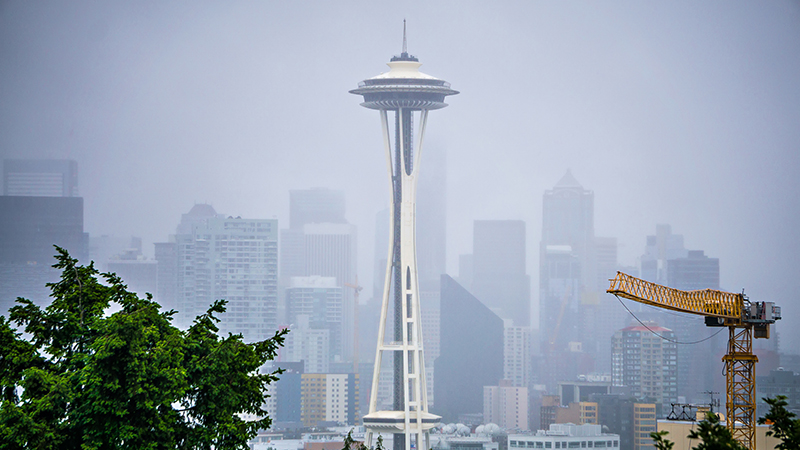 Stories
Success in Seattle: It Takes More than Creating Homes
How to raise up a neighborhood through job training, small business programs and infrastructure.

 

Originally published by OZY on November 2, 2017.

 
Set on a hill overlooking downtown Seattle, Yesler Terrace has a plum view of the city's booming commercial heart. But seeing it is one thing. Accessing it? Much trickier. The housing project's residents—who earn 30 percent of the average Seattleite's income at best—have historically been cut off from Seattle's prosperity; a lack of transport links between the neighborhood and downtown left the community isolated and forgotten. And as Seattle's rapidly growing tech industry drives up incomes, Yesler residents seem to be getting left further and further behind.
According to the Bureau of Labor Statistics:
SEATTLE'S MEDIAN INCOME JUMPED $10,000 BETWEEN 2014 AND 2015, HITTING $80,000.
Imagine how it felt, then, when it was announced Yesler-the nation's first racially integrated public housing development-was being bulldozed to make way for an upmarket, "mixed income" development. To many it seemed to be a final sign that there was simply no role for Yesler residents in Seattle's success.
But that, says Seattle Housing Authority's (SHA) Kerry Coughlin, couldn't be further from the truth. She shared how the vision for the new Yesler was, from the very beginning, to better connect low-income residents to Seattle's thriving economy. It would become "A place where people not only live, but grow."
That's why housing is just one element of the new development, which will offer a mixture of market-rate apartments and public housing once completed. The SHA guaranteed up front that all 561 original low-income housing units would be replaced and handed back to the original residents; in addition, another 1,100 subsidized units are being built. A number are already complete, and low-income residents have moved back into new-and-improved homes.
Beyond these modern apartments, Yesler is being reimagined with the connections and conveniences a neighborhood needs to flourish. New infrastructure-such as a streetcar line running through the district-is making it easier for residents to reach jobs in the city center. The specially created Yesler Community Collaborative has partnered with private and public entities, such as Seattle University and the Boeing Company, to bring new employment and education opportunities into the newly connected community. And, Coughlin points out, integrating higher-income residents also bears benefits. "The privately developed residential buildings will include ground-floor retail space for small businesses and restaurants," she explains, creating a thriving commercial scene previously lacking from Yesler, attracting visitors from outside the neighborhood and generating jobs.
Cat Martin, vice president of Global Philanthropy in the Pacific Northwest for JPMorgan Chase, emphasizes the new Yesler isn't just creating homes, but economic opportunity, when she reveals none of the $2.5 million grant from the company went toward housing. Instead, it was directed towards small-business growth programs and job training to help low-income residents take advantage of Yesler's new opportunities; $750,000 built a new walkway connecting residents to the busy Chinatown-International District. "There was this really treacherous hill that we jokingly called Goat Hill, because only a goat could get up and down it safely," Martin recalls. It was transformed into a well-lit walkway and accessibility ramp, creating what Martin labels "a literal economic corridor" between Yesler and Seattle's commercial hubs.
The project offers real potential to change lives in Yesler, but there's no denying Seattle is becoming an increasingly difficult place to live for low-income workers. A recent survey from online real estate database Zillow found Seattle house prices are growing twice as fast as even San Francisco's. The reason? The continuing influx of high-earning tech workers. Perhaps the key to improving the fortunes of struggling Seattleites, then, is an ambitious upskilling initiative, helping existing residents take part in this new economy. To the SHA's credit, it is introducing its JobLink program to Yesler, training adults for jobs in Seattle's high-growth sectors: health care, finance, hospitality and IT.
The efforts at Yesler seem a good starting point for helping marginalized communities tap into Seattle's prosperity. As Martin says, the project could and should become a national blueprint. It's a new way to look at neighborhoods that have been cut off and divested; a win-win-win model for a city, its residents and its investors.
---