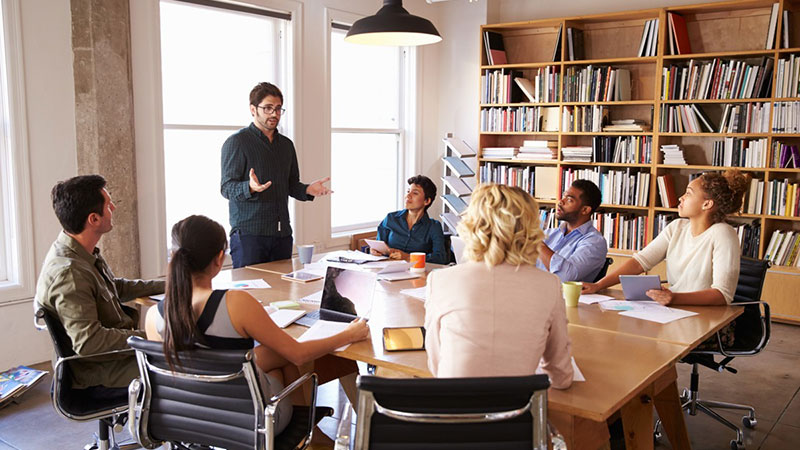 Stories
In the Startup World, Mentorship Drives Greater Success
When they work with appropriately-skilled mentors, startups take on more ambitious goals and increase their likelihood of succeeding. Large companies are seeing the benefits of offering this mentorship, too, as it creates a myriad of opportunities for innovation.
By Loren Berlin
Twenty-nine-year old Jimmy Chen wasn't thinking about modernizing the entirety of America's federal safety net when he first founded his Brooklyn-based software company, Propel, three years ago. Originally, Chen's goal was more modest; use technology to simplify the food stamp application process to encourage enrollment by the 10 million Americans who qualify for public assistance but aren't enrolled. The shift away from enrollment to his current focus on improving the larger experience for those individuals is largely responsible for Propel's burgeoning success. Since making this change to his business model, Propel secured $4 million in seed funding from some of the biggest names in venture capital and added 500,000 users, says Chen. He credits the decision to make that strategic move primarily to conversations he had with a mentor he met through the Financial Solutions Lab, a community of startups, financial services companies and nonprofit organizations building solutions to improve the financial lives of Americans, founded by the Center for Financial Services Innovation in partnership with JPMorgan Chase & Co.
In 2015, Chen and eight other startups each won a Lab-sponsored competition. The prize included $250,000 in seed capital, industry networking opportunities, and a JPMorgan Chase executive to serve as a mentor. At this point, Chen was still focused on enrolling eligible people in the food stamp program. Knowing that JPMorgan Chase used to administer the payment system for various states' programs, Chen requested a mentor familiar with that business.
"We got the perfect mentor for our needs," says Chen. "He is extremely knowledgeable not only in the business but also the underlying payment system. Before speaking with him, we had never considered what happens once the person is enrolled. He got us to start thinking beyond enrollment to what happens once the person can access the benefits. How do they go from enrollment to getting food on the table? That was a huge mental shift for us."
A good mentor – one with relevant expertise and a genuine desire to help -- can be a key part of a technology startup's success. One study found that in Silicon Valley, startups with mentors raise seven times more money than those without. Mentors are more influential than investors in a company's performance and ability to raise capital. And for many businesses, it's a matter of survival – UPS Store found that 70 percent of small businesses that receive mentoring survive more than five years, double the survival rate of non-mentored businesses.
Because large corporations are full of people who fit that description, many of the world's biggest companies are offering mentorship programs and other incubator services to promising startups. Technology giant Microsoft offers the Microsoft Accelerator, a four- to six-month program that provides a wide range of support and resources to later-stage startups, including CEO coaching, assistance in creating distribution channels with global Fortune 500s, and access to Microsoft's technical experts. The program operates accelerators in seven cities, including Bangalore, Beijing, Berlin and Seattle, and has an alumni network of over 800 startup founders.
"Partnering with Microsoft's legal department has been a game-changing opportunity for us," said Adam La France, CEO of Knomos, an app that organizes legal information for research, education, and knowledge sharing and a graduate of the program. In a blog post, La France writes that the Accelerator "enables us to ensure that our enterprise product meets the needs of in-house counsel at every step. It also sends a strong signal to prospective customers and investors about the value of what we're building."
Whereas Microsoft focuses on later-stage technology startups, Samsung NEXT targets those in the early stages. Based in Tel Aviv, Samsung's program supports innovators to "build ideas into products, grow products into businesses, and scale businesses that leverage and transform the Samsung ecosystem," like StickiBoard, a cloud-based electronic dashboard that helps family members to share calendars, shopping lists, and other household tasks across multiple devices.
Mentorship is a key part of these incubators, says Oliver Harris, who runs In-Residence, a JPMorgan Chase program created for technology startups that provide goods and services to financial institutions, as opposed to consumers.
Harris added, "There are high barriers to entry in the financial services industry in terms of procurement, legal requirements and regulatory issues. And there's no one showing startups the way to navigate these challenges. Through In-Residence we are solving that by pairing the startups with mentors who handle these exact issues on a daily basis for J.P. Morgan."
The incubators benefit not only the startups, but also the large corporations, says Harris.
"A lot of people are unfamiliar with the details of capital markets or fund administration, for example, and that can create barriers to attracting technologists," says Harris. "By mentoring and supporting startups, we get a chance to share our problems and the issues we care about so they can help us find innovative solutions."
Consider the company's work with Mosaic Smart Data, a London-based startup and In-Residence participant. J.P. Morgan generates a vast amount of electronic and voice data. The company wanted to create a more efficient and user-friendly way to analyze this data to better understand the sorts of trades that would appeal to various clients. Working with J.P. Morgan, Mosaic designed a tool to stream and analyze the data in real time and provide that analysis in a user-friendly format. The partnership has produced a meaningful tool for users to make better recommendations to clients. For Mosaic, the partnership provided unprecedented access to one of the world's largest financial institutions and its unique resources to better understand the problem and to address it.
"It's just a win all around," says Harris.
Mosaic agrees. CEO and Founder, Matthew Hodgson added, "Working in such close collaboration with J.P. Morgan has given us a unique opportunity to demonstrate how our data analytics solution can be tailored to the specific challenges faced by one of world's biggest banks."
---
Learn more about technology career opportunities at JPMorgan Chase & Co.