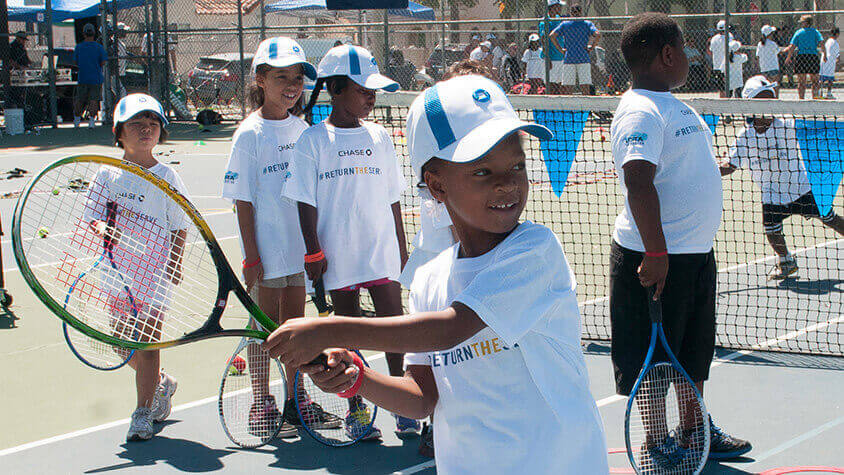 Stories
Bringing Together Tennis and Education to Change Young Lives
Providing 10 grants to local tennis organizations across America through our partnership with the USTA Foundation
Byline: Bryan Armen Graham
To Dan Faber, Executive Director of the United States Tennis Association's charitable foundation, tennis is much more than a sport. It's a powerful vehicle for improving lives and opening doors for underserved communities. Faber has spearheaded the Return The Serve campaign in partnership with Chase to provide tennis, education and health curricula to kids in need.
"Our mission is to bring tennis and education together to change lives," says Faber. In the next three years [the USTA Foundation] has a goal of raising $15 million. If we do that, we can get an additional 50,000 under-resourced children active through tennis."
The network behind those ambitious goals includes more than 500 tennis and education programs that serve 250,000 kids. Faber's strategy includes targeting communities that face the most dire needs in terms of health, wellness and education — shortcomings he classifies as national epidemics.
"Every 26 seconds a child is dropping out of high school," Faber says. "Tennis provides character development. [Children] are learning to have perseverance, sportsmanship, an opportunity that they wouldn't have. Between 3 p.m. and midnight, they're less likely to make bad choices."
Other focal points of outreach efforts include organizational development training for nonprofit professionals and college scholarships for high school participants. Plus, the USTA, which is the national governing body for tennis, is investing more than $50 million to grow participation, renovate public tennis facilities and provide tennis equipment and training to schools.
"The greatest thing about tennis is that you can play it anywhere," Faber says. "We have shortened courts and portable nets that can be set up in lots, gyms and city parks."
To help spread awareness, the USTA Foundation teamed with Chase for the Return the Serve campaign. It awards $10,000 each to 10 programs in different cities, and one program will receive an additional $10,000 if it garners the most votes online. "Not only [is Chase] investing in the mission by giving these grants," Faber says, "it's also helping to build awareness about the efforts of the USTA Foundation."
Faber says last year's inaugural effort was a rousing success. Fans tracked the voting in real time online, with unexpected shout-outs from tennis and non-tennis celebrities.
While the USTA and its foundation aim to help large numbers of children lead healthy lives, it's also possible that introducing the sport to new communities will bring out talented players who would otherwise go undiscovered.
"The tennis and education chapters supported by the USTA Foundation are good at identifying talent," Faber says. "If we provide the infrastructure, there's going to be a US Open champion coming out of this."
Photos: Cynthia Lum