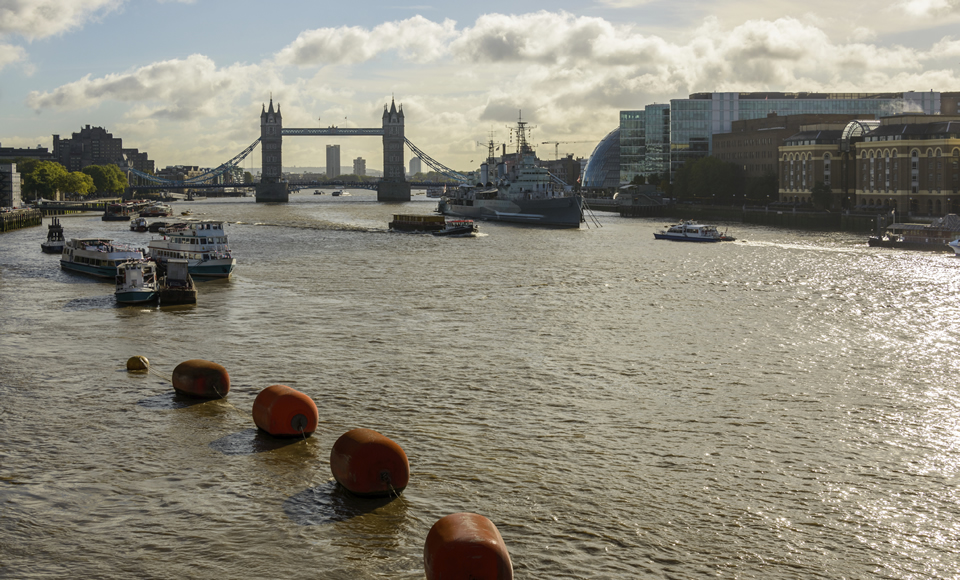 Stories
The Subway That Connects Two Continents
Byline: Phyllis Campbell, Vice-Chairman of the Global Cities Initiative, JPMorgan Chase & Co.
When someone boards a train in London – entering one of the world's most admired transportation systems – they probably do not have visions of pristine beaches and rolling surf. But they would not be wrong if they did considering that London's Oyster Card System, the most sophisticated regional automated fare payment and revenue management system in the world, is powered by Cubic, a San Diego-based company with headquarters 5,500 miles down the road.
San Diego is the 17th largest city in America, yet it leads the world in biotechnology, clean technology, sports innovation, defense technology and telecommunications, and according to Brookings is the third most patent-intense region in the world.1 That is because policymakers, businesses and educators in San Diego are working collaboratively to create a thriving innovation ecosystem, comprised of some of the world's smartest companies, a talented and loyal workforce, top-tier universities and easy access to international markets. San Diego's world-class universities and research centers foster a talented workforce, attract top academicians and produce research that powers numerous paradigm-shifting, life-saving technologies.
Across an ocean and a continent, London is seeing similar economic achievement. London's exports represent 25 percent of the U.K.'s national exports – a sum that is valued at about £130 billion -- and is particularly strong in service exports, where it accounts for 50 percent of the U.K. total. At the same time, London is on course to continue growing faster than the U.K. economy. And while London continues to export goods across a range of manufactured sectors (including the growing pharmaceuticals sector), it is maintaining its strength in financial and business services, media, tech and architectural surveying and construction services. London also leads the way in the U.K.'s exports of £100 billion of goods and services to the U.S., its largest single trading partner. In fact, London alone exported nearly £4 billion in goods to the U.S. in 2013, their largest market behind the European Union.
So while both cities focus on creating success at home, London and San Diego are also focused on creating a strong international market for what they produce. Both boast advanced industries that breed rapid innovation and significant job creation. And they are working together – sharing best practices, challenges and learning where their trade and investment coincide. San Diego has many of the innovative sectors that London is looking to attract. London is San Diego's second-largest source of foreign direct investment (FDI), and the U.K. is one of San Diego's largest export markets. At the same time, businesses in both cities are working together to help solve local needs, like managing a major transportation system.
Our team at JPMorgan Chase & Co. recently spoke with Mark Cafferty of the San Diego Regional Economic Development Corporation and Ben Rogers of the Centre for London, an organization focused on expanding London's role as a center of economic, social and intellectual innovation, about how their respective cities fit into the larger global economy and work together.
---
Q: How can international cities (like San Diego and London) work together and benefit from trade relationships?
A: Ben Rogers: "The heart of the global economy is in networks of cities. London is one of the most diverse cities in the world, and our trading relationships reflect our global outlook. While our financial and business service sectors are themselves highly networked globally, there are other sectors where we still have a lot to learn from other cities. "The Global Cities Initiative has helped London engage with and learn from other U.K. and U.S. cities, including San Diego." Mark Cafferty: In San Diego, we like to say that the secret to our success is that we collaborate to compete. To us, it's about government, private industry and academia working together to move the region forward. This is also true on a global scale. "Our relationship with the Global Cities Initiative has helped San Diego build a strong connection with London, one our region's top export markets and foreign direct investment sources in the world. And it's one that makes sense because of the synergies between our innovation economies, which are both anchored by strong biotech and technology industries. For example, our MetroConnect Prize will essentially give local San Diego companies up to $10,000 in matching grants to help them connect with priorities markets such as London. We are tackling this head on."
---
Q:Why is collaboration between international metropolitan centers so important in today's global economy?
A: Mark Cafferty: In an increasingly globalized world, where national governments are consumed with gridlock, cities must work together like never before. Technology has spring-boarded the exchange of global ideas, which have created real opportunities in markets that were not even on our radar 20 years ago. We view San Diego companies as an extension of who we are; when one of our local companies opens an office in an international market, we see it as a competitive opportunity, not a threat.

"I would be remiss if I didn't point out that we also have a lot to learn from one another. Historically speaking, San Diego is a relatively new city. London, on the other hand, has long been the epicenter of the world's economy. We are still writing our story, and we look to others for best practices. In fact, as we speak two of my staff members – by way of a direct flight between the two cities – are in London presenting San Diego's plan to increase FDI and exports, as a foundation to help English cities write their global competiveness plans."

Ben Rogers: "U.S. and U.K. cities compete for market share, but can also collaborate to engage with and grow in emerging markets. We all face the same challenge of a rapidly changing global economy, with middle class consumption in Asia Pacific forecast to overtake North America and Europe in coming years. As Mark says, today's FDI investor may be tomorrow's export leader, and exports may create links that later lead to investment; trade works for both parties.
"Cities have the strategic agility to make the most of their assets, in a way that nation states cannot. It's particularly inspiring for us to look at how U.S. cities are taking control of their own financial destiny, while the U.K. remains highly centralized."
---
Today, cities are driving the global economy. Cities are experiencing unprecedented economic growth and prosperity by taking control of their own economies through civic leadership, innovation and partnership. Together, the world's 300 largest metropolitan centers account for nearly half of global economic output. Cities are not just helping themselves; they are powering the economies of their home countries. And when metropolitan areas focus on commodities and trade, they grow the per-capita national GDP and create jobs on a national scale.
Recognizing that cities are growth centers, JPMorgan Chase & Co. joined the Brookings Institution three years ago to launch the Global Cities Initiative to better understand the impact metropolitan areas play in the global economy. Together with business and civic leaders, the Global Cities Initiative is harnessing that knowledge to help cities grow by fostering connections between global markets. San Diego, C.A. and London, England, are prime examples of metropolitan centers thinking strategically to continue to grow their local economies.
In February 2015, JPMorgan Chase & Co. brought together leaders from San Diego and London to continue their conversation about these issues.
The Global Cities Initiative (GCI) is a five-year collaboration between the Brookings Institution and JPMorgan Chase that aims to help leaders in U.S. metropolitan areas reorient their economies toward greater engagement in world markets. GCI aims to equip business, civic and government leaders with the information, policy ideas and connections they need to help their metropolitan areas thrive in the global economy. GCI is helping city and metropolitan leaders become more globally fluent by providing an in-depth, data-driven look at their regions' standings on crucial global economic measures, highlighting best policy and practice innovations from around the world and, through the Global Cities Exchange, developing regional strategies to boost global trade and investment.
The Global Cities Initiative: A Joint Project of Brookings and JPMorgan Chase. For more information, visit http://www.jpmorganchase.com/globalcities or connect with us on YouTube and Twitter.