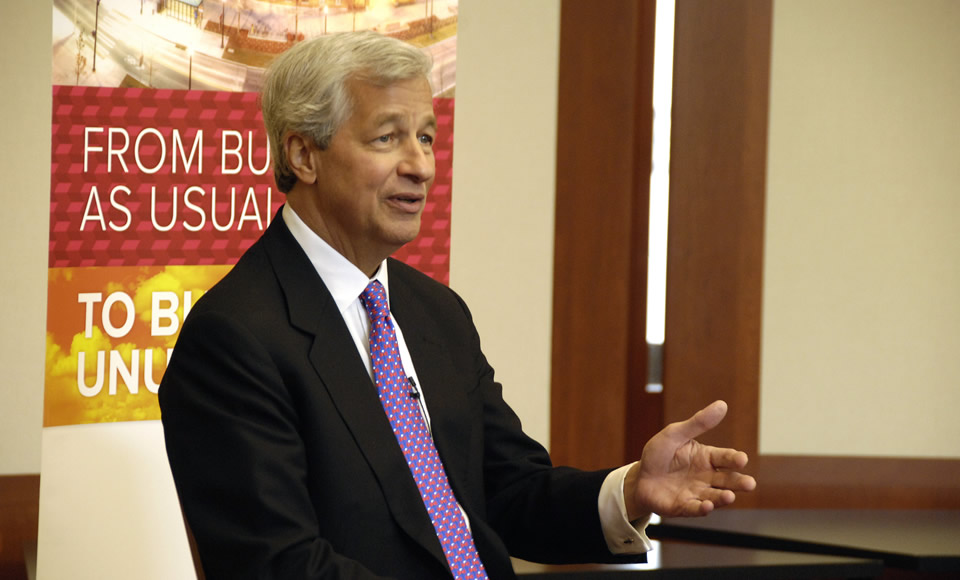 Stories
"Outstanding growth" in Central Ohio
By Jamie Dimon, Chairman and CEO JPMorgan Chase & Co.
During his whirlwind trip to Ohio's capital city in February 2015, JPMorgan Chase & Co. Chairman and CEO Jamie Dimon started his day by speaking at the Columbus Chamber of Commerce's annual meeting. A record-breaking crowd of 1,600+ city officials and local business owners were on hand to hear his thoughts on everything from the U.S. economy and politics to work/life balance.
"The growth in Columbus has been outstanding," he said. "Unemployment is around 3%. It's all because of small business expansion and investments in your community."
Dimon also visited Ohio State University, where he spoke to 150 MBA students who are stet to graduate this May. Then he met the National Champion Ohio State Buckeyes football team. Head coach Urban Meyer had invited Dimon to guest-speak at the team's weekly Real-Life program, designed to prepare the student athletes for life after football.
Dimon emphasized teamwork, loyalty, accountability and avoiding complacency. "You were underdogs and now you're the national champions," he told the players. "Your competitors are now going to circle your game on the calendar because you're the ones to beat. Focus on how you can stay at the top."
For more on #WhatMakesColumbus, visit: jpmorganchase.com/Columbus