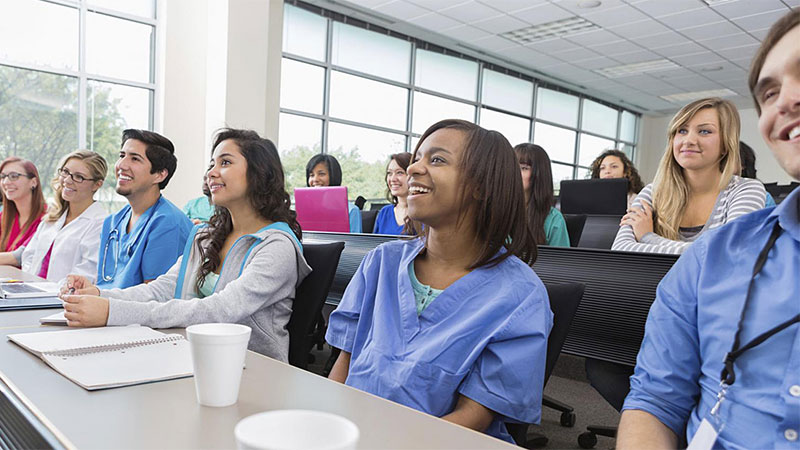 Stories
How One Single Mom Found Financial Security and a New Job
A success story in closing the skills gap through education, training and job placement.
In March 2014, Shantel Burris had recently completed her GED and just delivered her second child. She began looking for a steady job that could put her on the path to financial independence. Instead, she was met with the harsh reality that the only jobs available to her were low-skill and low-paying, with no advancement potential.
Shantel is not alone in this experience. In New York City alone, approximately 200,000 young people are neither employed nor in school.1 At the same time, employers are having trouble finding skilled workers to fill open positions. According to our recent New York City Skills Gap Report, about 2.6 million, or 46% of working-age New Yorkers, lack the post-secondary credentials to fill middle-skill jobs.
To help close the skills gap, JPMorgan Chase launched the New Skills at Work initiative. This five-year, $250 million investment leverages our resources and expertise to inform demand-driven skills training. As part of this commitment, we are a founding sponsor of the Phipps Neighborhoods Career Network: Healthcare program, an innovative partnership between Phipps Neighborhoods, a multi-service agency helping children, youth and families overcome poverty in the South Bronx, Hostos Community College, and Montefiore Health System, the leading employer in the Bronx.
Through a counselor at her GED program, Shantel was referred to Career Network: Healthcare. The program is an employer driven career exploration and training program operated by Phipps Neighborhoods in partnership with Montefiore Health System and Hostos Community College. The goal of the program is to help young adults secure employment within the wide range of job types in the healthcare field – one of the fastest growing sectors in the country – and a sector in which there is a shortage of trained staff. The 13-week program includes soft-skills training and tangible skills for the medical field.
So far, Career Network: Healthcare has graduated 103 students, 74 percent of whom are women. The program managers at Phipps Neighborhoods note that it takes a special kind of person to complete this program, and the staff work closely with the students to ensure a pathway to success. Shantel agreed, "The program was intense, but very hands on."
After completing the program, students can choose to pursue a job with Montefiore Health System or can enroll at Hostos Community College to complete an advanced certificate.
With two children under the age of 3, the time commitment was particularly difficult for Shantel. However, the program provides comprehensive wraparound services, case management offered to each program participant throughout their involvement, including regular meetings and referrals to internal and external partners. The rigor of the coursework also had an unexpected effect on Shantel: "It helped me be a better mother – it provided me with structure on a day-to-day basis, and now I understand the importance of structure for my children as well."
Before starting Career Network: Healthcare, Shantel admitted that she didn't have a specific career path in mind. At Career Network: Healthcare, the in-person training and real-life exposure to healthcare allowed her to narrow her vision. "They put us in real-life situations; I got to see what it was like to actually be a nurse to fundamental training like writing cover letters and participating in mock interviews." She realizes now that her position at Montefiore Health System is a job she likes and is well suited for, and that she "did not realize her full potential until being in a program like Career Network."
In June 2014, Shantel graduated from Career Network and is now employed full-time at Montefiore Medical, but does not plan on stopping there. Her goals include pursuing her nursing degree and continuing to grow in her career. She recently completed her Patient Care Technician certification at Hostos Community College and was promoted to Patient Care Technician at Montefiore – putting her one step closer to her goal of becoming a nurse. In her own words, "My future is brighter, thanks to Phipps."
About Women on the Move:
Recognizing that women face unique barriers to professional success, JPMorgan Chase launched Women on the Move in 2013. The program began as a series of town halls for the firm's female employees in New York and offered an opportunity to collectively explore the challenges they face in the workplace and share ideas on how to best support women in their career development.
Led by Asset Management CEO Mary Erdoes and Chief Financial Officer Marianne Lake, senior women took the program on the road, hosting events and empowering women in locations where the company employs hundreds, and often thousands, of women. Since it began, the program has visited 23 cities and senior women from across the company have met with more than 6,000 employees.
Women on the Move has proven an invaluable channel to hear directly from and exchange ideas with women at all levels in the company, as well as industry leaders and members of the communities in which we live and work. As the Women on the Move program evolves, we are proud to share the work of our employees and nonprofit partners in helping women succeed and transform their lives.
Learn more about our support of helping women around the world achieve financial security.
Learn more about our work to help bridge the skills gap.
---