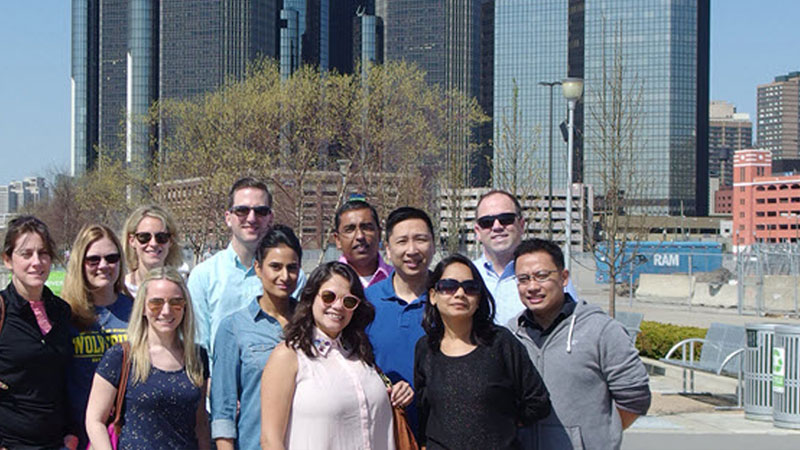 Stories
Putting Our Skills to Work in Detroit
Employees may use their expertise to support the community via on-site and virtual skills-based volunteering programs.
To complement JPMorgan Chase & Co.'s $100 million commitment to Detroit, the Detroit Service Corps leverages the financial services skills of our employees to deliver high quality problem solving for the city's nonprofit organizations.
Through the Detroit Service Corps, a dozen of our talented employees put their skills to work on behalf of four local nonprofit organizations – and current JPMorgan Chase grantees - that need their help. The three-week program matches employees to nonprofit projects based on the organizations' identified needs and the employees skill sets. The program is facilitated by our implementation partner, PYXERA Global, which assists with candidate selection and project scoping, as well as on-the-ground logistical support.
In November 2014, the first Detroit Service Corps team travelled from seven countries around the globe where they contributed their skills and expertise pro bono to nonprofit organizations in the city. Our four nonprofit partners were able leverage the skills of our employees to accelerate key projects and strengthen their organizational capacity. The nonprofits were impressed with the caliber of the team's skills and their ability to bring deep expertise in financial services and effectively apply it to the needs of the nonprofits.
Given the great success of our first cohort, we have selected another group of 12 executives to travel to Detroit this May, and we plan to send two teams to Detroit every year for the duration of our investment. This spring's Detroit Service Corps cohort comes from Chicago, New York, London, Wilmington, Detroit, India and the Philippines.
In addition to these on-site volunteers, we have also expanded opportunities for virtual skills-based volunteerism to support nonprofit partners. Volunteers will dedicate a few hours per week to projects that match their skill sets, and that can be completed from their desks. In Detroit, our virtual skills-based volunteers will help create a communication platform to educate student loan recipients on borrowing practices and financial literacy.
This virtual program is also available in New York, Houston, various international markets, and will expand to new locations over the course of the year.
"Our employees are among the most talented in the financial services industry. The goal of skills-based volunteerism is to expand these professional skills to the communities we serve," said Tara Cardone, Head of Employee Engagement and Volunteerism.
"Skills-based volunteerism offers another way to strengthen our relationships with nonprofit partners and double down on our philanthropic giving."
Tara Cardone, Head of Employee Engagement and Volunteerism.