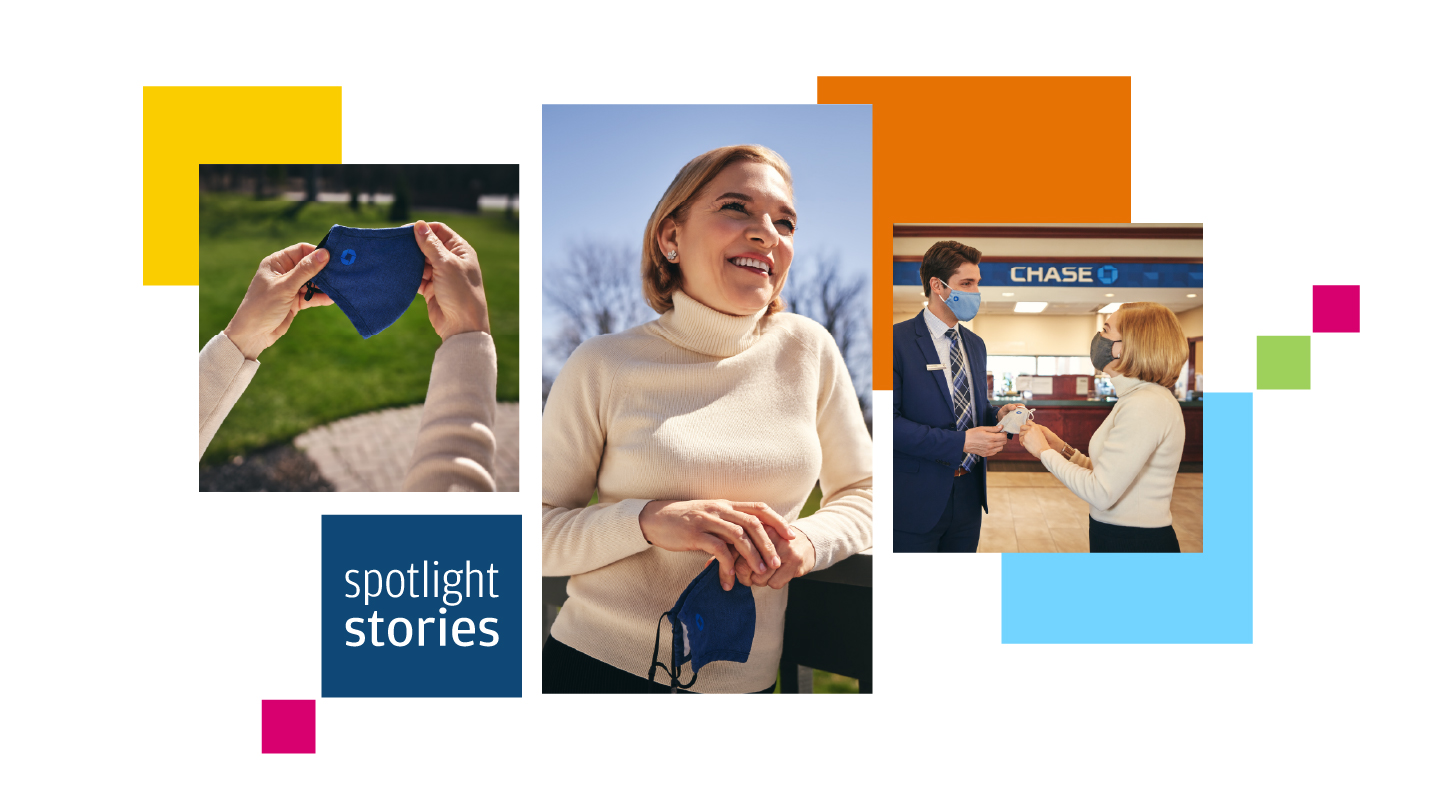 Stories
Showing Up and Saying Yes
How a determined business owner led her small team to a huge opportunity—and came out on top.
It's rare to find a person who's enthusiastic about having more work to do, but that's exactly who Donna Bridgeforth is.
In 2020, while companies around her were struggling, she focused on finding opportunities that would help her business expand. When a request from JPMorgan Chase offered a chance to do just that, she said yes—and was determined to do everything she could to make it work.
For the past 23 years, Donna has run Bridgeforth, Wolf & Associates, a Chicago-based promotions company that produces branded products, including pens, shirts and water bottles. It's a competitive business, and minority women-owned companies are a rarity in the field. With determination, creativity and superior client service, she and her five employees have become a go-to partner for her customers. But in early 2020, all of that suddenly changed.
In March 2020, it was difficult to find hand sanitizer and masks—a necessity for anyone working in high-touch environments. Meanwhile, with the world in a panic, essential employees like Chase bankers and branch managers needed to keep delivering services to their communities. The question was how to do it safely
Enter Nick Hamulak, Executive Director of Sourcing at JPMorgan Chase, who had a goal: Get high-quality masks to thousands of Chase employees who were in direct contact with the public.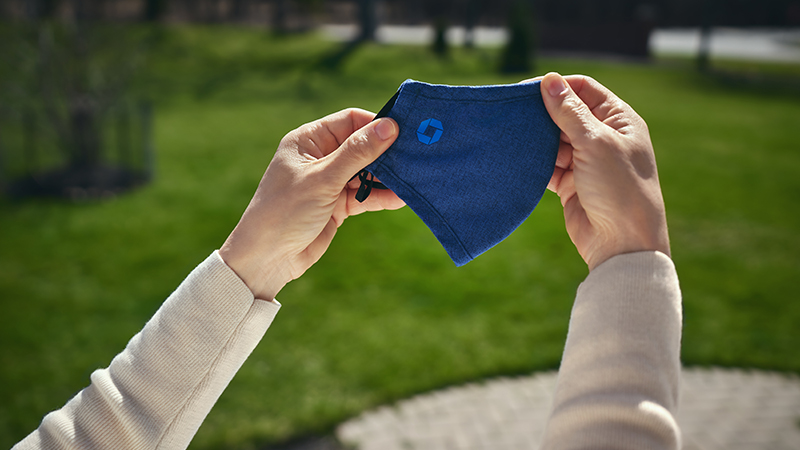 "We needed to do a large mask order for our branch offices—something branded, something nicer and more customized than the mass-produced, throwaway masks," Nick said.
JPMorgan Chase reached out to a dozen suppliers for proposals, but Donna's response rose far above the rest in both speed and quality. Competing against major retailers, Donna won the bid because of her attention to detail, use of high-quality, durable fabric, and 30 day delivery—a particularly fast timeline, given how difficult it was to get materials during the pandemic.
"You always say yes," Donna said. "Even if you don't know how it is going to work out. Once you say yes, you have to find a way to make it work."
Nick partners often with JPMorgan Chase's supplier diversity team, always looking for creative ways to include diverse businesses in the company's supply chain as part of its larger diversity, equity & inclusion priorities. Nick saw a unique opportunity with Bridgeforth, Wolf & Associates.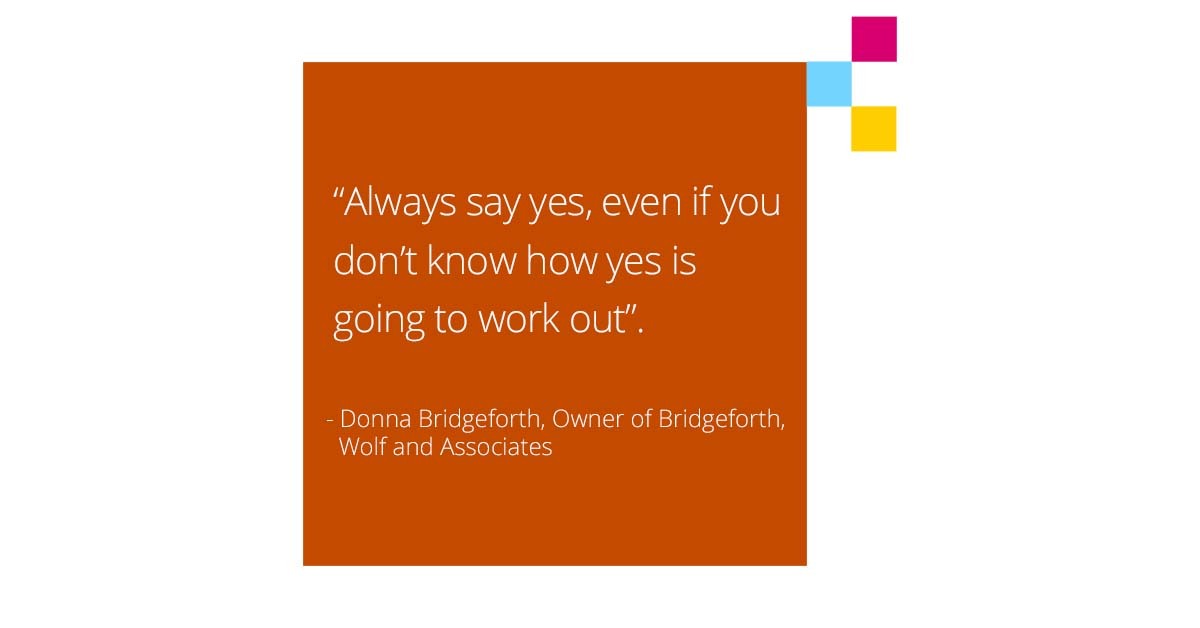 "Donna's willingness to bet on herself and her team is rare, especially during 2020," Nick said, noting the outsized impact of the pandemic on Black-owned businesses: As the pandemic unfolded, 41 percent of Black-owned businesses nationwide closed in April, compared to 17 percent of white-owned ones, according to a study by the University of Santa Cruz.
"And now, it's even tougher for many businesses to move forward," Nick said. "The typical opinion is that big companies need big suppliers to handle their needs."
That's a place where a company like JPMorgan Chase can make a difference. "Because we have the resources, we can find solutions to make it work," Nick said. "And that means Bridgeforth, Wolf & Associates can be just as impactful and productive—and just as successful—as large, established businesses."
Donna finds ways to pay that success forward, too, by mentoring people in her community, helping friends and acquaintances get started in the business and setting them on a path to eventually be her competitors. "Giving back to your community is what matters," Donna said. "Competition is healthy. There's always enough business to go around, so you don't have to be selfish.
"That's what life is all about; it's working together. I enjoy helping people start their business and helping others pivot to find new directions to go in."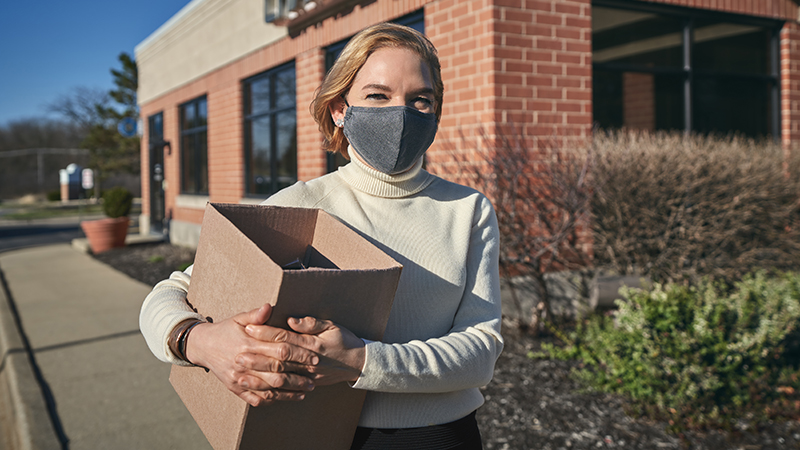 Donna has a few words of wisdom that guide her business decisions, as well as her personal life.
Network, network, network: "Networking is just being yourself and meeting people. Once you connect, you'll never forget them, and when opportunities arise, you have a built-in support system."
Be yourself: "Who you are says how you run your business. It says how you manage your people and what your commitment is to how you deliver quality merchandise."
Keep saying yes: "Always say yes, even if you don't know how yes is going to work out. Once you say yes, you then have to figure a way to make it work."
"There was magic in the fact that Nick said yes and made sure we could succeed in this undertaking," Donna said. "He didn't know me yet, and we didn't have a relationship. Things like this just don't happen.
"But he took a chance. He said yes."
Spotlight Stories: Celebrating the stories of those who rise to the challenge and inspire us every day. Stay tuned for more.