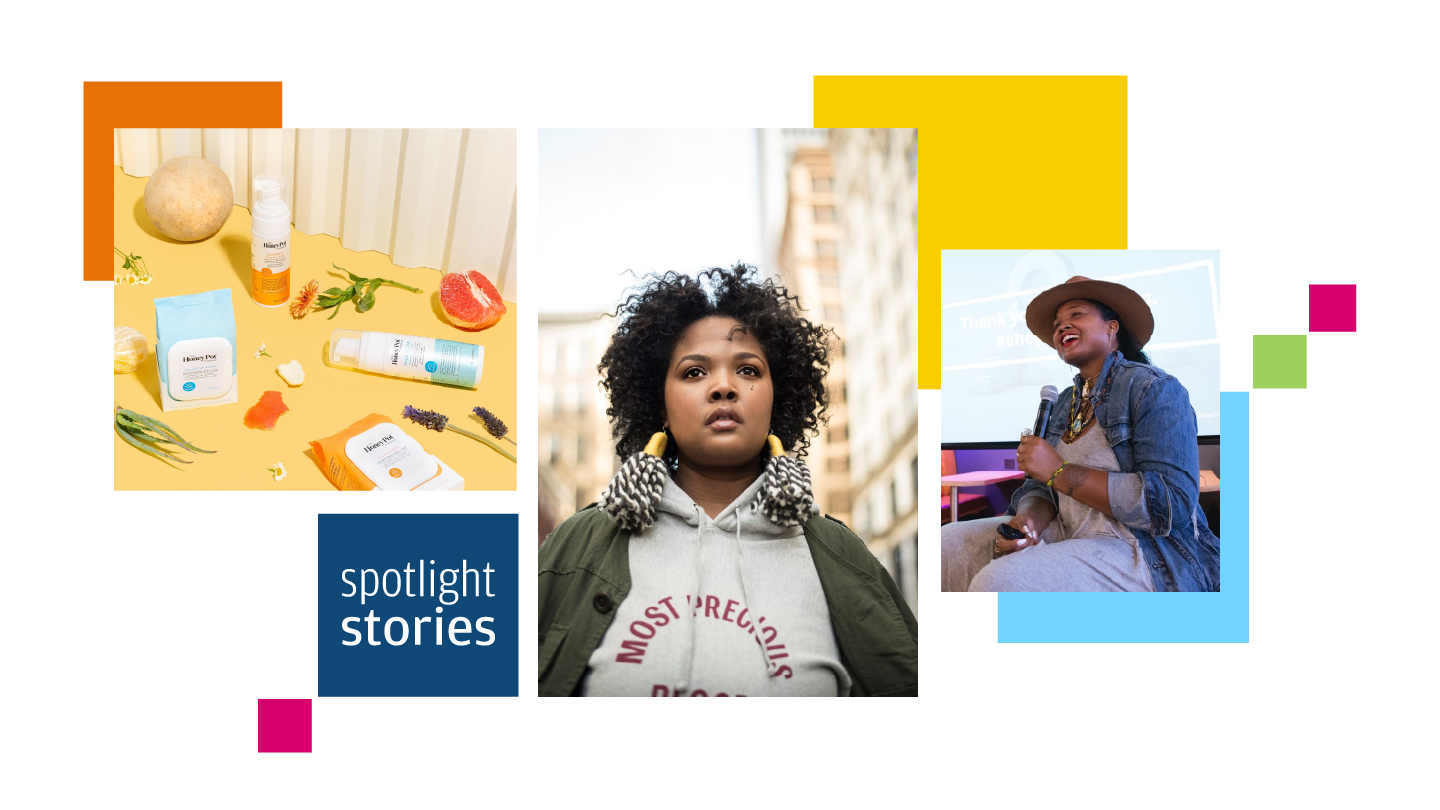 Stories
The New Face of Feminine Care
In an industry that's been unchanged for decades, Beatrice Dixon is committed to providing sustainable, plant-derived feminine products to everyone who needs them—proving that Black, female-owned businesses can change entire industries.
Bea Dixon's business, The Honey Pot, is literally a dream come true. In the midst of a long-term struggle with bacterial vaginosis, she dreamt she was visited by her grandmother, who gave her instructions for a wash that would cure her ailment.
"My grandmother died when my mother was a child. She's never even physically met me in this world," said Dixon. "I do not take a dream like that lightly."
When Dixon woke from the dream, she wrote down the instructions. To her surprise, they worked.
"The immediate thought that came into my head was, 'Others must be experiencing this, too; I have to make this into a business,'" she said.
Dixon's idea seemed simple but was actually pretty radical: Aside from the occasional development in materialls, sizing and branding, feminine care products haven't changed much since the 1970s. But a new generation of consumers is shifting demanding--and bringing more natural products into the spotlight.
Dixon's herb-powered formula turned out to be a game changer in the feminine care industry, becoming the first complete feminine care system that cleans, balances and soothes. Today, The Honey Pot's hygiene products—which use plant-derived ingredients that are earth-friendly and gynecologist-approved—can be found at many national retailers and on her website.
A New Career
Before The Honey Pot, Dixon was working multiple jobs, including her own cleaning business. She has also switched from a 10 year pharmaceutical career to working with natural body products at an organic super market.
"I was just surviving , if I 'm honest ," said Dixon. "Even today, I'm not above cleaning a toilet or organizing a closet or doing anything else that I have to survive."
That hustle served her well when it came to building and promoting her new business. Shea Taylor, Senior Business Consultant at Chase for Business, met Dixon for the first time just after she created the original Honey Pot Formula.
"Bea is a very transparent, authentic soul," said Taylor. "I think what really makes her tick is finding something that she is passionate about. And then she sticks with it."
Succeeding in a Tough Market...With a Partner
Dixon's passion was vital for overcoming the odds that were stacked against her. "Investing in Black women-led or people-of-color-led businesses is a new notion," said Dixon. "Companies like mine do not have ridiculous, absurd success."
Small businesses generally have a high rate of failure, and--Black-owned businesses in particular face daunting challenges. They tend to have lower revenues and profits, hire fewer employees, and are more likely to close than white-owned businesses. Leyonna Barba, Managing Director in J.P. Morgan's Technology and Disruptive Commerce Middle Market Banking group, wanted to help close that gap for Dixon.
"In an industry that has not been very nice to Black and brown people, I get to make this system work for her," said Barba.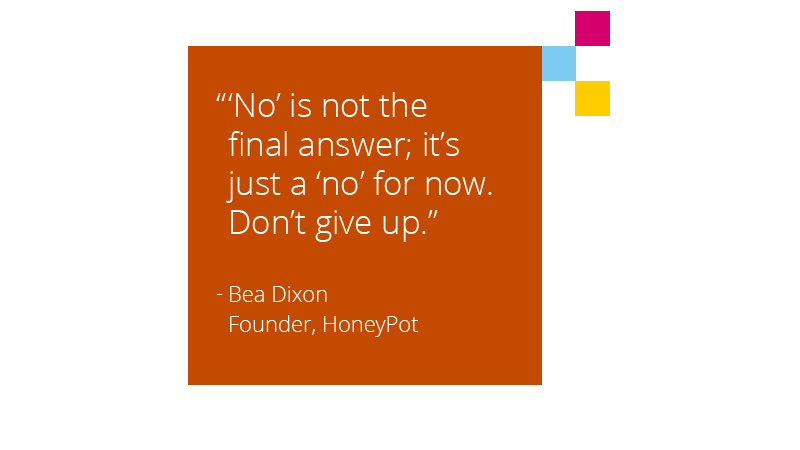 To make that happen, Dixon needed to reach out to potential investors. But like many entrepreneurs, Dixon is a self starter who rarely asks for help from others.
"You have to break through your fear and ego because you're about to ask somebody for zillions of dollars, or even hundreds of thousands of dollars which seems like zillions of dollars when you don't have any dollars," said Dixon. "But how hard it is really doesn't matter, because you've got to get this money. You got to. There's no other way."
JPMorgan Chase serves businesses of all sizes throughout their lifecycle – from startup, to expansion, to IPO, and beyond. As Dixon's business continued to expand, the JPMorgan Chase team has been able to deliver the full breadth of the firm's capabilities and resources to support The Honey Pot's growth and success.
Ultimately, Dixon chose to partner with JPMorgan Chase because of what they saw in The Honey Pot.
"JPMorgan Chase really understood where a brand like The Honey Pot was," said Dixon. "They saw all the tremendous work and effort we've put in and met us with a solution. We're honored to be able to have a partnership that really can help us to focus on our business."
Chase wanted to make sure The Honey Pot was able to have that focus.
"The Honey Pot has great potential," said Barbara." We are making sure that they have all the right building blocks of support, so that banking and treasury never is a roadblock to them in terms of where they can go and their growth."
For now, The Honey Pot is focused on building a team that can support the products' demand while building a strong, sustainable business. Taylor sees that goal coming quickly over the horizon.
"I think that Bea is a Madam C.J. Walker," Taylor said, referencing the legendary first Black American female millionaire and entrepreneur. "I anticipate when everything is said and done, she will have set a new standard for this generation of business owners--and especially for Black women-owned businesses--that are solving problems with a particular silo of the community.
"I think she's very close to doing something very transformative."
Spotlight Stories: Celebrating the stories of those who rise to the challenge and inspire us every day. See how a neurodiverse JPMorgan Chase employee found his strength and built his future.