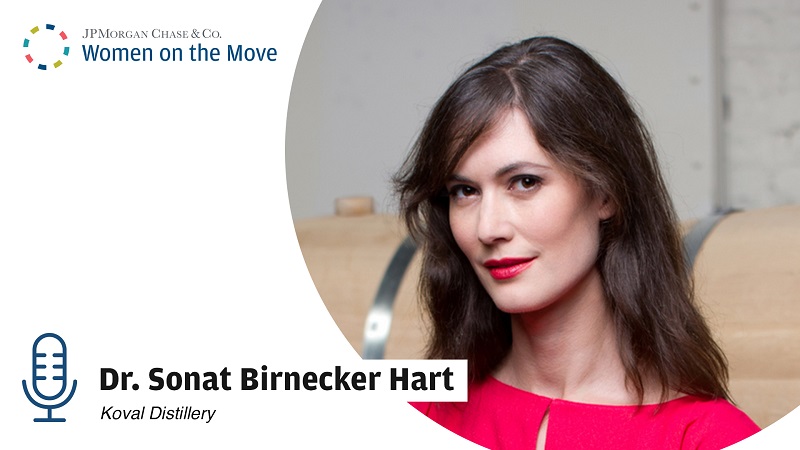 Stories
Dr. Sonat Birnecker Hart
The global pandemic hit small business owners hard, most facing tough decisions on whether they would be able to stay open and, also, how to best help their local communities. Our guest today, Dr. Sonat Birnecker Hart, co-founder of Koval Distillery in Chicago, was able to pivot her business to remain open and also provide essential hand sanitizer to her community and the health care professionals who needed it most.
Changing her business to produce hand sanitizer was an uphill battle, and Sonat had to deal with regulatory challenges and slumping sales as countries locked down and bars closed across the world. Luckily this is not the first challenge that Sonat had to overcome: from starting a distillery midway through her career, being a working mother, and being one of the few women in her industry, these hurdles prepared her for the COVID crisis.
Tune in to this episode of Women on the Move and hear how a small business was able to make a big impact in the community.
View Transcript

(updates content above)
Hide Transcript

(updates content above)
Sonat (00:02):
Really, it was on a micro and macro level of people coming together in the same Chicago to help each other. And
Sam (00:10):
It was so heartening. Welcome to season three of the women on the move podcast. I'm your host. Sam Sapper seen women on the move is a global initiative at JP Morgan chase designed to help women grow their businesses, improve their financial health and build their careers. In the first two seasons, we spoke with a range of business leaders about equality and the leadership lessons they learn throughout their careers. I highly recommend you go back and listen to those episodes. If you haven't already in season three, we're focused on female business owners. While many business owners are struggling through this pandemic women and people of color have additional challenges. We want it to tell their stories of resilience and grit and how they're meeting the needs of their customers and kids.
Speaker 3 (01:05):
[inaudible]
Sam (01:05):
When COVID-19 made hand sanitizer, the hottest commodity on the market, dr. Sonnet beer, Nick, or heart found a new purpose as the cofounder of Coldwell distillery, sonnet Rose to the occasion and began making hand sanitizer in bulk. Coldwell use its own equipment and the alcohol from local breweries to donate hand sanitizer to first responders in Chicago. I spoke with sonnet about cobalt pivot during the pandemic, and I hope you enjoy the conversation.
Speaker 4 (01:37):
Sonnet. Thank you so much for joining us. It really is a pleasure to have you here today. It's an absolute pleasure to be here. Thank you so much for having me. So I want to talk to you about Coalville first. I really want to understand how you pivoted the business in the last few months during the pandemic to go from distilling spirits to making hand sanitizer in this really critical time. Can you tell us how you went about that and why?
Sonat (02:00):
Well, I think at Koval we're quite used to pivoting, so this is only just another pivot in a long series of pivots that we've experienced since we started the company in 2008. Basically what happened was, is because Coval is available in many markets all over the world. We saw what was happening in Europe. We were speaking with our colleagues there and it became quite apparent that this was coming our way and it was very serious. So we started to pivot the company first in sending everybody home, probably about two weeks before everybody was asked to go home. I think we sent everybody home. Um, I think it was the first, very beginning of March that sort of set us on a path to really think about the situation very carefully and what this meant for our company on a number of levels. So obviously the first concern was keeping a Coldwell safe.
Sonat (03:01):
So that's why we, we bought lots of extra computers. We sent everybody home. We kept only the bare minimum people at the facility, those working in production. We upped some safety measures in production as well. And then we started thinking, okay, we've done. The first thing that we think is going to be able to keep everybody safe at this time, what is the next step? And so the next step was to think about our community and what this is going to mean for our community. That there had been rumblings around my entire industry about hand sanitizer and many, you know, distillers were talking about how we have a unique opportunity to be able to make something that's important in this fight, which was hand sanitizer for people working on the front lines in particular, which was very important early on. And yet we weren't allowed to do it.
Sonat (03:59):
It was actually a federal offense. You are given a licensed to manufacture alcohol for consumption. You are not allowed to manufacture alcohol for anything else. So even if you have the capabilities to do so. So this was the first problem that needed to be solved. And so many people within the craft distilling industry in particular, we were reaching out to our trade organization, discuss our government officials, whether it was in the state or the city, or it really just anybody we possibly could reach out to, to talk about how we needed to get things changed. And of course the TTB, which is our regulatory body. So we were given the, go ahead by the TTB. It was in mid March and I got the email on a Thursday night. I think it was six o'clock or six 30 on a Thursday night that Monday we were actually delivering.
Sonat (05:01):
I was out delivering hand sanitizer to first responders. That is amazing mere days later. Yes. Well, my team is really incredible. So I mean, this is really a Testament to how everybody wanted to rise to the occasion and work really hard and make this happen. But it was also about careful planning to be able to do that. The minute we were given permission. So while we were sort of lobbying and trying to make the change, we were also working on supply chains, trying to make sure that we had, uh, access to hydrogen peroxide. It's not something we have, you know, laying around the distillery in normal times. So we had to really figure out what we needed to do so that the minute it became legal, we were able to do it, but we didn't want to do it, you know, and break laws and put our business into, you know, risk beforehand. So we wanted to do things very carefully. And then when we got the go ahead, it was full speed ahead.
Speaker 4 (06:03):
And how hard is it to change a process for making alcohol for consumption? As you said to hand sanitizer, you mentioned two ingredients that you had to buy. Was there new equipment as well? Did you have to learn a new process?
Sonat (06:16):
Everything was different. And it was really as if we were starting a completely new company from scratch while we had the equipment to do it. It was still something very different. So especially for craft distiller, you know, we do not have an industrial facility that's in the sense of making millions of gallons a day of high proof alcohol, you know, that we're not even allowed to make more than 120 gallons a year. And this was at a time when supply of many of these items was really going crazy. I mean, finding jugs, finding plastic containers, all of this was not easy. And so the, these were all problems that we had to solve within just a week or two. I mean, as we were hoping that we would be able to make it. And so we did that, we got it started, we separated everything out.
Sonat (07:10):
And our original intention in pivoting to hand sanitizer was to make a number of batches. We had a lot of grain sitting around as well, and we assumed that there'd be a slump in making whiskey and other things. So we said, okay, use this grain. So it doesn't go to waste. We're going to use it. We're going to rally everybody. And we're going to make a number of batches and just donate them to first responders and have this be sort of our kickoff, our way of seeing what's going on in the moment and rising to the occasion and rallying our whole team and showing everybody that this is a really awful situation, but it's also an opportunity for us to do some good in our community that we adore. I mean, we love our community. And then we had to figure out ways to pivot again, because when we did that and we donated it to first responders around the city, we started getting hundreds and hundreds of phone calls and emails and people reaching out to us on social media, things.
Sonat (08:21):
Like I remember so many of these calls, I had a call from the owner of an ambulance company who said we are driving COVID patients to the hospital all day long and people who are injured and sick, and we do not have any hand sanitizer. We can't get it. We are an ambulance company and we cannot get hand sanitizer. And I said, what are you doing? He's like, we still have to bring people to the hospital. He's like, so, you know, we've done whatever we can, you know, people were just buying vodka, which isn't not high proof to make, you know, as big a diff you know, people were really just doing whatever they could. And so we were started to realize the need was just so great that we needed to keep manufacturing, hand sanitizer, and we wanted to figure out ways to donate it to those who needed it.
Sonat (09:16):
And so, you know, we made more batches, but you know, then after a point, you know, my husband and I are like, you know, and can't keep manufacturing, running an entire factory for free. It's impossible. We can't donate ourselves into bankruptcy, but there were so many organizations in need. You know, we're talking about shelters, you know, food kitchens, also people on the front lines, you know, even it just, even in our neighborhood that are helping people and already in good times, rely on donations. And now they needed desperately to find hand sanitizer at a time in which it was in such short supply that even hospitals weren't able to find it, being able to find it and afford. It was really hard for so many people that were on the front lines trying to do good. And so we said, okay, we need to figure out a way so that we can continue donating it, but so that we won't go bankrupt.
Sonat (10:18):
So what are we going to do? We need to start a go fund me campaign, and we need to start thinking like a nonprofit. And we need to reach out to foundations and other organizations and find ways to continue operating, but also continue donating. So we started to go fund me campaign. We raised, I think, I believe over $75,000. I mean, the donations were coming in from Taiwan to Toronto, to Manchester, England. These are people who know our brand and are fans of our brand and saw what we were doing and then wanted to donate to our efforts. And of course the city of Chicago, I mean, our own community was right there with us. And then other organizations started coming up and wanting to help us like eight Wilson PC. It's a law firm in the city and they were really the first ones and then Chicago beyond.
Sonat (11:16):
And then so many more started coming up and saying, well, we want to help you too. And we want to make sure that, you know, it gets out to this organization that we help in normal times and we want to help them this way. And then we started working with alderman, finding out which organizations in their community, because we also, we talked about this and we realized that while a lot of people were coming to us, there were probably a lot of people that needed it, that didn't know about us and didn't know to come to us. And so we started reaching out to different older men around the city of Chicago and asking them saying, okay, we're this who in your community is in need. And so going to them to going to everybody, you know, trying to find the people that really needed this so that it wasn't really just lopsided towards those that knew to find us and knew what we were doing.
Sonat (12:09):
Cause you know, there's so many small organizations that were just so laser focused on helping their communities and we wanted to find them too. And so this was really a full, I had people working on this like all day long, this was sort of what we were doing and it was incredible. And then I believe good deeds create more good deeds in the sense that then more people started wanting to help. And as we were helping more people came to us, finding us, saying, we want to help you. You know, we had, you know, bottle companies, you know, the company that actually manufactures the iconic sort of Elmers glue bottles, it came to us and they said, you know, we want to donate some bottles for you. And actually all of those bottles got filled and went to Heartland Alliance to give to their shelters and their coping shelters and a food kitchen.
Sonat (12:58):
So, so people started coming to us, whether it was the label manufacturers or the bottle companies and a list of really all of these organizations is on our social. We've had it on our social media and our website. And I encourage you to look into all of these organizations because they really stepped up at an amazing time, you know, and all the breweries came to us and we came to them, you know, also we was like collaborative. Everyone was talking and I had a conversation with Tracy Hearst over at metropolitan brewing company. We were talking about the situation she wanted to be involved and give us our beer to distill because we'd actually done that once before to create a beer Brandy. And this time we were just stealing their beer to create a beer sanitizer. So it was amazing. And then temperance in Evanston and so many other breweries on malt row, which is in Chicago, our community of brewers, they came forward and donated their beer.
Sonat (13:53):
And then large beer distribution companies came and brought us tankers of beer and goose Island brought us tinkers of beer. And so all of a sudden we were distilling lots and lots of beer and it then went out to Sinai hospital and Holy cross hospital, and many other locations that were in desperate need for hand sanitizer. So it's my favorite sort of beer run that we've ever done. It was really so heartening to see what was going on. And it just made everybody even more excited about what we were doing. And it was also then the logistics was a huge thing that we had to deal with. And that was never something that we'd done before, because we have one customer in Illinois as the manufacturer of alcohol, that's our distributor and they come and pick it up. So we've never had to go out and deliver and do things.
Sonat (14:47):
And so then we had an army of volunteers offering to do that. There's a recycling company that came and with their trucks and their people and they loaded it up and delivered it all over. There's an elevator company, Kone elevator company. They sent a truck and get it out all over the place we've had to Chicago, which is our tourism board. They came and they did deliveries for us as well. We had, I mean, this is really the entire city coming together and making a difference. I could not be more proud of the people of Chicago, really stepping up and making this happen in the older men of Chicago, there were alderman, they were driving things around doing things, sending pictures, showing that it was getting places. I mean, these were alderman doing really the real work of bringing help to people.
Speaker 4 (15:42):
That is a remarkable story. I mean, especially in a big city like Chicago and where I think some people can just get lost through the cracks and for people to come together. Like this is just amazing.
Sonat (15:53):
It felt like a very small town of people really wanting to help each other. And you know, even our neighbors right around Coval were donating lunch because they saw what we were doing. So it really, it was on a, a micro and macro level of people coming together in the city of Chicago to help each other. And it was so heartening and it made me feel as if this is a very difficult and frightening time. But if there's one thing that can provide hope, it's that, you know, we've seen so many acts of kindness and help that I feel as if it's become almost a habit for a lot of people and that, you know, habits when you do things awhile, you know, they, they stay and I feel that it's a time in which we need more and more of that.
Speaker 4 (16:43):
I love that. And I really hope that it does continue. So now during this whole time you were also selling spirits and you were doing curbside pickup of your products. So how have sales been for you during this time? And what do you see in terms of people's consumption right now?
Sonat (16:59):
You know, it's, it hasn't been great. We've been quite affected because we are a global brand on one levels. We were seeing a lot of growth before COVID. We were seeing, you know, strengths in our sales abroad in many of the markets that we were opening abroad. We were available in 55 export markets. So all over Europe, all the way through Eastern Europe to Russia and in Asia. So these were markets that were growing rapidly and then markets that completely screeched to a halt. So we'll, we'll see how things go. I feel as if the market is going to just have to pivot as well, there's going to need to be new ways of doing things. And I feel that innovation is going to be key at this time and slowly, you know, that's going to have to kick in because people still want a life in which they can go out and enjoy things and do things.
Sonat (17:59):
So I still think that, you know, one has to be able to balance that with safety and that's going to involve, you know, some careful planning and innovation, but I, it hasn't really picked up to the degree that one would want to have it pickup in Europe yet, you know, and that, that doesn't bode well for the United States considering we're still very much in the thick of it. And, you know, we'll see. I mean, these are very interesting times. So I'd love to hear your thoughts about being a woman in the distilling business and whether you've seen changes over the last decade. Absolutely. Well, women can be credited to some degree with starting the distilling business. So I feel that we can very much take ownership of this industry as much as any body else, because it was actually a woman who created the first, still.
Sonat (18:55):
So, and that was in ancient Egypt. So we've been at this a long time. I don't see being a woman in this industry as being anything strange or unique. I think maybe just the visibility of it, particularly in our day has not been as present as it was in the past, which is sort of funny. And I work with amazing women in this industry all the time, whether they are the owners of distribution companies and big cities like New York or other brands that we've helped get started that are run by women or have a women distillers. So really I think that women need to understand that we can properly and quite rightfully have a level of ownership of this industry and that it's nothing strange and that it should be celebrated because we actually we've been here from the very beginning. But I think that what has been absolutely, you know, rewarding about this is the entire journey was really based at first on the desire to have our life defined in a way that allowed us to be close to family, to work together with family, to be there with our kids, and to allow me to be a working mother, which is very different, I think, than being a working woman in the sense that quite often actually up until COVID, which is really interesting women who were working were forced kind of to leave their motherhood at the door.
Sonat (20:32):
It's not like they would have their kids with them. You know, they're pumping in some little closet, they are having to adjust so that they have their work life and then their home life. I did not want that. I felt like, you know, my own business with my own next phase of feminism, because then I can do it my way and I could be a mother at work and I could nurse my children on demand and they could be with me and that could be a part of it. And if they were with me and I had to be on the phone with a distributor, well, that's my life. And that's okay. It's been something that's great. I've even tried to empower other women who work for me, who have children to do the same. I mean, even in different roles, I have my market manager on the East coast. She had a baby and you're gonna meet with somebody and take them with, because it's okay with me. And then it's sort of a shifting, like the paradigm because who wrote the laws that said you can never have your kids with you at work. Like who made those laws? There's self-imposed laws. If you are in the position to make the rules yourself, who's going to tell you not to.
Sam (21:48):
What I love about that is you're providing that kind of culture and environment for your employees, but you're also changing perspectives of those you're working with. So when your partners and your vendors see your children with you, they might think differently about allowing that in their own businesses.
Sonat (22:03):
It's not always easy, but it has been a real wonderful experience all along the way. I mean, it's possible. It's just, you need the environment to make it possible. And I think that one of the things that allowed me to do that is not just the commitment to doing it because I think you have to sort of commit to doing it and dealing with all the inconveniences and difficulties of needing to stop what you're doing to get a drink box or to help a kid quickly, you know, with a homework problem or stuff like that. You are then weaving it into your work life, your mother life. So there's a lot of stop and go stop and go that sometimes isn't good for business full. And I'll be perfectly honest about that, but it's good for other things. It's an interesting thing. But what I was saying about COVID the pivot that this has caused in our society for women that I think is fascinating, not just for women, but for men, is that all of a sudden everybody was homeschooling. Everybody was working with their children close at hand, and now it doesn't seem so abnormal. And it might be a, feel like a burden for a lot of people. I understand that, but I think that it has changed maybe a little bit how society imagines work and working and taking care of your children and all of these things that before seemed very novel when I did them. But now so many people are doing them
Sam (23:37):
Well, sonnet. It's great to hear your story. I think there's so many women who'll be so inspired by what you've built, how you've handled so many challenges, how you thought
Speaker 4 (23:46):
Differently about things and how you blended work with family. I really appreciate your spending the time with us. It's been a fascinating time with you. Absolutely. It's my pleasure. And thank you so much for the opportunity. Thank you. And I wish you the best of luck with the business and thank you again for helping Chicago. Ugh. It's, it's been a joy. It's, it's something I will always look back on and, and feel really proud and happy and honored to have been able to do it.
Sam (24:14):
Thanks to dr. Sonnet Bernicker Hart for joining us today and showing us how a small business can make a huge impact during times of crisis sonnets ability to pivot her business and help others is truly inspiring. Especially during a time when many small business owners are struggling to stay afloat, the mission of women on the move is to help women in their professional and personal lives. Our goal is to introduce you to people with great ideas, inspiring stories, and a passion to make a difference. If you enjoyed this episode, please rate, review and subscribe. So you won't miss any others for JP Morgan Chase's women on the move on Sam Sapper scene.
Subscribe