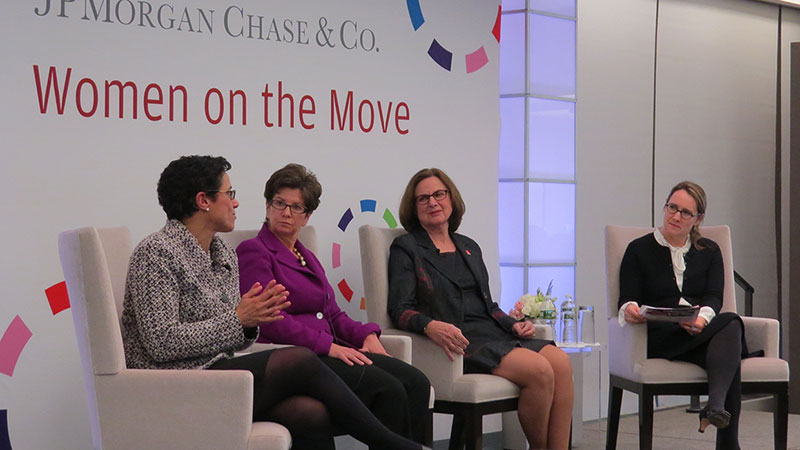 Stories
Shrinking the Gender Pay Gap
A recent event at our New York headquarters focused on improving women's access to well-paying, middle-skill jobs that are traditionally occupied by men.
Four in 10 American families depend on a woman as the sole or primary breadwinner, according to a Pew Research Center report, yet a persistent gender wage gap is hampering the ability of many women to get ahead financially.

During a recent Women on the Move event, attended by more than 200 men and women from the firm and some of our philanthropic partners, a panel of senior women discussed the findings of a new report from the Institute for Women's Policy Research: Pathways to Equity: Narrowing the Wage Gap by Improving Women's Access to Good Middle-Skill Jobs.
The report, supported by JPMorgan Chase as part of our $250 million, five-year New Skills at Work initiative, analyzes jobs in the key growth sectors of manufacturing, information technology, and transportation distribution and logistics. It compares the skills required for various lower-paid, female-dominated jobs to those required for higher-paying, male-dominated occupations and identifies ways in which women can develop their existing skills and interests to move into higher paying jobs in these growth sectors.
Our Chief Financial Officer, Marianne Lake, introduced the event and said she was surprised by some of the findings. According to the report, women hold 83% of the jobs in middle-skill occupations that pay less than $30,000 per year. But among good, growing middle-skill occupations that range from at least $35,000 - $100,000 per year, women make up just 36% of job-holders. These middle-skill jobs, which require a high school education but not a college degree, pay a living wage and can serve as a stepping stone to a higher-paying career for women workers.
Two leaders from the Institute for Women's Policy Research, Heidi Hartmann, president and CEO, and Ariane Hegewisch, Program Director, Employment and Earnings, presented the findings of the report and the panel then discussed some of the underlying causes of the findings and contributing factors to gender segregation.
Julia Klein, CEO of C.H. Briggs, a national supply chain distribution company, gave an example of one middle-skill area within her own business that is relatively well-paid, and that she is trying to promote to women applicants: the distribution industry and truck driving.
"Every single thing in this room got to you via a distributor and on a truck. The chairs, lights, water bottles, paints, everyone's nice outfits. These are jobs that are kind of hard to see, in industries that are somewhat invisible, in cities and towns that we forget about. But when you add all those things together, it's the backbone of the American economy."
Julia Klein - CEO, C.H. Briggs
Gail Mellow, president of LaGuardia Community College in Long Island City, talked about the important role that educators play in raising awareness of these middle-skill jobs as viable options for women. She stressed that educators and private sector employers should collaborate to develop customized career pathway programs in growth sectors to provide women with the skills training and resources they need to access well-paying, middle-skills jobs.

The group talked about how some good-paying middle-skill positions have traditionally seemed like "men's work", but that this attitude only further perpetuates women's dominance in lower paying positions. All agreed that overcoming these kinds of stereotypes would be a big step towards addressing skilled labor shortages and reducing the number of women living in poverty in the United States.
Marianne Lake 
Chief Financial Officer,  JPMorgan Chase
"While women's earnings are essential to family economic security, they are also essential to broader economic growth. We still face in the female population a persistent gender wage gap. Over half of that is because of occupational segregation, where lower paid jobs are typically held by women, and higher paid jobs are typically held by men."
Read Pathways to Equity: Narrowing the Wage Gap by Improving Women's Access to Good Middle-Skill Jobs.
Learn more about the gender pay gap
Learn more about Women on the Move, our initiative that supports the advancement of women by addressing the unique challenges they face.